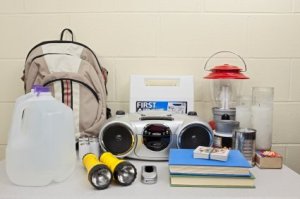 Power outages are a periodic problem that we all need to deal with. Being prepared when it happens is the best way to make it easier to get through until the power comes back on. This is a guide about preparing for a power outage.
Ad
---
Solutions: Preparing for a Power Outage
Read and rate the best solutions below by giving them a "thumbs up".
These tips are in addition to the American Red Cross tips for dealing with storms and power outages.
Keep a plastic jug or two of water in your freezer if you have space. If you lose power, the block of ice will aid in keeping things cold longer. When it melts, you can drink it too. That plastic jug of ice can also be placed in a cooler to keep additional items or medications cold. A one gallon plastic water jug yields about 8 lbs. of ice (with a handle).
Buy LED lanterns and flashlights. If possible, see if you can purchase the lights with the same sized batteries. Keep at least 1 complete replacement set of batteries handy for each device. D cell batteries last longer, and therefore, are better suited for lighting. Avoid C sized lights and devices - these batteries are harder to find in an emergency. I suggest having at least 1 light and spare batteries per person.
Chemical "snap" light sticks are also great. Some can last as long as 12 hours. These are great to place in a bathroom or hallway overnight to provide lighting when the battery powered lights are off. There are also high intensity 30 minute chemical lights available as well. The chemical lights are completely safe around gases and are cool to the touch. They do expire, so check dates periodically on them.
A battery powered radio with weather band is also a good choice. Like the lantern and flashlight suggestion above, try to get a radio that uses the same sized battery (preferably D) as everything else. Running the radio on low volume allows it to run much longer than with a higher volume.
If possible, also consider battery chargers that plug into a car's lighter. I don't know if there are any NiMH D sized ones out there, but I know (and own) there are ones for AA and AAA sized NiMH batteries. The one I have (from Wallmart) will charge the NiMH batteries in 15 minutes from a car lighter.
A car also has a radio so you can listen to that as well. Just be careful not to run down the car battery. Also be careful about running the car and creating Carbon Monoxide.
Keep a cell phone charger that allows the cell phone to charge from your car lighter.
ALWAYS have at least one wired telephone. Cordless phones don't work during power failures (the base requires power).
I suggest purchasing a pair of FRS/GMRS two way radios and splitting the cost with a nearby neighbor. Settle on one channel to talk on (CH 1 is suggested emergency channel) with no privacy codes set. During and after a crisis, you can contact the neighbor. Again, keep spare batteries for these radios and follow any license requirements if you choose to use the GMRS frequencies.
Keep a spare propane gas tank, secured and outside your home, for the gas grill. If there's a loss of power, and you are unable to cook indoors, you can use the gas grill to cook food. DO NOT use this, nor any other combustion device, inside your home!
If you live in a warmer climate, there are battery powered fans you can buy to keep the air moving. Again, try to be consistent with the battery choices. Though, for this device, D sizes will most likely be the best way to go,.
First and foremost, remain as calm as possible and think things through before acting.
By BMCCUE from Litchfield, NH
Everyone's electricity goes out now and then. Trying to maneuver through the house with a flashlight in one hand or with a candle can be tricky and/or dangerous. To keep safe and easily light my way, I keep one of those inexpensive hard hat lights near my bed. It's adjusted to fit my head (not a hard hat) and I can just slip it on and keep both hands free. No matter where I look or go, my pathway is well lit.
Hint: It's also great to use as a book light!
By luv from NJ
If we are having threats of power loss, I place bottles of water in my freezer. I use 2 liter soda bottles, laundry detergent bottles, or any bottle that has a tight sealing cap. This keeps the items frozen for quite some time. My local weather is calling for 50-60 mph winds this week and power loss has occurred since last weekend. I have a well, so that means I don't have water during a power loss either.
I fill up anything I can find with water to use for drinking, teeth brushing, flushing the toilet, water for my dogs, cooking, or any need for water. Fill your bath tub up with water. You can use this water for watering plants and flushing the toilet. You never know when the power may go out so I like to be ready in any way possible.
By triciaminter from Ridgeway, VA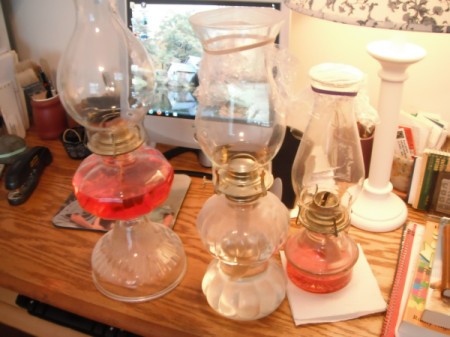 Now that the days are getting shorter, it's a good time to clean your oil lamps and get the dust off the globes. That's what I have done because, when we lose power, we have no water.
I store my lamps on an open shelf and they get very dusty over a years time. To keep dust from collecting inside the globe, I put plastic wrap over the top and secure it with a rubber band.
I learned this trick from experience. Light does not shine through a dusty globe as well as it does through a clean globe.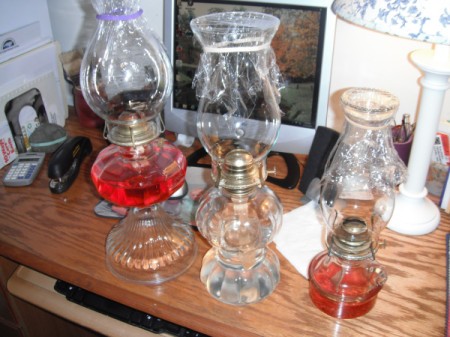 Here in the east, we get a lot of nor'easters. When I was ordering flashlights to have on hand for power outages, I came across a lantern that runs on batteries. I thought it would be a better idea then the flashlights since it would set flat on a table and light the room with more light than the flashlight reflecting off the ceiling, besides the problem of getting that little round flashlight to set upright. I ordered and received the lantern and found it was smaller than I thought it was. But then I turned it on. It had the new LED bulbs and was so much brighter than I expected.
I am all ready for the next storm. We just had one that was related to the Hurricane Joquain. I really like the idea of the lantern and think of getting one for each room.
By HerkDia [35]
I don't use candles or little flashlights. I get those big flashlights from Dollar General that take one of those great big batteries. I keep one in the living room, kitchen, bathroom and bedroom. That way I am prepared. When the lights go out I set turn on the flash light and set it on the flat bottom, pointed towards the white ceiling. That reflects more of the light downwards. It also helps to place the flashlight in from of a mirror to double the amount of light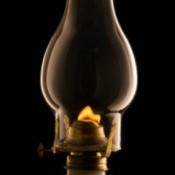 Our family recently survived a lengthy power outage after a major ice storm. We really did not find it that difficult to do, in part because we were prepared ahead of time. However, some of our neighbors who were not prepared ended up staying at a hotel for several nights, at the tune of $65 per night.
I am passing on some of the ways that we stayed warm for our week without power. The most important factor is that we prepared. For 3 days, the weather forecast warned us of a major ice storm heading our way. We decided then to prepare for the worse case, and it paid off.
We brought up firewood from the barn. We laid out wood in the fireplace and filled the inside firebox. We also filled the wood holders on the front porch with wood, and also stacked it beside the holder.
We stocked up on lamp oil, and brought out the lamps and candles stored in the basement.
We made sure we had plenty of batteries on hand.
We charged our rechargeable lights, lanterns and radios.
I filled several containers with water in the event the water company also lost power. If they did, we would lose water pressure, then lose our water completely.
We all took a shower as the ice storm started. May seem silly, but knowing it may be awhile before we could bathe again, we opted to start out smelling sweet! I also made sure the laundry was all caught up and the house was clean.
I made sure we were stocked up on animal feed. We put extra straw in the rabbit hutches and chicken coup in the event they lost their heat lamps.
We stocked up on foods that we could prepare over the fireplace. This included s'mores, hot dogs, popcorn, hot cereals, soups, and stews. I bought some extra milk and put it in the freezer, and also bought more powered milk.
I washed and re-seasoned the cast iron.
We brought in the hot dog and hamburger holders from the camper, as well as sleeping bags.
We backed our vehicles into the garages and barn. My husband plugged in the tractors and made sure they were fueled.
We brought up the board games from the basement, and restocked ourselves with books from the library.
I made sure our cell phones were well charged.
I bought on clearance a power strip to plug into my car's cigarette lighter. In turn, I could plug an item into it to recharge, such as a lantern or cell phone, or even my laptop.
Then we sat down to wait. The ice started falling around 10 in the morning. It was rather pretty as it coated the trees and fences. By evening, it was very slick to walk on. We still had power when we went to bed at 11 p.m. We did not turn down the thermostat before bed as normal. My rather wise husband said, we needed to keep as much heat in the house as possible, so instead we turned it up. At 3 a.m. I woke up to a chilling house. The inside temp was 65. It had been 70 when we went to bed. My nightlight was not on. The power was off. I woke up my husband and he immediately got a fire going in the fireplace.
We kept the fire going, and managed to keep the house at a steady temperature of 65 to 67 degrees. It is much easier to maintain the temperature than it is to warm up the house had we not gotten up to light the fire.
We let light in through the south windows, and blocked off the north ones with curtains, as their was a strong wind coming from the north.
For entertainment, we played games and read. I had my children take a warm bath each day, as we still had hot water as we have a gas hot water heater. This helped keep them warm and they thought it fun to have a bubble bath by candle light. Our children slept in their sleeping bags in the living room by the fireplace. My husband and I stayed in our room, which is just off the living room as we could still get some heat from the fire. In addition, we have a heated water bed, and by keeping the bed made, and sleeping on top of an extra comforter, it held its heat and kept us warm.
Since we still had hot water at this point, we had lots of hot tea and hot cocoa to drink and help keep us warm. I did the dishes by hand after every meal with warm water to help keep me warm in the kitchen. I did it in dishpans, and saved the water. It went into containers in the garage and one of the bathrooms. We kept the water at a very slight trickle to help prevent the pipes from freezing.
We dressed in layers. Sweat pants are much warmer than jeans. We wore 2 pairs of socks and our long johns.
After our water went out, we used the saved soapy dishwater to flush the toilets with as needed. The saved rinse water became water for our rabbits, dog and chickens to drink.
We did not open the freezers or refrigerators except to remove and replace food. By day 3, our refrigerators were no longer at a safe temperature, so we removed food and placed it outside on the back porch, and some in the garage. Our freezers stayed below freezing, as they have more insulation. If need be, my husband would have gone to town to buy a couple blocks of dry ice for the freezers. However, he didn't need to this outage.
As I said earlier, our biggest factor in being able to ride out the power outage was preparation. Had we waited to gather our supplies after the power had gone out, we would have been doing a lot of fumbling around in the dark basement, and opening and closing the doors to the outside a lot. We would have been having to drive on dangerous roads to town for supplies and risking having an accident.
By April from NW Missouri
We just had an hour long power outage (unexpected as it is 9 pm on a cold winter night). I learned three things tonight that I want to share (common sense but we all know that is not the way it works, LOL)
Make sure you KNOW where the candles ARE! it is easy to think "oh sure, I know exactly where they are" (want to bet?) and, during the day or when there is power by flipping the switch, it is easy to find them. It is not so easy when there are no lights (and damn it is BLACK) in here!
Make sure if you have pets (cats especially) that candles are not a novelty when they are lit. I had 2 out of three tonight who were determined that they had to stick their noses into the flame (or thought that they should)
In a pinch, a small tin can makes a good candle snuffer (something else I DO HAVE, but couldn't find it)
Have a good night.
If I see a big storm coming when power is most likely to go out, I do these things: Fill 5 gallon bucket with water, leave in tub. Also fill tub full of water. Both are used to flush toilet.
Power Outage Tip: Keep at least one battery operated clock in running condition. That way you'll still be on time for work and appointments if the power goes out.

By Marie from West Dundee, IL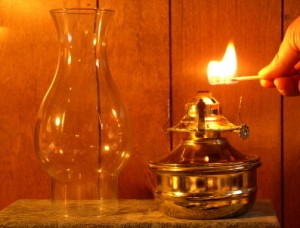 During the winter months, storms can bring power outages, especially in the northern part of the US. Think about what you would need if the power went out for more than an hour or two. This not only can help you feel more comfortable but can save you money by keeping you out of the stores when people are panic buying their supplies.
No Lights
Have some candles and/or oil lamps handy so you can light each room. Candles in glass containers are safest with little ones around. Make sure if you have oil lamps that you have a bottle or two of lamp oil with your supplies. Flashlights and camping lanterns are also great. Make sure you have extra batteries.
No Electricity
Your refrigerator will not work. Try not to open it to keep the food cool. Put two soda bottles filled with water or refreezable ice packs in the freezer space. You can then redistribute them, one for the freezer space, one for the refrigerator. It will help keep the food cool for longer. If you have a large freezer, keep extra soda bottles filled with water in it. When the power goes off it will keep frozen for longer.
If you have an electric stove or microwave, they will not work. Gas stoves may continue to work but you may have to light them by hand. Have matches ready and procedures for lighting your stove. Also have food available that you don't need to cook.
Heat
Many furnaces whether gas, oil, or electric have an electric starter and electric fan that blows the heat. None of these work in a power outage. Extra blankets are helpful. If you have a fireplace or wood stove, make sure you have a supply of wood or fire logs to last a few days.
Think ahead. Each household has different challenges when the power goes off. It is always good to have backup systems available. Try to plan for it so if it happens you will be ready.
By Susan Sanders-Kinzel
Instead of trying to look in all areas for your emergency candles during a power failure, have a few stored in a bag with a lighter and flashlight. Hang your bag in the utility room or other out of the way spot. Then no more hunting, just retrieve your emergency bag and have light.

Candle holders in a emergency are hard to find. Save a few baby formula cans, cut a hole in the lid and push the candle through. All the hot wax is inside the can.

Source: This is my own idea after having to search a few drawers with a baby in tow during a black out.

By Randa from San Marcos, TX
Give a "thumbs up" to the solution that worked the best! Do you have a better solution? Click here to share it!