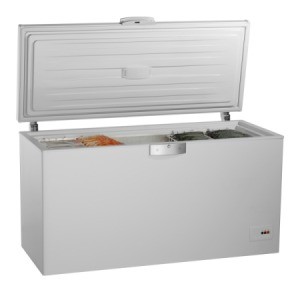 After Hurricane Ivan, power was off for 8 days, lost every thing in the freezer. I could not get home for a while, now the freezer has a horrible smell and I can't get it out. Tried bleaching the entire inside and still nothing. Also have baking soda inside.
Thanks in advance,
S. Robertson
Answers
Read More

Answers

How do you get rid of bad smell from a freezer. I had a vacation for six weeks, when I came back my freezer had stopped working. There was some meat in there which was rotten and I can't get rid of the smell. It smells like dead carion.
I have used all the suggested things (e.g.) bicarbonate of soda, I have steamed it with boiling hot water, and left it outside with the door open. If anyone has a another solution, I would be happy to try it.
Answers

March 12, 2007
0

found this helpful
My niece had the same problem. She scrubbed with bleach, aired it out, filled it with newspapers, put pans of baking soda, pans of cat litter. What FINALLY worked for her was to place a large container of fresh ground coffee beans on the bottom, close the door and let it sit for a week, closed up. You need to use fresh, dry, unused coffee grounds, not the wet grounds left after you brew coffee!
By DocRuben (Guest Post)
June 26, 2007
0

found this helpful
I made the mistake of plugging my freezer into a GFCI outlet. The outlet tripped and it was about a week before I noticed. Needless to say everything in the freezer had to go. The smell was over-powering. I took everything out of the freezer. There was blood and water at the bottom. I poured baking soda, lots of it and used a scented cat litter. I let it sit for a couple of days. Cleaned it up and it was smelling good too. This did the trick for me.
By Sean (Guest Post)
November 3, 2007
0

found this helpful
I had a similar situation with a chest freezer of mine. I moved out of an apartment that I was sharing with two other guys and I decided to be nice and let them borrow it (since it was full of frozen food that would never fit in their smaller freezer). A fuse went out one day and the freezer lost power. They didn't notice until WAY later. The smell was horrid. I tried using hot water and soap, Comet with Bleach, and a bunch of orange scented surface wipes. The smell seemed to be gone but it quickly returned the next day. So, I had just now tried the following:
- One bowl of water and charcoal
- One bowl of cat litter
- One open box of Arm and Hammer baking soda
- One glass full of unused coffee grounds
and last but not least...
- One peach scented car air freshener
I've also heard to use pure vanilla extract but I didn't have any. I will report my results tomorrow.

December 1, 2007
0

found this helpful
Eons ago I was a refrigerator/freezer service technician. If liquids like blood leaked into the insulation you have two options: pull the liner out of the freezer and replace the insulation, which takes two people who really know what they are doing, or replace the freezer. If you pay to replace the insulation the cost will equal or exceed the cost of a new freezer.
Read More

Answers

NJ had that bad winter last year. We never got around to cleaning the freezer out after it failed somewhere around Christmas. After a while we just forgot about it. So now, July 1st, the freezer stinks and we won't forget that. Are the fumes going to be toxic to breath in?
By HELPme911
Read More

Answers