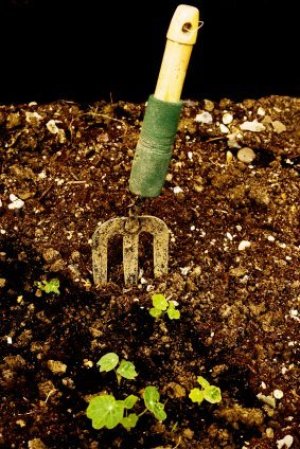 Well rotted manure is an excellent compost addition, soil builder and fertilizer. This guide is about using manure in the garden.
Ad
---
Solutions: Using Manure in the Garden
Read and rate the best solutions below by giving them a "thumbs up".
Gardeners - it seems like a no-brainer, but really, you can collect great fertilizer from the manure pile at your local riding stables, even if you reside in a suburban/urban area. Collect from the bottom edge of the pile, where the manure is already aged and dried. Take many small bins or boxes with you, since these are portable, whereas a large tarp or container would not be. And of course, wear boots and bring a shovel. If possible, back your vehicle right up to the pile.
By Mary K. from Kensington, MD
If you live near a horse or cow pasture, you live near a fertilizer "factory." My husband and I have, in the past, gathered several piles of horse manure from a field behind our house. We would just put wheelbarrow load after wheelbarrow load into two big piles under a tree, put a few worms that were dug up with one of the piles in them, and let them do the work.
My mother had told me that it was the way that her family did it, using the two work horses' manure to fertilize gardens and trees. We let dead leaves fall into it during fall and winter, sometimes contributing food scraps. By spring, we had nice, labor-free fertilizer for our pecan trees and tomatoes.
Source: My mother, who grew up on a farm during the Depression
I buy steer manure blend at a discount store or home improvement store for less than a dollar to spread around by flower beds and lawn. I use those black weeping hoses for my watering system so the black manure compost makes my gardens look very neat and tidy. This compost is my fertilizer and mulch. It's good for the soil unlike chemical fertilizers. I also put about a cup of this steer manure in a large empty detergent bottle filled with water to water and feed my house plants.
By Linda
Note: This is an older post, so the price of the manure is not current.
Give a "thumbs up" to the solution that worked the best! Do you have a better solution? Click here to share it!
Questions
Here are questions related to Using Manure in the Garden.
How do you make poop pods out of horse or cow manure to fertilize a garden or flower beds? The ingredients are mixed together and placed in a ceramic mold to dry and placed in garden, but what are all the ingredients that are mixed? When it rains the garden is fertilized that way.
Hardiness Zone: 6a
By Rachel from PA
AnswerWas this interesting? Yes No
Ad
---
---
Most Recent Answer
By Grandma J 54 1,041 06/12/20100 people found this helpful
Crumbled old poop is what you want. You can't use every poop on every garden. Know how much you can. Sheep is a universal. Cow/etc have their place. Just amount varies not to burn your garden. We had gone out to an old farm site of sheep and gotten old, old stuff, was wonderful. It is hard to find sheep poop at the garden centers. Mennard's happened to have it this year and I got.
---
My neighbors have Alpacas and I was wondering how the quality of their manure compared to cow manure? Also, do you need to let it set for a time like you do with horse manure?
Hardiness Zone: 6a
By Karen from Reynoldsville, PA
AnswerWas this interesting? Yes No
Ad
---
---
Most Recent Answer
By Coreen Hart [78] 05/14/20100 people found this helpful
Our daughter and son in law use llama manure, and they have the most productive garden I have ever, EVER seen! I would guess alpaca would be similar.
---
I have access to chicken, horse, and cow manure. What is the best way to add manure to a garden getting it ready for Spring planting?
Hardiness Zone: 8a
By Cheryl from Phenix City AL
AnswerWas this interesting? Yes No
---
Most Recent Answer
By Stacy 04/02/20100 people found this helpful
I used to feed my garden a manure cocktail every fall and again in the spring. What I would do is make a slurry of the solids with water in a big plastic tub and pour it over the garden. In the spring this was done when the soil could be worked but before plants were coming up, and never over seeds. It was roughly about 1/3 manure to 2/3 water. Mmmm good! I think it's why I have a good earthworm population now. Best and easiest is if you let it decompose in a compost pile. Let it rot a little so it won't burn your plants, or alienate your neighbors.
---
Question:
I am new to gardening, so bear with me. A friend of mine has a farm and just brought me a load of cow manure. When he delivered it, he dumped in onto my existing (still dormant) flower beds. I am told by neighbors that the manure is hot and needs to be cured before it goes onto existing beds. Is this true? If so, how do I cure the manure? I do have a compost heap in the back yard. Should I transfer it to the compost pile? Help!
Hardiness Zone: 7a
Jennifer from Eugene, OR
Answer:
Hi Jennifer,
Excellent! It is wonderful to hear that you have found yourself a source of free manure. Well-rotted cow manure makes a fabulous organic fertilizer because it nourishes plants and builds soil all at the same time.
You didn't mention how old the manure is, so you'll want to find out from your friend before using it on your plants. Your neighbors are right. Fresh manure is considered "hot", which means it is still releasing high amounts of nitrogen compounds and ammonia into the soil as it breaks down. This can burn the roots of young plants and inhibit the germination of seeds, so it is usually recommended that manure be cured for at least 6 months before using it in the garden. Goat and rabbit manure is milder so curing is not necessary.
One way to cure manure is by hot-composting it. A hot manure pile heats to a temperature of at least 150ºF. This kills off any seeds that might have passed through the animal's system undigested, and it also reduces the likelihood (however remote it may be) that any pathogens remain active in the manure-a comforting thought if your going to be applying it to edibles.
To cure your manure, dump it into a pile and cover it with a tarp (use bricks or rocks to hold the tarp down). Punch a few air holes into the tarp to let the heat escape. In 6 months, (or 6 months - the age of your manure is now) the manure will be ready to use as a top dressing in the garden.
Good luck!
Ellen
AnswerWas this interesting? Yes No
---
Most Recent Answer
By Kim Churchman [3] 03/19/20080 people found this helpful
If you borrow a spud fork and mix it in well, like half-and-half with dirt, it will be fine and won't burn them, but do keep a clear zone at least 4" around the stem. I would take it off and do the mixing, then stockpile it in the back yard in a fenced pile, to use this fall as topdressing 4" thick. You don't mention if it's odorous, but if it isn't smelly then it's composted enough to be find where it is.
---