Painting the walls of your home is an excellent way to update your interior and it can be inexpensive. Keeping the cost down on the paint you are purchasing will leave more money for other interior decorating. This is a guide about saving money on paint (interior).
Out of money and couldn't get a job, I decided to rent out my spare bedroom. The walls were riddled with nail holes and it hadn't been painted in 12 years. I looked closely at the color, a light mint green. There was a wall paper border at the top of the wall and then above that another 6 inches of painted wall. Because I'm a senior and can no longer climb a ladder, I took a good look at the ceiling paint. It looked good so I decided not to paint it. But ouch! The dreaded cost of buying a gallon of paint at $50 was painful.
Then I remembered a gallon of Benjamin Moore paint that I had in the garage for the past 10 years. It was Dove White and I only used 1/4 of it. I checked it out and it was still in great shape. I chipped out some paint from the wall, grabbed the old gallon of paint and went to the BJ store. I asked the man there to tint the old paint to match the chips. After a little begging and no guarantee that it would be an exact match, he did it and for free. I purchased paint tape to protect the wall paper border from him for $5.00 and went home.
Once home I painted the walls from under the wall paper border down to the floor baseboard nothing else. It looked great and fooled everyone who saw the room. It was a perfect match! I will never ever again throw out partially used paint or buy more paint if I can do this with it.
The mint green color doesn't show too well in the pics but trust me it looks good. Total cost to paint the room: $5.00 The best part: I didn't have to climb a ladder to paint the ceiling.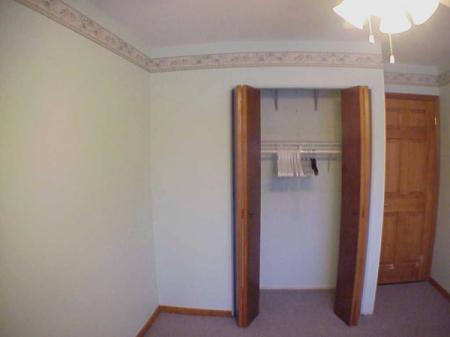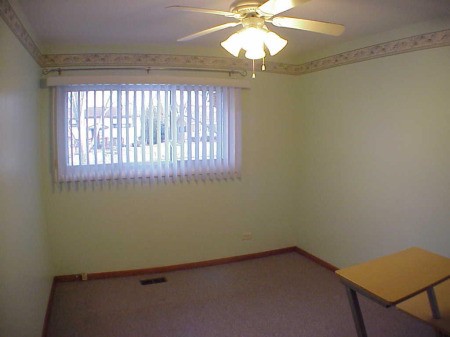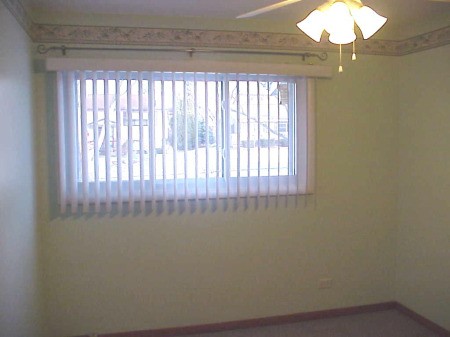 I have lived in the same apartment for nearly ten years and have never been able to afford the paint to repaint. Sadly we have been smokers. The landlord won't pay for the paint and I can't afford the paint.
Please don't tell me to quit smoking and I could afford the paint, I am trying. Are there any thrifty ways to paint? Any help is welcome. Thanks!
By Hairyjoe from Port Clinton, OH
April 21, 2009
0

found this helpful
as well as "craigslist", check to see if there is a "Freecycle" group for your area.
April 21, 2009
0

found this helpful
Try calling your local recycling center. Ours has a place where you can drop off paint for free, you can also take all the paint you need for zero dollars. I recently went and picked up a 5 gallon bucket of exterior sherman williams paint for my garage. Hope this helps.
April 22, 2009
0

found this helpful
Been there, done that! A realtor friend of mine taught me to go into these bigger hardware stores
(aka Home Depot or Lowes) and ask for "Oops" paint, someone asked for a certain color and got the wrong color or the guy mixing it, goofed. The store had to keep the paint that was mixed wrong. I got a whole gallon of Ooops paint for about $1.50 (had 3 different ones to choose from, too) and my room turned out great! You might try that.
-Kip
October 10, 2009
0

found this helpful
Lots of options for you on this one.
1) Clean your walls, this site has an article on cleaning nicotine off walls: http://www.how2instructions.com/Hom ... How_To_Clean_Nicotine_Off_Walls.html
2) Go to Home Depot, Lowes or Sherwin Williams and ask for mis-tinted paint. They should have some great deals.
3) Go to a place like Habitat for Humanity, they typically sell paint for a few dollars a gallon.
4) Find someone who wants to get rid of some of the paint in their basement. You can mix together the remaining paint in their cans to make enough paint for your project.
Read More Answers...
Does anyone know how to get inexpensive "previously opened" paint, say at Home Depot?
By MJ from Pocatello, ID
April 23, 2010
0

found this helpful
At the Lowes where I shop, they keep all of their "OOPS" paint in a shopping cart by the paint department mixing center.
April 23, 2010
0

found this helpful
Osh and Wal-Mart also have the "oops" paints . Just ask at the paint dept. where they are kept .
GG Vi
April 23, 2010
0

found this helpful
I just had another thought. In some places, here and Simi Valley,Ca. the city recycles paint that is brought to the recycle center. They then mix the paint and give it away free in 5 to 50 Gal. drums. I was given a 5 gal.size to paint over graffiti in our tract of homes. It was a beige color. Call your city hall and ask if they do the same. GG Vi
April 24, 2010
0

found this helpful
I, too, would recommend Habitat for Humanity's Re-Store. Not only is it paint for a reasonable price, but the proceeds from sales go toward helping a family in need build a home. Another, good suggestion I saw mentioned (that I was thinking;), is your local recycling center OR places where they hold annual eco-friendly swaps/giveaways (sometimes, also at your local recycling center- just ask around/call your local chamber of commerce, for ideas). Your local librarian may also have info. or know of a place where you can obtain these resources. You'd be surprised how much knowledge and information, concerning your community, they have!
Read More Answers...
Don't fall for the latest fashion in wall paint color and pay the high prices they want for paint. Find used shades in the taupe ranges, or whites and off whites and mix together to get enough for the room you are painting.
Use these basic colors also in your upholstered furniture, and use a bold color for your accessories. If you wish to have a splash of color and you can change them more often or when you get tired of the colors and want a change. Much easier and cheaper than repainting the wall when you get tired of that bold color or if it goes out of style.

By Lynn from Rogers, AR
Answers:
Saving Money on Paint
If you are not looking for a specific color, go to a paint store and inquire about paint they have mixed wrong. Sometimes they will give you the paint to get rid of it! (09/26/2008)

By Hemie