March 12, 2002
0

found this helpful
We have a lot of moss on our roof. Does anyone have some good ideas for killing it and keeping it from growing back?
By Aggie
March 18, 2002
0

found this helpful
Best Answer
Call a roofer unless you're *really* a DIY kind of person.
Get a Galvanized flashing installed that hangs out under the ridge.
Somehow, the Galvanized stuff eliminates the moss/mildew by magic. (Look around your pipe vents,,,, no mildew under them, huh?)
Go for it.
March 15, 2002
0

found this helpful
I would recommend that you call a pressure washing company. They can Zip the Moss away in NO TIME. NOW if YOU want to do it I will tell you that it can be a Dangerous job. Moss is VERY SLIPPERY. If you have a 1 story or 2 story it can be even more dangerous. In HAWAII where I live we use s pressure with a lot of pressure rated yo the Machine. You can Rent this by the day or Week. In Hawaii we have Mildew so half a gallon of Clorox and half a gallon of water does just fine. I do not know what kind of moss you are talking about. You will have to call a Hardware Store and get the info. from then. Remember to wear gloves and good rubber boots, plus a Ventilator for the fumes. Some times these jobs are left best to the EXPERTS. Get at least 4 Estimates and do not take the CHEAP ONE. Call for References and License, YEARS in Business and Better Business Bureau. This is NOT AN EASY JOB. Find out what is Causing this problem.
GOD BLESS YOU AND ALOHA
- HAWAIIAN BOB!
April 12, 2017
0

found this helpful
I sprinkled borax on the roof and let the rain do the rest.Its been two years and it hasnt come back.Zinc or galvinized strips are the answer if you are getting a new install but who thinks of that then? Once your roof is older it gets difficult and could cause damage to shingles.
This product is amazing! You spray it anywhere you want to remove algae and moss, or to stop it from to growing. Just put it into a garden sprayer, and spray it on once a year, then every time it rains, it binds with the rain and starts working. It's amazing stuff with no scrubbing required! It's called "Spray and Forget".
You can buy it at Home Depot. I use it on my mobile home, my garage siding and on our camper. I used to have quite the moss and algae problem, but no more! It also removes mildew, fungus, and lichen stains from roofs, siding, decks, brick, stucco, and other exterior surfaces with no scrubbing required!
By Cyinda from near Seattle
May 20, 2012
0

found this helpful
I had my house and garage roof sprayed with spray and wash on May 16/2012. I am attaching a before photo. I live in BC Canada where it is a very damp climate promoting lots of moss and mold. Most of my roof is covered in black mold. I am hoping that this product works as good as claimed. Rain is being forcasted for this week. I will keep you advised of how my roof improves.
Garry Chilliwack BC Canada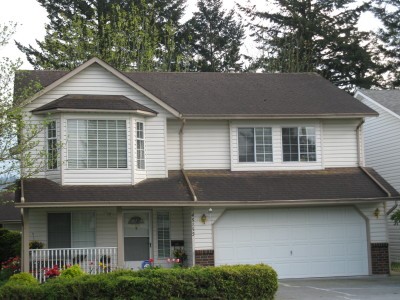 Read More Comments