You can make your own homemade version of bath salts, bath milk, herbal soaks and more. This page contains homemade spa bath recipes.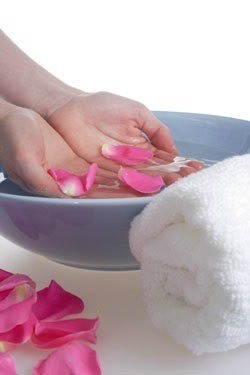 Did you know that besides ancient therapeutic ingestion of ginger (also known as gingerroot) being used for assorted ailments such as arthritis, bronchitis, diarrhea, fatigue, headache, indigestion, and sinusitis, ginger is also therapeutic to use externally? Here's a really nice mild, yet invigorating, mixture enough for one soak in the bathtub that serves as a wonderful circulation stimulant. Oh, and the baking soda as an ingredient aids in detox of the body too!
Ingredients:
1/2 cup baking soda
2 Tbsp. fresh grated ginger
1/2 cup water
Directions:
Mix ingredients well in a small bowl, evenly pour into a tub of nice warm water, swish to disperse, get into the tub, soak for a bit and enjoy how refreshed you'll feel afterwards ;-)
By Deeli from Richland, WA
By Irishwitch 390 18
Makes 10 beads.
Ingredients:
1/4 cup powdered milk
2 Tbsp. white flour
2 Tbsp. borax powder
1 1/2 tsp. rosewater or water
2 tsp. mineral oil
12-15 drops rose fragrance oil (or fragrance of your choice)
1-2 drops red food coloring (optional)
Directions:
Combine the dried milk, flour, and borax in a bowl. Using a fork, stir until well mixed. Add the rose water, mineral oil, rose fragrance oil, and food coloring (if desired). Stir until you have thick dough.
Take a teaspoon of dough and roll it into a ball, with your hands. Keep rolling and working with the dough until it is shiny with oil all over it. Repeat until all of the dough has been shaped. Place the balls on waxed paper or foil and let air dry for 24 hours. You can leave in ball shape or press designs in them. This makes a handful of fragrant bath beads. When one or two dissolve in warm bath water, they release skin-softening milk and oil, and the scent of roses.
By JodiT from Aurora, CO
Buttermilk Bath
This gentle bath will leave your skin soft and silky. Buttermilk is high in fat and lactic acid, and both help soften and hydrate skin. Make an extra portion of this because people of all ages can benefit from this rich, relaxing natural bath. You may want to package this in a decorative glass jar or a cellophane envelope to give as gifts to friends.
1/4 cup dry buttermilk (or dry milk)
1/4 cup Nonfat Dry Milk
1 Tbsp. Cornstarch
1/8 tsp. essential oil of your choice, depending on your mood. (lavender is relaxing)
Mix together all the ingredients with a wire whisk and pour into a airtight jar or re-sealable plastic bag.
Directions for use: Pour 1/4 of the buttermilk bath powder in tub as you add hot water .
(makes 1/2 cup, enough for 2 baths)
Herbal Milk Bath
1 cup Cornstarch
1 cup Dry Milk Powder
2 tsp. of your Favorite Herbs
Combine ingredients in food processor or blender. Add herbs and blend.
Directions for use: Add 1/cup of mixture to hot bath water
(makes 2 cups, enough for 4 baths)
Do It Yourself Bath Salts
1 cup Epsom salt
1 cup Sea salt
1/2 cup Baking soda
Fragrance optional, 1/4 - 1/2 tsp. essential or Fragrance Oils as desired
Combine all ingredients with wire wisk. If your salt is a large crystal type, grind your salt first in a food processor until it is finely grained.
Store in a large zip-lock bag
Directions for use: Use about 1/3 cup per bath
Bubble Milk Bath
1 cup Powdered Milk or powdered buttermilk
1/2 cup Oatmeal
1 cup Baking Soda
4 Tbsp. Corn Starch
2 Tbsp. Cream of Tartar
1/4 cup Handcrafted Soap(cut in chunks)
Optional, fragrance with 1/4 - 1/2 tsp. essential or Fragrance Oil as desired
Use a food processor, add chunked handcrafted soap and oatmeal until grainy. Add powdered milk, baking soda, corn starch and cream of tartar. Add fragrance and process until it's powdery. Store in glass jar.
Directions for use: Use 1/4 cup per bath, add to running hot water.
Cleansing Body Polish
1/2 cup fine sea salt
1/4 cup Jojoba Oil or other body oils(olive oil works fine)
1/4 cup handcrafted soap( finely grated)
1/4 - 1/2 tsp. essential or Fragrance Oil
Combine all ingredients in a small bowl and mix thoroughly. store in a small plastic jar that you can keep in the shower.
This scrub acts as a cleanser, scrub and moisturizer all in one.
Directions for use: Use this in the shower on dry skin(otherwise the salt melts instead of scrubs). Rub and scrub anywhere you need to exfoliate and moisturize. Bath Bombs
4 Tbsp. Citric Acid
4 Tbsp. cornstarch
1/2 cup baking soda
3 Tbsp. Monoi de Tahiti Oil (or you can use any other emollient oil like coconut or Almond Oil, )
1/4 tsp. Fragrance Oil or essential oil (Eucalyptus, peppermint and rosemary is an uplifting blend, great for head colds)
Sift all of the dry ingredients (first three) into a bowl and mix well with wire whisk. Put bottle of oil in warm water to melt oil. Slowly add oil to dry ingredients, then add fragrance and blend well. Take 1 Tbsp. of mixture and shape into balls or press (really hard)into molds (such as small chocolate mold) if using molds, pop them in freezer till hard and pop out. Let the balls rest on a sheet of waxed paper for two to three hours. Gently reshape if needed. Let the bombs dry and harden for 24 to 48 hours.
These are fragile so carefully package each bomb in its own cellophane bag or in a closed container to keep fresh.
Directions for use: To use, drop one bomb into warm bath water to release fragrance and oils. A little bit of heaven right in your bath tub!
Vinegar Hair Rinse
1/2 tsp. of vinegar
1 cup of water
After shampooing, apply the vinegar rinse. You may rinse it all out if you want, or leave the rinse on your hair. Leaving the vinegar rinse on your hair will help to prevent tangles. Vinegar helps to restore your pH balance and helps prevent an itchy scalp. Once your hair dries it will not smell like vinegar. Most people like to use the vinegar rinse 1 to 2 times a week. You can experiment adding infused herbs, a few drops of honey or essential oils to your vinegar rinse.
By Mythi from Silverdale WA
---
Most Recent Answer
---
Does anyone have a homemade recipe for paraffin baths using canning jar paraffin? My therapist and my orthopedist are adamant that I need to use paraffin heat treatment for an injury incurred when a careless driver T-boned my car recently. I do have a bath but I need more paraffin and it would need to be special ordered since I can't find a local source.

Jeanne from Florida
---
Most Recent Answer
By guest (Guest Post) Flag
November 8, 2007
I am teacher of beauty and can anyone give me a recipe for chocolate paraffin wax for manicures please
---
By Irishwitch 390 18
Ingredients:
1 cup baking soda
2 cups dry milk powder
1/2 cup oatmeal (ground finely)
Directions:
Combine all ingredients in a blender until mixed. Keep in a glass jar with a lid. Add 1/2 cup to hot bath water.
Source: my cousin
By Irishwitch from Aurora, CO
I use a silicone ice cube mold to form my fizzies. I made some with a heart shape, rose fragrance oil and put them in a cellophane bag tied with a red ribbon for my grandson's pre-K teacher. He helped pack the cavities, he was so proud and Mrs. Cole was very happy!
Make the fizzie recipe, "firmly" pack into mold (I sprayed mine with coconut oil). Let them stay in mold overnight and then unmold on a bath towel (to reduce the risk of chipping). I let them dry for another day before they were packaged.
By Christi-TX from Abilene, TX
Here is a bath salt I made. So relaxing and also great for gifts.
Supplies:
4 cups Epsom salts
2 cups sea salt - fine
10 drops bergamot or orange essential oil
15-20 drops lavender essential oil
2 Tbsp. dried chamomile flowers
green food coloring
Directions:
Mix salts in a bowl, then add essential oils and food coloring (start with 8 drops or so and add more as needed). Then mix in chamomile. Package in cello bags or canning jars. Use 1 cup of salts per bath. Enjoy!
Source: My own recipe written on my blog http://thefrugalvegan.wordpress.com

By Freya1970 from Halifax, NS
By Crystal T. 1
Instead of using mineral oil in the bath beads, can I use baby oil?
By Crystal
---
Most Recent Answer
November 21, 2014
If you don't mind smelling like baby oil. It's the same thing except for the perfume.
By Irishwitch 390 18
Ingredients:
2 cups dry powdered milk (regular or dried goat milk powder)
1/2 cup Epsom salts
1/2 cup sea salt
1/2 cup baking soda
6 drops lavender essential oil
4 drops rose or rose geranium essential oil
Directions:
Mix all the ingredients but the oils together into a glass bowl. Drop the oils in and work it together with a large wooden spoon or rubber spatula. Pour into a container. Leave the lid off for a day or so, then stir and cover. Give with instructions.
To Use: Add 1/2 cup or into a warm bath while it fills.

By JodiT from Aurora, CO
By Irishwitch 390 18
This is a recipe for making homemade bath milk.
Ingredients:
2 cups dry milk powder
1 cup cornstarch
1/8 tsp. fragrance oil of your choice
Directions:
Blend together all ingredients in blender. Add 1/2 cup of mixture to hot bath water
By Jodi from Aurora, CO