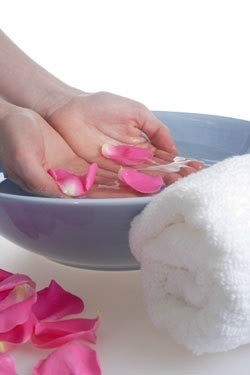 You can make your own homemade version of bath salts, bath milk, herbal soaks and more. This page contains homemade spa bath recipes.
Ad
---
Solutions: Homemade Spa Bath Recipes
Read and rate the best solutions below by giving them a "thumbs up".
Did you know that besides ancient therapeutic ingestion of ginger (also known as gingerroot) being used for assorted ailments such as arthritis, bronchitis, diarrhea, fatigue, headache, indigestion, and sinusitis, ginger is also therapeutic to use externally? Here's a really nice mild, yet invigorating, mixture enough for one soak in the bathtub that serves as a wonderful circulation stimulant. Oh, and the baking soda as an ingredient aids in detox of the body too!
Ingredients:
1/2 cup baking soda
2 Tbsp. fresh grated ginger
1/2 cup water
Directions:
Mix ingredients well in a small bowl, evenly pour into a tub of nice warm water, swish to disperse, get into the tub, soak for a bit and enjoy how refreshed you'll feel afterwards ;-)
By Deeli from Richland, WA
Makes 10 beads.
Ingredients:
1/4 cup powdered milk
2 Tbsp. white flour
2 Tbsp. borax powder
1 1/2 tsp. rosewater or water
2 tsp. mineral oil
12-15 drops rose fragrance oil (or fragrance of your choice)
1-2 drops red food coloring (optional)
Directions:
Combine the dried milk, flour, and borax in a bowl. Using a fork, stir until well mixed. Add the rose water, mineral oil, rose fragrance oil, and food coloring (if desired). Stir until you have thick dough.
Take a teaspoon of dough and roll it into a ball, with your hands. Keep rolling and working with the dough until it is shiny with oil all over it. Repeat until all of the dough has been shaped. Place the balls on waxed paper or foil and let air dry for 24 hours. You can leave in ball shape or press designs in them. This makes a handful of fragrant bath beads. When one or two dissolve in warm bath water, they release skin-softening milk and oil, and the scent of roses.
By JodiT from Aurora, CO
Ingredients:
1 cup baking soda
2 cups dry milk powder
1/2 cup oatmeal (ground finely)
Directions:
Combine all ingredients in a blender until mixed. Keep in a glass jar with a lid. Add 1/2 cup to hot bath water.
Source: my cousin
By Irishwitch from Aurora, CO
Here is a bath salt I made. So relaxing and also great for gifts.
Supplies:
4 cups Epsom salts
2 cups sea salt - fine
10 drops bergamot or orange essential oil
15-20 drops lavender essential oil
2 Tbsp. dried chamomile flowers
green food coloring
Directions:
Mix salts in a bowl, then add essential oils and food coloring (start with 8 drops or so and add more as needed). Then mix in chamomile. Package in cello bags or canning jars. Use 1 cup of salts per bath. Enjoy!
Source: My own recipe written on my blog http://thefrugalvegan.wordpress.com

By Freya1970 from Halifax, NS
I use a silicone ice cube mold to form my fizzies. I made some with a heart shape, rose fragrance oil and put them in a cellophane bag tied with a red ribbon for my grandson's pre-K teacher. He helped pack the cavities, he was so proud and Mrs. Cole was very happy!
Make the fizzie recipe, "firmly" pack into mold (I sprayed mine with coconut oil). Let them stay in mold overnight and then unmold on a bath towel (to reduce the risk of chipping). I let them dry for another day before they were packaged.
By Christi-TX from Abilene, TX
Ingredients:
2 cups dry powdered milk (regular or dried goat milk powder)
1/2 cup Epsom salts
1/2 cup sea salt
1/2 cup baking soda
6 drops lavender essential oil
4 drops rose or rose geranium essential oil
Directions:
Mix all the ingredients but the oils together into a glass bowl. Drop the oils in and work it together with a large wooden spoon or rubber spatula. Pour into a container. Leave the lid off for a day or so, then stir and cover. Give with instructions.
To Use: Add 1/2 cup or into a warm bath while it fills.

By JodiT from Aurora, CO
This is a recipe for making homemade bath milk.
Ingredients:
2 cups dry milk powder
1 cup cornstarch
1/8 tsp. fragrance oil of your choice
Directions:
Blend together all ingredients in blender. Add 1/2 cup of mixture to hot bath water
By Jodi from Aurora, CO
Give a "thumbs up" to the solution that worked the best! Do you have a better solution? Click here to share it!
Questions
Here are questions related to Homemade Spa Bath Recipes.
Buttermilk Bath
This gentle bath will leave your skin soft and silky. Buttermilk is high in fat and lactic acid, and both help soften and hydrate skin. Make an extra portion of this because people of all ages can benefit from this rich, relaxing natural bath. You may want to package this in a decorative glass jar or a cellophane envelope to give as gifts to friends.
1/4 cup dry buttermilk (or dry milk)
1/4 cup Nonfat Dry Milk
1 Tbsp. Cornstarch
1/8 tsp. essential oil of your choice, depending on your mood. (lavender is relaxing)
Mix together all the ingredients with a wire whisk and pour into a airtight jar or re-sealable plastic bag.
Directions for use: Pour 1/4 of the buttermilk bath powder in tub as you add hot water .
(makes 1/2 cup, enough for 2 baths)
Herbal Milk Bath
1 cup Cornstarch
1 cup Dry Milk Powder
2 tsp. of your Favorite Herbs
Combine ingredients in food processor or blender. Add herbs and blend.
Directions for use: Add 1/cup of mixture to hot bath water
(makes 2 cups, enough for 4 baths)
Do It Yourself Bath Salts
1 cup Epsom salt
1 cup Sea salt
1/2 cup Baking soda
Fragrance optional, 1/4 - 1/2 tsp. essential or Fragrance Oils as desired
Combine all ingredients with wire wisk. If your salt is a large crystal type, grind your salt first in a food processor until it is finely grained.
Store in a large zip-lock bag
Directions for use: Use about 1/3 cup per bath
Bubble Milk Bath
1 cup Powdered Milk or powdered buttermilk
1/2 cup Oatmeal
1 cup Baking Soda
4 Tbsp. Corn Starch
2 Tbsp. Cream of Tartar
1/4 cup Handcrafted Soap(cut in chunks)
Optional, fragrance with 1/4 - 1/2 tsp. essential or Fragrance Oil as desired
Use a food processor, add chunked handcrafted soap and oatmeal until grainy. Add powdered milk, baking soda, corn starch and cream of tartar. Add fragrance and process until it's powdery. Store in glass jar.
Directions for use: Use 1/4 cup per bath, add to running hot water.
Cleansing Body Polish
1/2 cup fine sea salt
1/4 cup Jojoba Oil or other body oils(olive oil works fine)
1/4 cup handcrafted soap( finely grated)
1/4 - 1/2 tsp. essential or Fragrance Oil
Combine all ingredients in a small bowl and mix thoroughly. store in a small plastic jar that you can keep in the shower.
This scrub acts as a cleanser, scrub and moisturizer all in one.
Directions for use: Use this in the shower on dry skin(otherwise the salt melts instead of scrubs). Rub and scrub anywhere you need to exfoliate and moisturize. Bath Bombs
4 Tbsp. Citric Acid
4 Tbsp. cornstarch
1/2 cup baking soda
3 Tbsp. Monoi de Tahiti Oil (or you can use any other emollient oil like coconut or Almond Oil, )
1/4 tsp. Fragrance Oil or essential oil (Eucalyptus, peppermint and rosemary is an uplifting blend, great for head colds)
Sift all of the dry ingredients (first three) into a bowl and mix well with wire whisk. Put bottle of oil in warm water to melt oil. Slowly add oil to dry ingredients, then add fragrance and blend well. Take 1 Tbsp. of mixture and shape into balls or press (really hard)into molds (such as small chocolate mold) if using molds, pop them in freezer till hard and pop out. Let the balls rest on a sheet of waxed paper for two to three hours. Gently reshape if needed. Let the bombs dry and harden for 24 to 48 hours.
These are fragile so carefully package each bomb in its own cellophane bag or in a closed container to keep fresh.
Directions for use: To use, drop one bomb into warm bath water to release fragrance and oils. A little bit of heaven right in your bath tub!
Vinegar Hair Rinse
1/2 tsp. of vinegar
1 cup of water
After shampooing, apply the vinegar rinse. You may rinse it all out if you want, or leave the rinse on your hair. Leaving the vinegar rinse on your hair will help to prevent tangles. Vinegar helps to restore your pH balance and helps prevent an itchy scalp. Once your hair dries it will not smell like vinegar. Most people like to use the vinegar rinse 1 to 2 times a week. You can experiment adding infused herbs, a few drops of honey or essential oils to your vinegar rinse.
By Mythi from Silverdale WA
AnswerWas this interesting? Yes No
Ad
---
---
Most Recent Answer
By Dorothy 79 155 03/14/20100 people found this helpful
Thanks for the recipes. Good to give as gifts.
---
Does anyone have a homemade recipe for paraffin baths using canning jar paraffin? My therapist and my orthopedist are adamant that I need to use paraffin heat treatment for an injury incurred when a careless driver T-boned my car recently. I do have a bath but I need more paraffin and it would need to be special ordered since I can't find a local source.

Jeanne from Florida
AnswerWas this interesting? Yes No
Ad
---
---
Most Recent Answer
By lynch (Guest Post) 11/08/20070 people found this helpful
I am teacher of beauty and can anyone give me a recipe for chocolate paraffin wax for manicures please
---
Instead of using mineral oil in the bath beads, can I use baby oil?
By Crystal
AnswerWas this interesting? Yes No
---
Most Recent Answer
By Abigail A. 13 920 11/21/20140 people found this helpful
If you don't mind smelling like baby oil. It's the same thing except for the perfume.
Archives
Thrifty Fun has been around so long that many of our pages have been reset several times. Archives are older versions of the page and the comments that were provided then.
I was wondering if there is a easy way to make your own bath salts. I love to relax in the bath and I get gift baskets all the time. I love the bath salts and was just wondering. It would be greatly appreciated because I have to give a gift basket in july.
Soulegal
---
RE: Recipes for Making Bath Salts
Here are some recipes that have been posted in the past here on ThriftyFun:
Have fun! (01/04/2005)
RE: Recipes for Making Bath Salts
I use epsom salt mixed equally with sea salt add a few drops of essential oil fragrance, and food coloring sparingly for color. (01/05/2005)
By Barbie
RE: Recipes for Making Bath Salts
Try this. Its easy and you can vary it with many different scents and personal touches. Makes a beautiful gift when put in a unique glass jar!!
The Salt Blend:
1 cup coarse sea salt
1 cup epsom salts
Lavender Bath Salts:
Salt Blend
Essential oil of Lavender (about 1 tbsp)
dried lavender flowers (Handful)
Another variation:
Salt blend
Orange Oil (About 1 tbsp)
Dried orange peels (handful)
dried mint leaves (handful)
Another Variation:
Salt Blend
Rose Oil (About 1 Tbsp)
dried rose buds or petals (handful)
(01/07/2005)
By Great Recipes!
RE: Recipes for Making Bath Salts
I cannot remember the ladies name. She requested how to make homemade bath salts. I saw a recipe somewhere on the web. Here goes.
2C Epsom salt, or Dead sea salt. Or 1 C of each.
1-2 tsp. baking soda (makes skin soft)
10-12 drops of essential oil, vanilla, lavender, eucalyptus whatever you like.
You can add a small amount of food coloring paste (kind used for cake decorating). Only if desired.
Stir salt really well. The more you stir the more the smell comes out.
Pour into pretty glass jars. Mason, baby food, jelly etc.
Add several TBSP bath salt into warm bath water. (01/09/2005)
By Betty
In an effort to save money I am asking for recipes and any websites visited by members that feature DIY recipes for bath oils/gels, bath salts, scented candles, and soap, as these pampering treats are very expensive here. All help is greatly appreciated.
Alison Thomas from Lower Carlton, St. James
---
RE: Homemade Bath and Beauty Recipes
I go to a local MOPS group and we do fun crafts. One site they get ideas from is
http://www.diynetwork.com
, just go to the craft area. And I have used for bath salts this site:
http://www.pioneerthinking.com
. It made great Christmas gifts to give out! Have fun!! (04/25/2006)
By mobo
RE: Homemade Bath and Beauty Recipes
I agree with mobo--Pioneer thinking is the greatest site that I have found and use for making my own natural products and they really are good. Have made many of my own face and skin care products. Have fun! (04/25/2006)
By pooksa
RE: Homemade Bath and Beauty Recipes
Try
http://www.budget101.com
and
http://kitchencraftsnmore.net
. I love these sites! (04/25/2006)
By Billie
RE: Homemade Bath and Beauty Recipes
Yup,
http://kitchencraftsnmore.net
There are recipes ranging from homemade bath salts to homemade weed killer. They have it all. (04/25/2006)
Exotic Bath Goodies
Bath Salt:
You will need:
1/2 cup rock salt
Skin safe essential oils
Funnel
Combine rock salt with ten drops of essential oil. Use funnel to pour salt mixture into bottle; cork bottle tightly.
Sparkling Bath Gel:
For bath gel, you will need:
1 1/3 cups aloe vera gel
1 t. lanolin
fine gold glitter
Funnel
Mix gel and lanolin with a small amount of glitter. Use funnel to pour mixture into bottle. Cork bottle tightly.
Silky Bath Oil:
You will need:
16 oz. of almond oil
1/2 oz of skin safe essential oil
Dried flower and greenery, such as small dried rosebuds, dried Queen Anne's lace, and thin dried leaves)
Funnel
Mix oils together. Place desired dried items in bottle. Note: If using a bottle with a narrow neck, soak dried items in oil mixture before placing them in bottle. Pour oil mixture into bottle; cork bottle tightly.
Fragrant Bath Tea Bags:
For tea bags, you will need:
chamomile blossoms
1/4" wide flat gold trim
1/2" squares of gold tulle and sheer organza
Dried mint leaves for invigorating bath tea or dried lavender for soothing bath tea
Using equal parts, mix chamomile blossoms with mint leaves or lavender. For each tea bag, center one square of organza over one square of tulle. Place 1/4 cup of desired tea mixture in center of squares. Gather edges of squares around tea. Wrap an 8" length of trim several times around gathers. Know ends to secure. To use: Place one bag in bathtub under warm running water.
Scented Bath Salts Make your own bath salts in your favorite scents. Use plain rock salt and add a few drops of essential oil. Lavender and rose work really well. Bottle the salts up in pretty jars or other containers for unique and inexpensive gifts. BE sure to make your bath salts a few weeks ahead of time to allow the oil to thoroughly scent the salts. Write a little homemade tag with the simple instructions: Place a few tablespoons of bath salts under the faucet as you draw your bath.
Caution: Individuals with diabetes should be careful when using bath salts. (04/25/2006)
By micksgirl
RE: Homemade Bath and Beauty Recipes
http://www.candlesandsupplies.com/soapprojects.html
and they have the citric acid it requires for a very reasonable price, 4 lbs. for $9.00 and the recipe only requires 1/2 cup (that's a lot of bath fizzes) Their turn around time is very fast too! (01/14/2007)
By t2cb1970
How do you make bath salts?
How do you make bath salts?