Swarms of flying ants are not uncommon during the summer months. If these swarms are from colonies in your yard or the walls of your house you may want to get rid of them. This is a guide about getting rid of flying ants.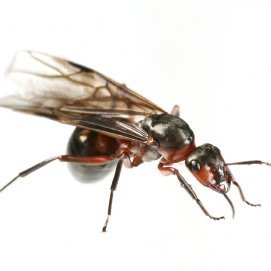 Filter

: All Articles
Sort

: Relevance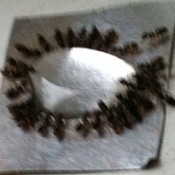 We had ants. They flew, they crawled, and they took over my kitchen. I tried everything I could think of, commercial sprays, home made solutions, and nothing worked. I store everything in jars, made sure no dirty dishes or food ever remained out, but yet they came.
An internet friend told me to try Terro Ant Killer. I checked it out online but thought it sounded too good to be true. While browsing in the store one day I ran across it and was surprised to find out it was only a little over $2.00 so I purchased some. I put little blobs of it on small squares of foil and sat it out for them. (If you buy this product please read the instructions, because once you put it out it will attract all the ants to it. They eat it, and take it back to the nest. Had I of not read the instructions I probably would of killed them while they were eating it.) But I did allow them to eat it, and it seemed thousands came. After eating their fill they went back to their nest to feed the others. Within two days, every ant was gone!
Source: http://www.terro.com/
I have a problem with flying insects. They look like giant flying ants, about 1 inch long. I thought they may have been termites, but a friend of mine said they weren't. I live in Tampa Florida. They seem to come around at the beginning of summer.
They swarm the outside of my house and find any way in they can, through gaps in the windows and doors, under baseboards, etc. They don't bite but are a real pain. Does anyone have any idea what they are and how I can get rid of them permanently?
By LKaylor from Tampa, FL
Answer
Was this helpful?
Helpful?
Yes
As said in another post, carpenter ants.
Reply
Was this helpful?
Helpful?
Yes
Read More Answers...
How do you get rid of flying ants in the house?
By mamamia17 from Roselle, IL
Answer
Was this helpful?
Helpful?
Yes
I can't answer this question, they are not termites and they are driving me crazy too. Tiny flying ants and we have sprayed three times. They swarm in my bedroom and its totally clean, so help please.
Reply
Was this helpful?
Helpful?
Yes
Read More Answers...
Does anyone have a remedy for tiny flying ants that are swarming one of my windows in the bedroom I rent in a shared house? My landlord refuses to do anything about it (that's another story). I get about 60-80 little flying ants about 5 or 6 PM each evening that fly around any lights when they're turned on, and are gone the next morning.

They're not termites - they have a pinched body. I don't think they're carpenter ants as they're tiny and have wings. Would Borax work, and if I sprinkle it in my room is it safe to sleep there as well? And it's very humid here - would Borax ruin the wood windowsills if I sprinkled it around the window that they congregate around?

Thanks for any help, I am really being driven crazy for now and am looking for a new place to live, but won't be able to move out for another month.
Answer
Was this helpful?
Helpful?
Yes
Cornmeal a thin line, they pick it up to feed their colonies. Great thing is the cornmeal swells up and kills them.
Reply
Was this helpful?
Helpful?
Yes
Read More Answers...