Growing Pumpkins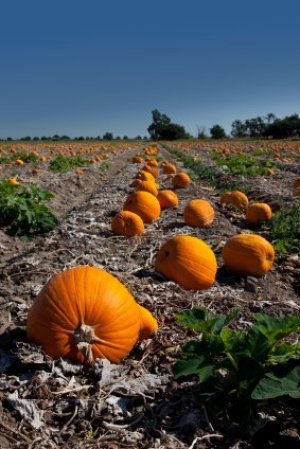 Pumpkins are very easy to grow and then fun to eat and decorate. This is a guide about
growing pumpkins
.
Solutions
Share on ThriftyFunThis guide contains the following solutions. Have something to add? Please share your solution!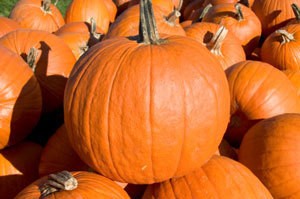 To make sure your pumpkins last as long as possible, they must be harvested, cured, and stored properly.
A common mistake is to harvest fruit while it's still immature. This will give you fruit that can not be successfully stored, giving you poor quality results.
On the other hand, keep in mind that mature fruit that have been removed from the vine are still alive, so proper curing and storage will slow the rate of respiration, and prolong the storage life of the pumpkin.
To harvest correctly, here is what you do:
Harvest pumpkins when they have developed a deep uniform color, and have a hard rind. The rind will be firm and resist denting when pressed with a thumbnail.
Harvest all mature pumpkins before a hard freeze. A light frost will destroy the vines and should not harm the fruit, but a hard freeze, can damage the fruit, so get your pumpkins in before damaging hard frosts arrive.
When harvesting pumpkins handle them carefully to avoid cuts and bruises which can provide entrances for various rot-producing organisms.
Cut the fruit off the vine with a pruning shears. Leave a 3 to 4 inch (7.6 – 10.2 cm) handle on the pumpkins. A pumpkin with a "handle" is not only more attractive, but they are less likely to rot when they are harvested with a portion of the stem still attached to the fruit.
Try to never carry the fruit by their stems. The stems may not be able to support the weight and they may break off.
After harvesting, cure the pumpkins at a temperature of 80 to 85° F (27 to 29° C) and at a relative humidity of 80 to 85 % for about 10 days.
Curing helps to harden their skins and heal any cuts and scratches.
After curing, store pumpkins in a cool, dry, well-ventilated location. Storage temperatures should be 50 to 55° F (10 to 13° C).
Never store pumpkins near apples, pears, or other ripening fruit. Ripening fruit release ethylene gas which shortens the storage life of pumpkins.
When storing pumpkins, place them in a single layer where they don't touch one another. Good air circulation helps to prevent moisture from forming on the surfaces of the fruit and helps prevent the growth of decay fungi and bacteria.
Avoid placing pumpkins in piles. This generates unwanted heat which may result in the rotting of some fruit.
Periodically check pumpkins in storage and get rid of any fruit which show signs of decay.
Properly cured and stored pumpkins should remain in good condition for 2 to 3 months or longer depending up on the variety.
If you follow the above steps, you will be assured a successful harvest, and you can use your pumpkins any way you want after that!
Source: http://www.care2.com/c2c/share/detail/454137
By Mythi from Silverdale, WA
One way of making pumpkins grow fast is to feed with water. Make a hole in the stalk of the pumpkin and insert a cotton candle wick in the hole with one end. Place the other end in a jar of water. The water will wick itself into the pumpkin. Always make sure there is water in the jar.
By Janette from Parkersburg, WV
When you have finished with your pumpkin in the kitchen, bury the seeds in you garden. They don't take any love or care and grow fantastically. Next year you won't have to buy pumpkins!
By Pinklulu from Kalgoorlie, Western Australia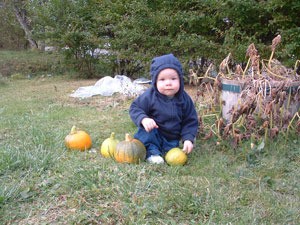 If growing pumpkins this season, grow them in a large container filled with compost, manure and fertile soil. Water them every day and once they are full grown and ready for harvest, take pics of your little ones with their pumpkins. You will treasure the memories forever.
By Lisa
Questions
Ask a QuestionHere are the questions asked by community members. Read on to see the answers provided by the ThriftyFun community or ask a new question.
Can you grow pumpkins from the seeds we have just scraped out of the pumpkin?
By village from England
October 27, 2010
0

found this helpful
Yes, let them dry and you can plant them next year! Let them dry completely before storing them in an airtight container!
October 27, 2010
0

found this helpful
If you or your neighbors grew squash, your seeds may not produce pumpkins. Instead,you may get a cross between a squash and a pumpkin. Generally, these mixtures don't taste very good. We've grown them! Toni
November 1, 2010
0

found this helpful
Years ago after Halloween we threw our jack-o-lantern into the garden, thinking nothing of it until it sprouted in the late spring. We left it alone and it produced a very large pumpkin. Not sure how heavy but we had to use the wheel barrow to haul it to the front porch to carve.
July 17, 2011
0

found this helpful
How do you tell the difference between male and female pumpkin plants?
By Paul
July 18, 2011
0

found this helpful
I don't think they are different plants; I think they are like all flowers with male and female parts. Look at the blooms. The fuzzy ended stalks around the center with the dust are stamens (male) and the single one in the center is the female part (pistil) which will turn into a pumpkin. The dust from the stamens needs to get on the pistil, and nature will take care of the rest.
July 20, 2011
0

found this helpful
The female flower will start a pumpkin, the male flower will just die off. My husband is trying to grow the "1000 lb ones from Big Atlantic Dill.
July 12, 2011
0

found this helpful
How many flowers do I leave on my pumpkin vine and do I help them to fertilise using a paintbrush?
By Rosemary
Photos
Share on ThriftyFunCheck out these photos. Click at right to share your own photo in this guide.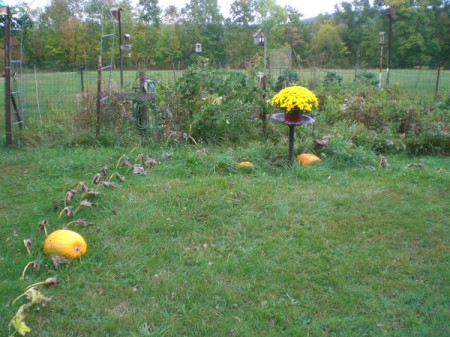 Photo Description
Do you think pumpkins know we want to carve them up? These three look like they did and wanted to escape from my garden! Ha ha ha.
Enjoy Fall everyone!
Photo Location
My home garden, Northeastern PA
Archives
ThriftyFun is one of the longest running frugal living communities on the Internet. These are archives of older discussions.
October 27, 2010
0

found this helpful
My tip for growing pumpkins. I have a large drum filled with potting mixture about 1 foot from the top. I placed seeds in and the plant is growing well. All my lawn clippings go in the drum. It has a little water hole about 6 inches from the bottom. I have put a trellis on the side of the drum so the pumpkin can climb and hang from that, instead of growing on the ground. This keeps the plant slug free.

By Michelle from Boddington, WA
March 3, 2010
0

found this helpful
Can you help me with my pumpkins? They grow well, but only produce male flowers, therefore no pumpkins. What am I doing wrong?

By Kaye from Sydney, Australia
Answers:
Growing Pumpkins
Go to garden department look for fertilizer that says something re producing flowers, and try that. (12/17/2009)

By PIKKA
Growing Pumpkins
We had the same problem, the flowers were not being fertilized, you can either run around each morn with a art paint brush and fert' them yourself or as we did, attracted the bees to them. AS bees are attracted to blue and not the smell, we bought a couple of BIG blue silk flowers from the bargain store and placed amongst the vine. It works, also put them in veggie patch. (12/17/2009)

By Ausjulie
December 15, 2009
0

found this helpful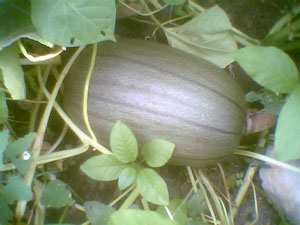 Pumpkin Turning Orange
Do pumpkins still grow as they are turning orange? Thanks
Sandy from Bluff City, TN
Answers:
Growing Pumpkins
Hey there! I think they've pretty much reached their full size at that point, but will fill out a bit. Mine haven't gotten quite that big yet, so I can't give you first hand experience. But last year, I think that after they had gotten big and started turning orange, they were still pretty smooth, without those characteristic pumpkin ridges. So as they turn orange, they'll fill out. Hope that helps! (07/31/2007)

By Beth - MA
Growing Pumpkins
In my experience they do not grow after they are orange. In fact, here in northern Saskatchewan, we have a short growing season, so we often have to pick pumpkins that are green, and then they ripen at room temperature. (07/31/2007)

By louel53
Related Content