Read and rate the best solutions below by giving them a "thumbs up".
Growing Pumpkins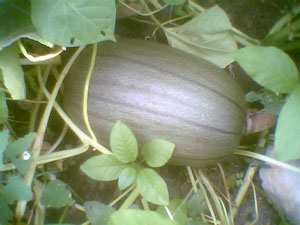 Pumpkin Turning Orange
Do pumpkins still grow as they are turning orange? Thanks
Sandy from Bluff City, TN
---
RE: Growing Pumpkins
Hey there! I think they've pretty much reached their full size at that point, but will fill out a bit. Mine haven't gotten quite that big yet, so I can't give you first hand experience. But last year, I think that after they had gotten big and started turning orange, they were still pretty smooth, without those characteristic pumpkin ridges. So as they turn orange, they'll fill out. Hope that helps! (07/31/2007)
By Beth - MA
RE: Growing Pumpkins
In my experience they do not grow after they are orange. In fact, here in northern Saskatchewan, we have a short growing season, so we often have to pick pumpkins that are green, and then they ripen at room temperature. (07/31/2007)
By louel53
---
Growing Pumpkins
Can you help me with my pumpkins? They grow well, but only produce male flowers, therefore no pumpkins. What am I doing wrong?
By Kaye from Sydney, Australia
---
RE: Growing Pumpkins
Go to garden department look for fertilizer that says something re producing flowers, and try that. (12/17/2009)
By PIKKA
RE: Growing Pumpkins
We had the same problem, the flowers were not being fertilized, you can either run around each morn with a art paint brush and fert' them yourself or as we did, attracted the bees to them. AS bees are attracted to blue and not the smell, we bought a couple of BIG blue silk flowers from the bargain store and placed amongst the vine. It works, also put them in veggie patch. (12/17/2009)
By Ausjulie
---
Growing Pumpkins
My tip for growing pumpkins. I have a large drum filled with potting mixture about 1 foot from the top. I placed seeds in and the plant is growing well. All my lawn clippings go in the drum. It has a little water hole about 6 inches from the bottom. I have put a trellis on the side of the drum so the pumpkin can climb and hang from that, instead of growing on the ground. This keeps the plant slug free.
By Michelle from Boddington, WA