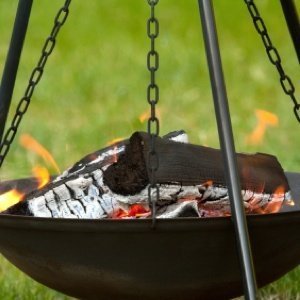 Keeping your fireplace ashes mostly cleaned out makes for better air circulation around your fire, and the ashes can be useful in the garden. This guide is about uses for fireplace ashes.
Ad
---
Solutions: Uses for Fireplace Ashes
Read and rate the best solutions below by giving them a "thumbs up".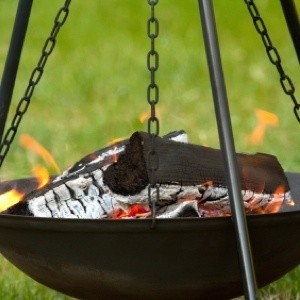 As long as you follow a few simple precautions, wood ashes can be used to benefit the garden in three ways: as a fertilizer, as a soil amendment, or as an insect repellent.
By Ellen Brown
Don't know what to do with those ashes? This is a tip for those who have ash from a wood burner or fireplace. Place it in your garden or flower beds over winter, not all in the same place, just here and there.
Use ashes from your fireplace to sprinkle in your garden. It wards off slugs, as well as many other harmful insects. The ashes act as shards of glass as they crawl on the dirt.
During these winter months when fireplaces are in high use, you will generate quite a bit of ash. We clean out our fireplace into a paper grocery bag. The bag is then rolled shut tight down to the level of the ash and placed into a storage tub with a secure lid. One tub will hold quite a few bags.
These bags will be periodically be added to our compost heaps throughout the Spring and Summer. I even take one or two out the pile now and simply place the bag in the pile. Wet weather will break down the bag and keep the ash from blowing around.
If you have a fireplace or wood stove, take your ashes and put them around your plants. Your plants will grow better, and less or no weeds will grow there.
Have a chimney? Here's a different use for your wood ash. It could be used for any household cleaning needs that requires scouring. It can also be used in the garden as fertilizer and if you have a pen for livestock, the ash can be sprinkled on the floor and animal droppings before sweeping. Saves you a few pennies that would have been used to buy cleaning detergents. (Did you know that wood ash, specifically that of the palm tree, is one of the two ingredients for making native soap (the other being palm kernel oil) in some parts of Africa)

By NY from Upper Darby, PA
Give a "thumbs up" to the solution that worked the best! Do you have a better solution? Click here to share it!
Questions
Here are questions related to Uses for Fireplace Ashes.
I need some ideas on what I can do with all the wood ash from our wood furnace and fire place. In the winter we use it like salt on the snow and ice. But what can I use it for now? Is it good in the garden?
By Diva53d from Foymount, Ontario
AnswerWas this interesting? Yes No
Ad
---
---
Most Recent Answer
By ForestSpirits 11/29/20090 people found this helpful
You can actually buy Real Wood Ashes on Amazon. Just found it!
http://www.amazon.com/gp/product/B002TMTCY2/?tag=thrif06-20
1 Pound of Oak Wood Ash (Ashes Natural Fertilizer, Change PH Levels in Soil, Ward Off Slugs, Protect Plants Over Winter, Control Pond Algae, Boost Your Organic Tomato Plants, Compost, Make Soap, Shine Silver)
---
What can I do with wood ash? Besides tossing in the woods. What garden plants or veggies like it?

By Linda
AnswerWas this interesting? Yes No
Ad
---
---
Most Recent Answer
By mln 01/28/20010 people found this helpful
We put our wood stove ashes in the garden. My husband roto-tils it all in and it is good for all vegetables.
---
Can I use wood ashes on my pineapple and apple tree?

Hardiness Zone: 8b

Robert from Montverde, Florida
AnswerWas this interesting? Yes No
---
Most Recent Answer
By old cookie (Guest Post) 12/06/20070 people found this helpful
No one said pineapples grew on trees. If you look it says
pineapple and apple tree, not pineapple tree.
---
How do I use fireplace ashes for algae control in pond? Can it be used for weed control under pine trees?
By Ernie M.
Archives
Thrifty Fun has been around so long that many of our pages have been reset several times. Archives are older versions of the page and the comments that were provided then.
Q: I have heard that you can put fireplace ashes on certain plants. Can someone tell me what plants this works for and what plants I shouldn't put them on? Are there any other uses for ashes?
Diane
A: Diane,
Fireplace ash (wood ash) can be safely added to most garden soils, with a few exceptions. Depending on the type of tree burned, wood ash varies in alkalinity and will act as a liming agent in the soil, raising the pH. This makes it a useful additive if you have acidic soil or compost heaps that you want neutralized. Root crops, bulbs, annuals and most perennials will find it beneficial. Tomatoes seem to love it. Because of its alkaline nature, you should avoid giving it to acidic loving plants like rhododendrons, azaleas, cranberries or blueberries. It may also promote potato scab when applied to potatoes. Store fireplace ash safely in a metal garbage container and apply it to plants in the spring. Wood ash is easily absorbed into the soil so you only need 1/4 inch to 1/2 inch to dress flowerbeds. Wood ash from treated wood contains the residue from harmful chemicals and should not be used in the garden.
Other ways to use wood ash are as a slug repellent around plants, a glass cleaner (use on fireplace glass-rub with newspaper) or as a melting agent (provides traction on snow and ice). It's also used as a boiling agent to break down cellulose plant material when making homemade paper.
By Ellen Brown
More Answers:
Fireplace Ashes
I don't know about fireplace ashes on plants, but I do know its the absolute best for putting on icy sidewalks and stairs. Its also great for putting behind and in front of your car tires when the roads are icy or snowy to give you car more traction. (12/04/2000)
By roxsierose
Wood Ashes
Wood ashes add potash to the soil. They also help to keep soft bodied insects off plants (aphids and such). This time of year I add them right to the garden soil. (12/04/2000)
By Stan - Michigan
Traction
Ashes can be used on walkways when they are slippery. Put some in a box and carry some in your car and it will give you traction when you are stuck on ice. (12/04/2000)
By D - Lancaster, PA
A Link
Here's a link that might be helpful to you:
http://ruralwideweb.com/tufwashes.htm
. There are about ten different uses for the ashes, most of which are applicable to those in rural areas. As a bit of advice, avoid putting fireplace ashes around roses or other plants that are acid-loving. If you mix the ashes with your regular compost (or bag of fertilizer) it will stretch the product and feed your plants as well! (01/29/2003)
By beachcitymom
Azaleas
When I work in my yard and burn leaves, tree limbs and any other wood trash you'll find in the yard, I let sit for about two days to cool (scattering thoroughly) then I put the ashes on my azaleas. They thrive on acid soil and this it the best I've found to make my garden do well. You can actually see the difference in the dark green leaves in about 3 days! (10/18/2005)
By Greeneyesmom
RE: Uses for Fireplace Ashes
I always put them in my yard and not the trash, so I won't add to the landfill. (10/19/2005)
By Ziggee
What is the best way to discard ashes from your fireplace? Is there another use for this ash?