I love old things. I have several old maple trees on my property. If it's in the program, I will outlive these ivy covered ancients. I'll hate to see them go. They are a comfort to me.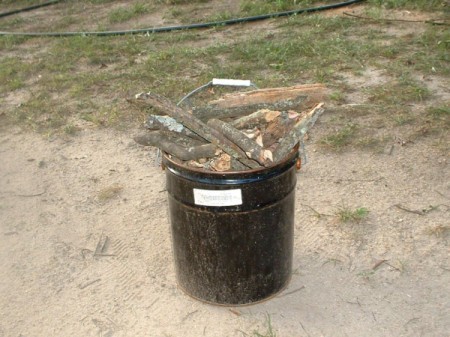 Being as old as they are, I can walk my little domain each morning and find twigs and small branches scattered about. I pick them up and add them to a pile along a wooden fence. Eventually, the pile becomes rather large and must be removed. And so, I make several treks to the curbside where I deposit this debris. It may lie there several days or several weeks before the city picks up the unsightly mess.
While dragging or carrying armloads of this fallen wood to the curb, a picture usually comes to mind. I saw this picture many years ago, maybe in National Geographic. It is of a poor woman who lives in the desert. She has hungry children and just a little food. That food must be cooked, but she has no wood for a fire. Wood must be found. I've often wished I could somehow transport my wood to her.
If I remember correctly, the text accompanying the picture stated that a good portion of the woman's time is spent looking for small twigs and branches, each day. Something to think about when you effortlessly turn a dial or push a button on your programmable, porcelain encased electric range.
How does this little story tie in with the total failure of my 2015 watermelon crop?
This year, I planted two varieties of watermelon I had never grown before. One was the hybrid 'Yellow Doll'. This melon is absolutely delicious. To me, it tastes more like ice cream than watermelon. I'll take it over any red watermelon, any day.
The other was the heirloom 'Orange Tendersweet'. I've never tasted this melon. Reports are that it is very good. If it's half as good as Yellow Doll, I will be pleased.
People, I was alive with anticipation, checking the growth of the melons, often. Golly, I had an awful lot of melons! Maybe I should plan a watermelon feast with a few friends. Yes, I think I'll do just that.
Then, something that had been brewing in my subconscious, finally forced it's way to the surface. Guess I had been denying something was wrong with the melons. Now I had to admit it. I had been thinking the shape of the melons was rather odd. On closer examination, I found the melons were quite soft and had begun to shrivel. All my melons, soft and shriveled. I hurt.
I picked several at various stages of growth, grouped them on the ground and took a picture. I sent this picture to the local ag agent and asked if he knew what might have caused my melon failure. He concluded the problem was blossom end rot, most likely brought about by inconsistent watering or lack of calcium, or both.
Addressing the calcium issue, he advised that all gardens where vegetables are to be grown, should have an annual dressing of lime or wood ash. He added that it could take months to derive benefits from lime whereas the benefits of wood ash are immediate.
I had purchased lime in years past. I used it on my lawn every second or third year. I'm thrifty minded, not parsimonious. Yet, the last time I priced lime, I was shocked. I refused to buy it. I'm still trying to recover from the sharp increase in the price of fertilizer.
At my age, light bulbs don't 'go off' in my head as often as they use to. I did have a flash today, though. Doug! Here you are lugging all this wood to the curb where it lies for who knows how long when you could be burning it for wood ash. Get it, Doug? Free wood ash for your garden.
Alas, my fair city has an ordinance against burning yard waste. Well, it was a nice thought while it lasted. Think Doug! OK, the neighbors build fires in their grills, using charcoal and starter fluid, causing the emanation of heavy, petroleum based fumes that rape the nostrils as they waft my way. A maple wood fire would be just as safe and smell a heck of a lot nicer.
I don't cook out, but my fair city doesn't know that. And as far as I know, there's no ordinance dictating my choice of fuel, if I did. Perhaps I would prefer a hickory smoke flavor added to my grilled version of Chateaubriand, or better yet, a maple smoke flavor.
Here's the deal. I round up an old grill, maybe through Freecycle. I purchase a cheap pack of wieners. With garden hose handy, I build a twig and branch maple wood fire in the grill. The pack of wieners kept nearby will serve as evidence of my intent; that is, to grill food, not burn yard waste. People, I'm ready to shovel wood ashes from my grill!
In one fell swoop (always wondered what a fell swoop is), I defy the city, yet reduce it's workload somewhat, keep my property free of piles of twigs and limbs, eliminate the curbside eyesore, and gain much needed and free, wood ash for my garden. All the while wishing there was a way I could share my good fortune with that poor lady of the desert.
These are the days.