My mom's 90th birthday is next month. She is no ordinary 90 year old! For her 80th, she went sky diving! She is in excellent health, so we need ideas for something memorable!
By Vicki
Answer
Was this helpful?
Helpful?
Yes
Best Answer
Consider the year she was born and do a timeline of her life with pics and things that she would to reminisce over, all the achievements she surpassed in her life and things that happened that year of her life such as: Mom the day you were born X happened on you birthday, when you were 3 this happened when you were 9 this happened you did this when you were 10 and did you know; somethings that others would never have known would be great.
I am a CNA (certified nurse aid) i have taken care of elderly for years! I am so happy to hear your mother is in such great health! What's her secret! lol
There was a lady I took care of and she was 104 when she passed and her secret was no marriage lol! But she did receive juicy fruit for life as she was in a contest as a child who was the youngest child to enter the contest of gum popping and won a supply for life, that's the sort of thing I was mentioning to say about your mom. She may not have won any life supplies of things but she may love to reminisce about the good old days! Most people her age don't remember their own name let alone go skydiving = )
I wish your mother many years to come- maybe she will be in the hall of ages. Your state should have one and you should see what the oldest person in your state lived to be. Your mother sure does have great kid(s) if they are wise to ask for ideas! Hope the party is kickin!
Reply
Was this helpful?
Helpful?
Yes
Read More Answers...
I need ideas for a 90th birthday party.

Faye M.
---
90th Birthday Party Ideas
You could ask each person in attendance to contribute to a memory jar in which they would each write down a memory of the person being honored and then let him pull out some of the slips of paper and read them or have them read to him. This is something he can keep and pull out a nice or funny memory any time he needs a little lift. The jar could be decorated in any manner that would suite the recipient. (04/20/2008)

By binkylou
90th Birthday Party Ideas
A wonderful thing I saw at a party I was to recently was find some favorite pictures of the birthday person and even family members and make a story board of her life with the pictures, also you could make a scrap book if anyone is into that. (04/20/2008)

By Diane
90th Birthday Party Ideas
I am in the middle of planning my grandmother's 90th birthday party and came up with this idea for centerpieces. She loves flowers so I am having her great grandchildren decorate flowerpots and then will plant petunia's in them and use them as centerpieces. Then guests can take them home after the event. (04/23/2008)

By Regina
90th Birthday Party Ideas
This is what I did for a 100th birthday, but it should work the same way. I used bright colors, you don't want anything depressing when someone is turning 90 or higher. I found these sprays with the number 100 and stuck them in bud vases. I sprinkled number 100 confetti all around the tables. It was easy and inexpensive. (05/26/2008)

By Linda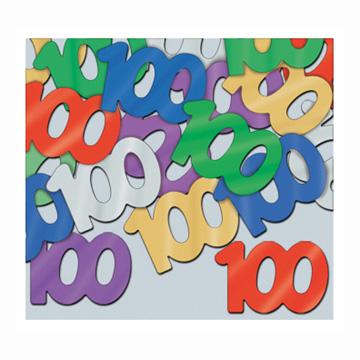 90th Birthday Party Ideas
A really easy and inexpensive idea for decorations is old fashioned tea cups and saucers. You can set the center with lace doilies and then arrange a tea cup and saucer then fill that with lace hankies and strings of pearls (they don't have to be real ones) or any type of old-fashioned costume jewelry. This works well for a 50th anniversary too. Most seniors have a few tea cups and saucers that they don't use anymore and are thrilled to have a reason to dust them off. (06/06/2008)

By Patty
90th Birthday Party Ideas
For my father's 90th birthday we had everyone call a toll-free number and record their stories and memories.
We had about 60 people call-in from all over the country. We played the CD with all the recordings at the 90th birthday party.
To get the toll-free number we used a service called LifeOnRecord that can be found at lifeonrecord.com (07/07/2008)

By Deborah Otto
90th Birthday Party Ideas
I did this for my parents' 60th anniversary, but it will work well for a 90th birthday. I made a CD of their favorite songs (from the 30s and 40s). Then made CD cases with as many different photos as I could find of them both. I had enough CDs so every guest could take one home. Everyone enjoyed looking at the different photos on the different tables. (02/10/2009)

By Diane
90th Birthday Party Ideas
We did this for my grandmother's 90th. And it could cost as little as nothing to what you feel is right. We made a donation. But we contacted the local high school and asked if their marching band would play and march down the street to her house and come into the backyard and play a couple songs for her. Bands are always up lifting and fun cause everyone loves a parade, right? And the high school band is always looking to practice. It was the most beautiful day in August.
We also contacted the local TV station to film the band and the party and then they interviewed my grandmother afterward. So it was on the news that night. This of course was all being recorded so it will be enjoyed for years to come. She still to this day talks about it. She'll be 92 next month. (07/20/2009)

By Wandiful
Comment
Was this helpful?
Helpful?
Yes
I am looking for 90 year old man's birthday party ideas... centerpieces, crafts, etc
Thanks,
Pauline from San Jose, CA
---
90th Birthday Party Ideas
My mother's 90th birthday is coming up in Feb. She has Alzheimer's and is in a nursing home, which can be a depressing place to have a party, but I am going to make it as festive as I can with balloons, streamers, etc. I invited her nieces and nephews and some people from her old neighborhood. I made a poster board with some pictures of her as a young girl and young woman. I think everyone will be shocked when they see what a beautiful woman she once was.
About a year ago, I started doing her family genealogy and have learned a lot of interesting things about her and her family that I never new. I decided to do a "This is Your Life" game, where everyone will get a sheet about my mother on which people will fill in the blanks about my mother and her family. I can guarantee that, other than her birth date, no one knows anything about my mother. I will, then, go over the sheet and fill in the blanks for everyone. I think this is a good way to honor my mother's life and the "game" will make it more interesting than if I just stood up and read facts about her life. (01/20/2008)

By Chris
90th Birthday Party Ideas
My grandma turns 90 in May. I now have an idea of what I want to do for her party, but I just need to know what colors should I use. Is there a certain color that is used for people who turn 90? I know 50 yrs is gold (02/11/2008)

By Judy
90th Birthday Party Ideas
My grandmother's 80th birthday is next week. For her party we asked that no one bring gifts, and just attend the party. We sent them each a note card, and had them decorate it with a special note or artwork and we scanned them into the computer, and printed them out on t-shirt transfers. And put them all onto quilt squares and turned it into a giant quilt with pictures of everyone. (04/14/2008)

By Chris
Comment
Was this helpful?
Helpful?
Yes