We have always made gingerbread houses at Christmas time. I've had so much fun making them over the years that I decided to carry it over to Easter. Here is my first creation, the house of Mr. Easter Bunny himself.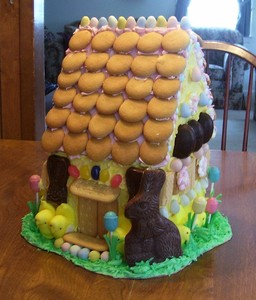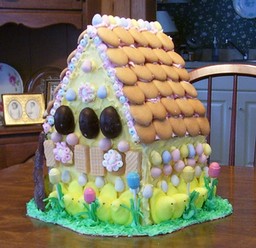 By Jan Lee from L.I. NY
Ad
---
By Ginnee 2 183 04/08/20090 people found this helpful
Just darling! I love it. You are so creative.
By Julie 49 565 04/08/20090 people found this helpful
That's so pretty and yummy looking. Is everything edible on it? I zoomed in at 400% trying see what all you used and I see the suckers on sticks the peeps etc, but what are the little things use used around the aframe roof as trim (looks like pony beads?), not sure? You were so creative to detail. You did a great job. That will be gobbled up in no time :-) Happy Easter

Editor's Note: I looked at the original photos she sent in and I believe that everything is edible. I think those are some sort of disk shaped candy with a hole in the middle, maybe from a candy necklace?
By Janet Richardson 15 28 04/08/20090 people found this helpful
Hi, it's me, Jan Lee, I posted the Easter bunny house. Thanks to all for the really nice comments. I do love doing this kind of thing. Anyway it's all edible. You're right, the little circles are from a candy necklace, I made little circles using the same candy for the windows; stuck together with royal icing. The flowers are Charms zip-a-dee mini pops. It wasn't easy finding pastel lollipops. I used Twizzlers rainbow twists(the green ones) for the stems. I cut off "stem" lengths & cut along the twist lines to form "leaves" & inserted the lollipop sticks into the centers. Here is a close up & Happy Easter to all.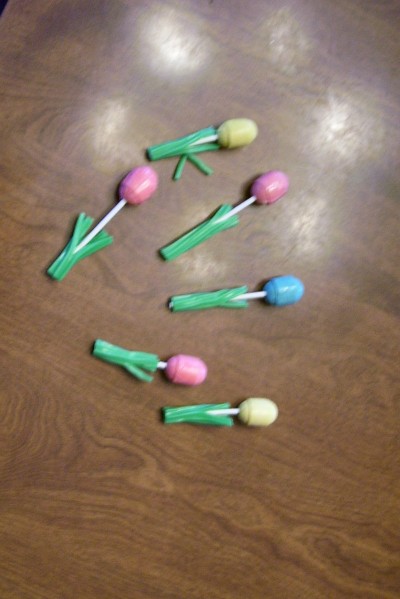 By marion davidson 22 192 04/09/20090 people found this helpful
Wow! You could make a business out of cake decorating!
By janice 61 218 04/10/20090 people found this helpful
That is so cute. Thanks for sharing this.
By victoria 1 5 04/10/20090 people found this helpful
Fantastic house ! I just love it. You are so clever.
By Cindy 04/10/20090 people found this helpful
What a beautiful gingerbread house. A great ideal. You really should think about going into cake decorating. Bet you could sell alot if you wanted to.
By Mandy 04/10/20090 people found this helpful
Your house looks great! I usually buy a few of the gingerbread house kits on clearance after Christmas. I find that buying the kit on clearance is usually cheaper than trying to buy all the different candy. We usually have "Gingerbread January" at our house since December always seems so busy. We've also done a house for St. Patrick's Day with a little lephrechan, rainbows, pot of gold, lots of green frosting, etc. We're going to make a "chicken coop" for our Peeps for Easter this year.