January 10, 2008
0

found this helpful
There are oodles of them running around, but depending on the size of your dog, different ones will work:
http://kathynor … om/pupsicles.htm - Good for small-extra large dogs with some adjustments.
http://www.loom … cDogSweater.html Good for smaller dogs
http://lindaslo … r-small-dog.html Good for teensy dogs! :-)
http://www.joan … RODID=xprd181356 Good for medium-large dogs
I've done the first one and it turned out totally cute, but have no experience with any of the others.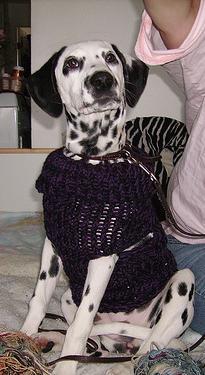 January 27, 2008
0

found this helpful
thanks for the links! I just completed my second dog sweater (my first had quite a few issues!!!!) and I think it's great! Granted it's not perfect and I still have a lot to learn, but this just proves that even a beginner can make their dog a sweater!