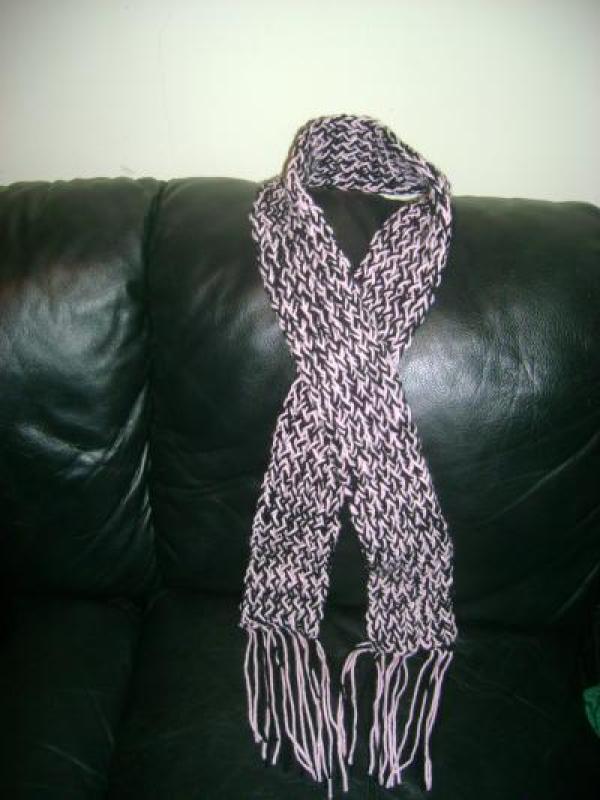 I am looking for instruction on the long loom for making a scarf.
This is my first time knitting.
Sheila
Editor's Note: I believe the long loom is a Knifty Knitter.
Feedback:
RE: Making a Scarf with a Knifty Knitter
This is a great site for making a scarf with Knifty Knitter she even has a video so you can watch it step by step it's great I just got done making one myself. Here is the picture. Good luck. http://www.blinkx.com/burl?v=3u0cL-XlxNtNNUoNmpwSWj3wtKCdFITW (02/17/2008)
By BJ
RE: Making a Scarf with a Knifty Knitter
It's actually quite simple, you have your yarn and you weave it around one way and then the other, after this you push it down (if you just started the scarf then push it down and do it again) pull the bottom one up and over the spike and push the top one down and start all over and repeat it until you have a long scarf. (05/12/2008)
By sry its privite
Does anyone know how to make a scarf with the Knifty Knitter kit? If you do, please leave instructions.

Thanks!
Emma from Los Angles, CA

Answers:
Making a Scarf with a Knifty Knitter
I just finished making a scarf with the Kniffty Knitter, I used the blue one. The instructions I found were at Walmart in a pamphlet put out by the Kniffty Knitter company that cost me .97. You knit around only 12 pegs, turn and come back over the same 12 pegs, basically you go back and forth as if you are making a hat only you are using the same 12 pegs over and over until you get the length you want. When you finish simply single crochet each stitch as you are pulling it off of the peg. I hope this helped. Any questions email me. kathee68 @ hotmail.com (remove spaces) (12/30/2005)

By Kathie
Making a Scarf with a Knifty Knitter
The manufacturer of the Knifty Knitter has a website,www.provocraft.com. They have a project area. Just click on projects and then Knifty Knitter and you will find several projects. You can also download a video of instructions as well that I found very helpful since the diagram of instructions that came with the long loom was confusing. Hope this helps. (12/31/2005)
By Rox1980.
Making a Scarf with a Knifty Knitter
I used the yellow one. Went around 18 pegs. Nice width. (12/31/2005)

By
Making a Scarf with a Knifty Knitter
Blue Knifty Knitter loom and hook
yarn

Using one strand of yarn, start by wrapping over to the 12th peg. Turn on the 12th peg and wrap back to the first peg. Continue knitting back and forth until your scarf is the length you would like. Cut 12'' length for fringe. Put 2 pieces of yarn in each stitch along the ends of the scarf. There are 22 fringes so you will need to cut 44 lengths of yarn.
From; Knifty Knitter II (01/06/2006)

By Ali
Making a Scarf with a Knifty Knitter
Using 2 strands of the Micro Spun together, wrap the first 2 pegs and skip the next peg, then wrap the next peg.

Continue on around the loom, wrapping every other peg to the last 2 pegs.

Wrap these and knit, using the pegs wrapped and missing the pegs that are in between.
Knit until your scarf is 36" long or the length you would like.

Using the yarn needle, weave the Incredible Ribbon through the bars in the knitting. (This will take some time to do.)

Weave 2 strands in each of the bar rows.

Weave like a basket. Leave about 24" of fringe on each end.

Tie 1 or 2 love-knots in each of the ribbon fringe strings, and you have a fun scarf that will flaunt your creative flair.

What you will need:
Provo Craft supplies
small blue Knifty Knitter
hook
yarn needle

Other Supplies:
One skein of Micro Spun from Lion Brand Yarn (French Vanilla)
One skein of Incredible Ribbon yarn from Lion Brand Yarn (City Lights)
(01/13/2006)

By friendly helper
Making a Scarf with a Knifty Knitter
Go to www.provocraft.com for patterns. (01/21/2006)

By adrean