Planting Asparagus in Raised Beds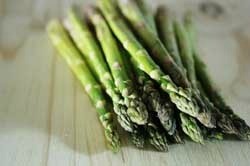 Q: Has anyone tried growing asparagus in a raised bed using landscaping timbers? If so, how high and what length and width would be best for the plants? Also, what amount of plants (roots) are needed for two people enjoying a harvest?
Hardiness Zone: 7b
Thanks!
KCC from Canton, NC
A: KCC,
Asparagus is a great candidate (as are all veggies) for growing in raised beds. The soil in raised beds warms more quickly in the spring, it is easier to weed and amend and it provides great drainage. I've read about established beds lasting nearly 40 years! Roots can grow fairly large so you want to make sure you leave enough room for developing spears. In raised beds, you can get by spacing crowns 15"-18" apart on all sides at a depth of 6"-8". Depending on how much you like asparagus, anywhere from 20 to 40 plants per person should provide a good amount of asparagus for two people. You can always start with a 4' x 4' bed (12 inches deep) and expand it if your appetite for asparagus grows.
Ellen
By KCC
Answers: Planting Asparagus in Raised Beds
Read answers for this question below.
I'm currently growing asparagus in a raised bed, this past summer was my first season though which is the establishment season. So I'll see what happen for this summer. My bed area for the asparagus is about 18 inches by 5-6 ft. It is in a larger bed but I have that much area blocked off from the rest so I'll see if it continues to stay separated or the roots try to crawl their way over. The asparagus is on the left side of the whole bed (the feathery looking plants). Since it is the first season I planted celery in between which I bought by mistake, I thought I was getting parsley. So I just stuck it in there as a filler. Of course it didn't grow properly (the celery) but I was able to salvage the leaves which I dried to use in soups. I went a little crazy with plants in this bed because when I get to the nursery I can't control myself.
Answer This Question
Add your voice to the conversation. Click here to answer this question.
Related Guides
Related Posts