EllenB
Gold Post Medal for All Time! 858 Posts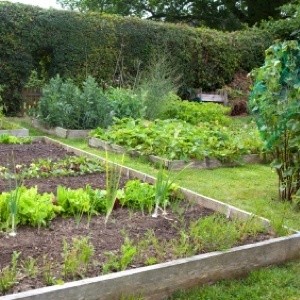 There are several advantages to using raised beds when gardening. They provide excellent drainage, warm soil earlier in the spring, prevent soil compaction, maximize yields in a minimum amount of space, and for gardeners with limited mobility, they can be built to any height. Perhaps best of all, raised beds also keep your garden looking neat and tidy.
Gathering Your Supplies
Materials you will need:
Rot-resistant lumber in 4-foot, 8-foot, or 12-foot lengths (Use lumber that is 12 inches wide and 2 inches thick. Redwood and cedar are both naturally rot-resistant and, depending on the conditions, can last for up to 10-15 years before decaying. Avoid using pressure-treated wood or wood treated with water-repellant preservatives, especially if you're planting edible plants. These contain toxic chemicals that may inhibit plant growth and contaminate the soil.)
1 lb. box of 2 1/2-inch or 3-inch galvanized nails
hammer
Optional: chicken wire/hardware cloth & staple gun (to deter rodents)
Determining Size
Length & Width: A convenient size is 4 x 4-foot box, because lumber is readily available in 4-foot lengths. This also allows you easy access to the center of your beds from either side. Set the beds end to end to create larger gardens (4 x 8-foot or 4 x 12-foot, etc.) or arrange them in interesting patterns.
If you are planting vegetables, building 3 to 4 raised beds of this size will allow for adequate crop rotation. If the bed will be positioned against a wall or fence (accessible only by three sides), limit the width to 2-3 feet so you can easily reach the plants growing in back.
Depth: Most plants need at least a 6-12 inch root zone, so your boxes should be at least 12 inches deep to allow plenty of room for roots. Using 12-inch wide lumber to construct the boxes makes this easy.
Constructing the Box
Construct your beds on a firm, flat surface (e.g. driveway, patio, or garage floor). Set the boards up on their sides and nail the ends together to create a box. Use 4 to 5 nails on each board in an off-set pattern to help prevent the wood from splitting. If you're doing this project alone, it's helpful to brace one board against a wall to hold it steady while you pound in the nails.
Optional: If you line the bottom of a raised bed with chicken wire, you can easily control gophers and other marauding rodents. Cut a piece of chicken wire/hardware cloth so it's a few inches larger than the inside dimensions of your box. Lay the wire inside of the box. Bend the excess wire up the inside walls and use a staple gun to attach it securely it to the box.
Tips for Positioning the Box
Once constructed, have someone help you carry the beds to the desired location and set them on top of the ground.
If necessary, dig the sides of the beds into the ground so the top of the bed is level on all sides.
If your beds are rectangular rather than square, you'll maximize sunlight by positioning them so that the long side runs north to south.
A 3 foot aisle between beds and other structures will accommodate wheelbarrows and lawn mowers.
Preparing the Box for Planting
Use a sharp spade to loosen up the top few inches of soil at the bottom of the box. This will help ensure good drainage. Fill the beds with equal parts of compost, topsoil, and well-rotted manure. Water well. Allow a few days to a week for settling to occur and add extra soil if necessary.
Comments

Allison
Bronze Feedback Medal for All Time! 231 Feedbacks
February 28, 2011
0

found this helpful
I like the raised bed concept. Thanks for sharing these tips.

March 4, 2011
0

found this helpful
What a great article, and just in time too, cause I want to make raised beds this year. Would it be better to use screws? Also, I often see raised beds with steaks next to them, is this cause they are not nailed/screwed together?
or is just to keep them in place?

March 4, 2011
1

found this helpful
In a 2 months I am moving out of city to home with a big garden. I am looking forward to planting and starting my vegetable garden. I love the idea of adding a chicken wire to the bottom of the box that I am planning to make myself. Great idea, thanks for sharing that.
I just registered with this site hoping to find some good tips and I got it right away. I'm so pleased I find it. :-) Thanks again.

December 26, 2012
1

found this helpful
To keep raccoons, squirrels, & other climbing wildlife out of the garden, don't stop with chicken wire up the sides - stretch it on over the top. One year our ears of corn never made it past 4 or 5 inches before the "critters" got to them. The chicken wire would have stopped that!