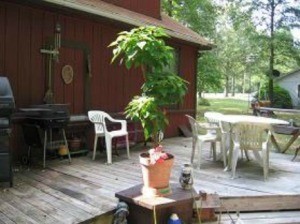 This tree is actually a poinsetta plant; it was a Christmas gift from my family a few years ago and I trained it as a tree form. It has full green lush leaves on it and it is a conversation piece on my back deck that it sets on. I have a small nativity scene at the base near the trunk of the "tree" and an ornament "J-o-y" hanging on one of its branches.
By WandaJo from Collierville, Tennessee
By JOSE
Ad
---
Feedback Forum
Feedback about this article is posted here. Want to contribute? Click above to post feedback.

By Jo Parkinson (Guest Post)08/11/2006
WOW! That is amazing. I have never seen a Poinsettia that size before. In the UK Poinsettia's only last for a few weeks around Christmas.

By WandaJo (Guest Post)08/07/2006
I trained the poinsetta to be tree form by cutting it back and staking it after it "died down" after the holiday season; I kept it watered and even fertilized it. I kept it cut back until the growth started to grow up the stake; I secured it to grow "up"! When it is brought in the house after the summer season, it will drop its leaves but the bark of the trunk is so pretty; it will turn almost an ivory color and the branches are pretty. There will be a few leaves in sparse areas of the "tree" and at Christmas time I will decorate it with lights and tiny ornaments and tinsel.

By Karen (Guest Post)08/04/2006
How did you do that? I still have mine from last year (and it's still red) - I'd love to do that with it. Great Job!!

By Dana [1]08/04/2006
Good job on keeping it alive. I have to confess that I always accidentally commit poinsettia-cide. :)

By (Guest Post)08/04/2006
Wow..I've never seen one live to be that tall! Great job!
Post Feedback
Add your voice to the conversation. Click here to share feedback.