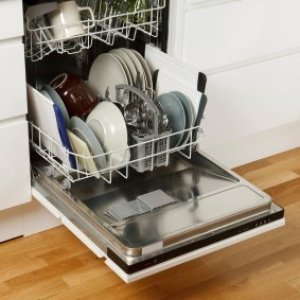 You can save money on rinse agents by making them yourself. This page contains homemade rinse agent recipes.
Ad
---
Questions
Here are questions related to Homemade Rinse Agent Recipes.
Some of you have posted that you use vinegar in the dishwasher as a rinse agent (rather than products like Jet Dry). I'd like to do that too, but I need more information. With Jet Dry, you just put the product in the dishwasher once a month or something like that. Is that what you do with the vinegar - just put some in the dishwasher's little dispensing well once a month? Or do you do it more often? Thanks.

Tina from Ashland, OR
AnswerWas this interesting? Yes No
Ad
---
---
Most Recent Answer
By Enjoys 06/21/20140 people found this helpful
I set a small bowl that holds about 1/2 cup of vinegar on the top rack just before I turn the machine on. It has made a huge difference. I don't want to use JetDry any longer, was looking for something more natural.
This vinegar disperses as the water is tossed around in the machine.

I have read that you should not put vinegar in the dispenser because it might be too caustic for the parts.
---
I would like a recipe for dishwasher rinse agent.

Thanks,
Carol from Anderson, IN
AnswerWas this interesting? Yes No
Ad
---
---
Most Recent Answer
By Carol in PA (Guest Post) 07/17/20060 people found this helpful
Try putting vinegar in the rinse agent recepticle.
---
Solutions: Homemade Rinse Agent Recipes
Do you have knowledge about this guide topic? Feel free to share a solution!
Archives
Thrifty Fun has been around so long that many of our pages have been reset several times. Archives are older versions of the page and the comments that were provided then.
I add plain vinegar to the rise container in my dishwasher. I have bought the pricey "rinse aids" and I think the vinegar does a much better job. I don't notice any vinegar smell on my dishes either.

By Susan from Giddings, TX
---
RE: Vinegar for Dishwasher Rinse Agent
Depending on the kind of water that you have, vinegar can work. I used to use it when I had hard water. Now that I have soft water, I don't find that it does anything at all extra. Your results will depend on the type of water that you have. (08/01/2008)
By louel53
RE: Vinegar for Dishwasher Rinse Agent
I've been using it too and have had some success with spots, but more importantly, it keeps my dishwasher fresh and not stinky in between loads -- especially in hot humid weather. Also, consider the toxic chemicals you are putting on your dishes (and then ingesting!) and the fumes you are putting in to your home and the toxins into the environment. Just to prevent spots? Seriously, if it bothers you, open the door before the dishes are dry (but after the clean cycle) and wipe glasses and cutlery with a dish towel. It is a great way to remove coffee and tea scum that dishwashers aren't the best at removing.
People need to remember that the stuff we use goes somewhere -- it doesn't just magically disappear. It becomes a problem, and it only gets bigger if we ignore it. If you want a website that you can use to check out the ingredients in your household products, visit: www.householdproducts.nlm.nih.gov/
I was shocked at what companies are allowed to sell and how they can claim a product is "safe" because the toxicity level of that one ingredient is low. What about the cumulative effect over time?
Our poor livers have to filter all those chemicals we are ingesting and inhaling -- yes, that fresh scent is not good for our bodies. Use common sense people: if you have to keep away from kids and pets or avoid inhaling, then it's not "safe." Sorry, I'll get off my soap box now! (08/01/2008)
By Oberhund.
RE: Vinegar for Dishwasher Rinse Agent
Thanks for the tip. I always forget just how versatile that old jug of vinegar can be. (08/03/2008)
By pjean
You can use plain old white vinegar in your dishwasher as a rinse agent, it works well and costs only pennies. As an added benefit it helps fight build-up in the dishwasher itself.
By Suzanne
---
Vinegar Instead of Rinse Agents
Don't buy expensive rinse agents for the dishwasher! Use white vinegar (or apple cider vinegar if you're out of the other) in the rinse cylinder/ compartment of the dishwasher. It especially helps get rid of hard water deposits in areas with well water! (11/15/2004)
By Carlabw
Vinegar as a Dishwashing Rinse
I use about a fourth of a cup with each rinse cycle. I have been using it for years. Commercial rinse agents leave my dishes cloudy and allowed so much buildup the jets clogged. I open the door and add it with the rinse water. The result... sparkling clean dishes every time! (03/12/2005)
By Melanie
Instead of buying those expensive rinse agents for dishwasher which cost about $3.00 to $4.00 a bottle, try using white vinegar it works great and is so much cheaper.

By Carol from Massachusetts
---
RE: Vinegar for Dishwasher Rinse Agent
I'll have to say . . . I have had zero success using vinegar in my rinse. My dishes were just as spotty as if I'd used nothing. (08/22/2007)
By Katie A.
RE: Vinegar for Dishwasher Rinse Agent
Can using vinegar in the dishwasher harm the appliance in any way? I am all for using homemade cleaners but am leery to try something that may damage an appliance especially the dishwasher! (08/22/2007)
By tthompson
RE: Vinegar for Dishwasher Rinse Agent
I have been using vinegar for quite a few months now in my dishwasher with great success. I use it as a fabric softener in the laundry as well. Trish in CT (08/27/2007)
By Trish
RE: Vinegar for Dishwasher Rinse Agent
I have been using vinegar as a dishwasher rinse for quite a few months now, with great success. I also use it as a fabric softener in the wash, and for a million other uses around the house :-) Trish in CT (08/27/2007)
By GirlNumber5