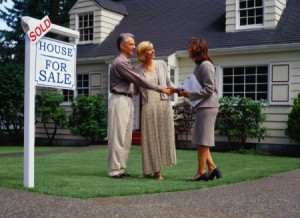 Choosing a real estate agent to sell your home is the same as hiring an expert salesperson. Before you decide who you are going to partner with, you need to research the market and interview candidates like your bottom line depends on it because it does.
Finding Your Ideal Agent
Many real estate agents find new clients to represent based on word-of-mouth referrals. Thats why a good place to start when looking for your ideal agent is to ask your family, friends and co-workers for recommendations. If finding a good recommendation from people you know isn't possible, you can also check local newspapers to get an idea of which agents are selling. Many of them publish weekly real estate transactions that include the name of the listing agent. Once you have a few names, check with the local real estate board or state real estate commission for any formal complaints files against the names on your list. If all is clear, schedule a round of interviews and look for a professional with the following qualities:

He/she knows your neighborhood. Ask them how many comparable homes in this area they have sold in the past year.
He/she knows the local real estate market and how current conditions will affect the sale of your home.
He/she understands real estate law and practice.
He/she is a talented salesperson, who sells a high percentage (75% or more) of the listings he/she accepts. Ask them what suggestions they have to make it easier to sell your home.
He/she is a good communicator. How often will you be updated on the status of your home?
He/she is willing to negotiate the commission charged. What percentage of the asking price do they charge? Are they willing to accept a lower commission if you are willing to work with them on marketing and making the home as salable as possible?
Broker vs. Agent vs. Realtor
There are a lot of different players (and strings of initials after peoples names) in the real estate industry. Knowing who is who and what the various designations signify can help you determine which professional will best suit your needs.
Realtor:
A realtor is a real estate professional that is a member of the National Association of Realtors®, a real estate trade association. Members have to pass a certification test and abide by that groups code of ethics. Because a realtor can be an agent and an agent can be a realtor, the differences between the two can be great or none at all. Its more important that you find someone who will bring the right combination of skills and resources for your assignmentwith or without a registered trademark after their name.
Broker:
A broker is usually the owner or a principal of a licensed real estate brokerage (e.g. owner of Northshore Realty). A licensed broker working for another broker might take the title of broker associate or associate broker. In most cases, though, when you sign a listing agreement your contract is really with the brokerage and not with a particular agent.
Agent:
An agent is a trained salesperson who works for a licensed broker. Some agents are on salary, although most work as independent contractors and are paid entirely by commissions. How much of the commission the agent keeps and the broker keeps depends on the agents sales performance and the deal they have with their broker.
Other Real Estate Designations
There are many specialized designations in real estate. Some are harder to obtain than others, but each signifies that an agent has completed a specific set of requirements designed to earn the status as a specialist in certain area(s). Here are a few that relate to sellers.
ACR-Accredited Seller Representative. This course and resulting accreditation is designed to enhance a listing agents professionalism and service to the sellers they are representing.
CRS-Certified Residential Specialist.
This course and accreditation educates agents on how to better represent residential clients.
GRI-Graduate Realtor Institute.
Approved by the National Association of Realtors, this is a more rigorous designation that requires a minimum of 90 to 05 hours of state specific coursework and an exam. It covers real estate law, practice, finances, taxes, and more.
When You're Selling to Buy
If you are selling a house and looking for a new one in the same area, youll have to decide whether to deal with one real estate agent or two. Working with just one agent may be easier for you, especially if you are convinced that the agent is working hard on your behalf. Still, you should make your decision based on separate appraisals of the agents skills in both areas.
Some agents are well-suited to marketing your existing home and tapping into their network of brokers to bring you qualified buyers. Other agents are very familiar with the inventory of available homes for sale and skilled at helping buyers through the process of bidding and buying. You may find that your agent possesses both the skills and connections to represent you as a seller and a buyer. If you do end up using the same agent to sell your home and purchase a new one, take the opportunity to negotiate a reduced commission on the sale of your old home since the agent stands to make a commission on both transactions.