Answers: My Kitten Is Coughing
Read answers for this question below.
My dog wont stop coughing. What can I do? I can't afford a vet, there must be something I can do. Please help.
My kitten had the cat flu, and was paranoid when I read the web. It seemed like my kitten was about to die, sneezing, loss of appetite, snotty mouth. Finally, we gave her some antibiotics and fed her some special food from the vet mixed with water. We also layed bowls of water all over the place since she is curious and would lick inside the glass out of curiosity, making her drink that much more. She was fine after 1 week. Now she is healthy! Best of luck.
My kitten did the same thing. She had an upper respiratory infection.

If this is the case for your cat, she needs to be on an antibiotic right away.
my kitten is a out door kitten i heard her coughing today will this make my self or my children sick if i bring her inside
your kitten could have distemper and if it is an outdoor cat anywhere he leaves his waste contaminates the ground. this makes it very easy to contaminate other cats. get the kitten to a vet and make sure any other cats you get are vaccinated against distemper. this stuff can stay in the ground for a long time and spread to generations of cats. i've lost a lot of cats to this before i found out what was causing it. keep your kitten away from any feral cats as they often carry the diseases to your cat's home turf.
I once adoptd a kitten that did this, and it turned out that she had worms really bad. This can be life threatening for a kitten if left untreated. Best take her to the vets.
Coughing could be a sign of an upper respiratory disease, (which could worsen and spread to the lungs) but it could very well be something much more sinister like Rhinotracheitisvirus or Calicivirus, which are very common cat diseases and which can be absolutely fatal to kittens. (Up to 90% fatality rate without treatment.)

Coughing, fever, low appetite, runny nose and eyes and sometimes sores on the tongue or red gums are common symptoms of these viruses. A big danger and cause of death in these circumstances is often dehydration, so it's very important to check that the kitten is hydrated. Check that the skin bounces back relatively quickly into place when you gently lift the skin of the scruff of the neck. The treatment for these viruses, is antibiotics and fluids and tlc.

The only responsible thing to do, is to get the kitten to a vet as soon as you can...

Good luck and lots of get well wishes for your little 4-legged friend....
A cat/kitten (or any animal) that coughs I was told by older adults that it is a sign of distemper. PLEASE take the little one to the vet right away!
Your cat probably has an upper respiratory infection. Cats, especially young ones, are very susceptible to these infections.

Please, please, please take your cat to a vet immediately. She needs to be seen and probably needs an antibiotic. Cats can get very sick from colds, coughs, etc. so it's important you get her treated right away.

Good luck!
Questions
Here are questions related to
My Kitten Is Coughing
.
7 Month Old Kitten Coughing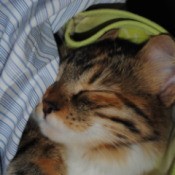 My 7 month old kitten keeps coughing hard? She was neutered 12 days ago. She is still wearing her collar because one of her stitches still needs time. She is playful and eating properly, but she has been coughing badly for 3 days. Sometimes after she has been sleeping. We are giving her hairball treatment and using proper litter with minimum dust.
We took her to the vet, he checked her heart beat and said that it is nothing to worry about. He thought it may be from eating quickly or something. We are worried because she seems to be choking. Any ideas?
By emmah
---
Most Recent Answer

By fuzzytufts
10/24/2011
Please take the collar off as a cat doesn't have to have one on when it is spayed or neutered. The collar could be a large part of your problem. And please change your vet. He should have given you an antibotic to take home with baby and for 8.00's well worth it.

Over the years I have mama'd spayed and neutered over a l00 cats and never had one with a collar or not sent home without meds. I even have a pretty girl the vet gave up on because her face was so damaged with maggots because someone screwed a can on her head and threw her out. Take care of your baby and you'll never regret her.
Answer This Question
Add your voice to the conversation. Click here to answer this question.
Related Guides
Related Posts