In Memory Of Festus (Dwarf Hotot Rabbit)
This is a picture of my little pet bunny, Festus, that I had for 5 years. He was a Dwarf Hotot, that I won at an event called "Rabbit Fest" in Copperas Cove, TX back in 1992. That is how he got his name, "Festus".
We had to buy a cage and all the supplies at the show, so we could bring him back to Dallas. He went to Bunny Heaven in 1997. He was such a sweet, cute, and loving bunny. He had free run of our apartment, and was litter-box trained. Although he did like to chew carpet, and got pretty feisty from time to time, he was such a joy.
My parents grew fresh spinach and carrots for him in their garden, which he truly loved. They called him their "GrandBunny". He was very spoiled and loved by everyone. He will always be missed. Whenever Springtime and Easter arrive each year, I always reflect back on my sweet little Easter Bunny, "Festus" with love. He will always have a special place in my heart.
By Scooter from Grand Prairie, TX

By
03/22/2011
We always had pet rabbits when I was a kid. My parents taught us to take care of them, and it was a great lesson about responsibility. It must have been drilled in very well as even today, I cannot eat until I know my dogs and cats
have been fed properly, and given fresh water.

Festus was a very pretty rabbit, and it must have been nice to keep him in the house the way you did. As a rule, rabbits do not have as long a lifespan that some other pets do.

You have to know going in that they'll not be with you for much over 5-6 years if they are kept in a hutch outside, but you can keep them about twice as long if they are "house-rabbits".

It's heartbreaking when we lose any pet no matter how old they are.

ww
Festus (Dwarf Hotot Rabbit)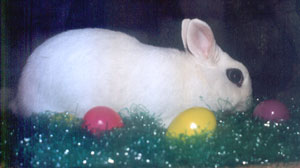 Festus (Dwarf Hotot Rabbit)
Festus lived almost 6 years, he was a Dwarf Hotot. We got him at an event called "Rabbit Fest" in Copperas Cove, TX
He loved to run and jump and eat fresh spinach from my Mom and Dad's Garden. He also liked to chew on things he wasn't suppose to. (:-)
He was a very special Bunny that we all loved. He's went to Bunny Heaven about 10 yrs ago but his memory is always in our hearts. He brought so much joy to our lives!
By Darla from Grand Prairie, Tx
---
RE: Festus (Dwarf Hotot Rabbit)
He was a beautiful boy and I'm sure you still miss him a lot. God bless you! (04/06/2007)
By tedsmom
RE: Festus (Dwarf Hotot Rabbit)
We were so pleased that you shared the photo of Festus, that out daughter, Darla, sent. Festus was our very special "Grandbunny", and loved eating the spinach we grew for him in our garden. We enjoyed him so much when he came to our house, and it wasn't long until he was litter-box trained. We loved him dearly, for he was a special, and sweet little Guy. (04/06/2007)
By Betty and Daryl
Add your voice to the conversation.