Beauregard is my 7 month old Netherland dwarf rabbit. Beauregard, or Beau as we call him, was a birthday present from my boyfriend. I found a breeder online and picked out a bunny from the ones on her farm. She was willing to meet me in Richmond so I could pick him up. We met in the Food Lion parking lot and she gave me my bunny.
Beau likes to hop around and chew on just about anything he can find. When he gets really excited, he likes to do laps around the room. Beau brightens up my life! He had to have a little bunny operation this summer and would not stop messing with his stitches, so the vet had to put him in a cone. It was so pitiful!
By sophia.shelton from Farmville, VA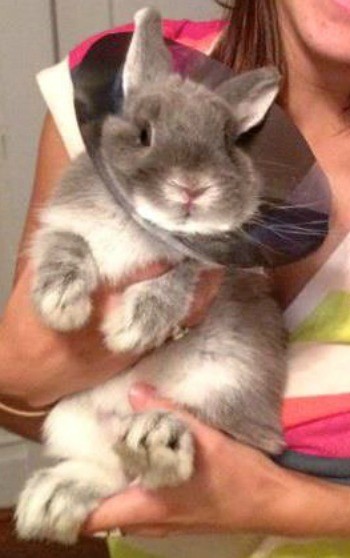 Comments
September 18, 2012
0

found this helpful
Beau is very pretty & he looks so sweet! I hope he's all better after his bunny surgery.
Best wishes to you & your bunny pal for many enjoyable years together!
September 25, 2012
0

found this helpful
Just yesterday at the bus terminal at home I waited for my bus. There waiting too was a young girl about 14 years old, and in her back pack was a little white blue eyed rabbit with the most inquisitive nose. It was a welcome sight to see on a Monday!