This is Pepper. He is a 2 year old California Rabbit. We rescued him from a very abusive home, He was very very skinny, dehydrated, and had loss of hair. The child there would throw him around by his ears, bite him on his ears til they bled, kick him and God only knows what else.
When we first got him we couldn't even get close to him hardly. We feed him very well, bathed him, loved him talked to him named him pepper which he did learn and was a total house bunny.
He learned to trust us and learned to use a little box on his own. He wore a halter, so we could take him outside for walks. When the kids would sit on the floor and watch TV he helped himself to the popcorn in the bowl, chips from the bag or fruit they were eating. He would jump in my lap and share my treats.
He loved Christmas times just to tear the paper of the gifts. He loved to go outside on his leash and halter and dig in the grass and eat roots. He didn't even mind getting baths. He was littler trained and loved to play hand wrestling with my daughter. And loved life.
He loved us as much as we loved him. He passed away 6 months ago and I still cry for him. Sounds silly I know but he was my real honey-bunny. He was a blessing to my family. Rabbits actually make loving pets and have great personalities.

Source: me
By Lesa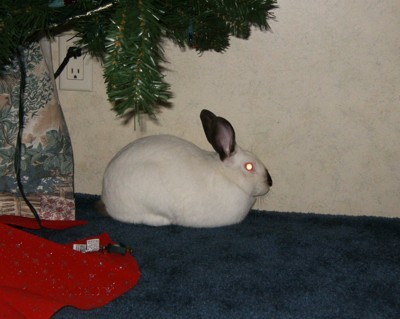 Read More

Comments