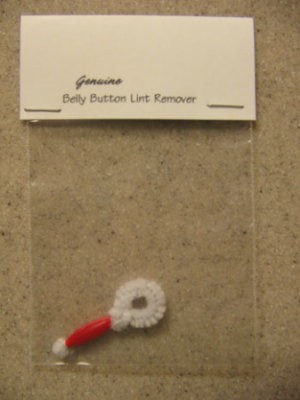 Here's another "gag gift" craft idea. Belly Button Lint Remover - (I know, it sounds disgusting!) Take a long bead and stick a piece of pipe-cleaner through it, make a tiny loop at one end so it won't come out of the bead.
At the other end, make the pipe cleaner into a circle and attach the end into the top of the bead. (So it looks like a tiny toilet brush). Stick it into a small zip bag.
Print the words, "Genuine Belly Button Lint Remover" on white cardstock, print it out and fold it, then staple it to the top of the zip bag. Guaranteed conversation starter!
By Stacey from Orem, UT
By Stacey Silva
Ad
---
Feedback Forum
Feedback about this article is posted here. Want to contribute? Click above to post feedback.

By Cathy case07/02/2012
Send your belly button lint to Rachel Betty Case. She is in Ripley's Believe it or Not ( came out in Sept 2011) page 108. She makes Belly button lint bears. She could always use more belly button lint!
www.thatwomanmakescrazyart.com

By Qryztufre [4]04/07/2006
Yeah, but does it work?



By Paula. (Guest Post)04/07/2006
That was just sooooo coooool, my sister from the uk sent it to me in aus I think its wonderful

By IMAQT1962 (Guest Post)03/20/2006
HAVE SEEN THESE AT SEVERAL CRAFTS SHOWS AND HAVE ALWAYS THOUGHT THEY WERE CUTE. THANKS FOR SHARING THE DIRECTIONS WITH US

By wendee (Guest Post)03/19/2006
super cute... I'll try making some of these too!

By SL Edens [1]03/18/2006
I LOVE this!!!!! I will definitely need to try to make some...lol Thanx for the idea!!!!

By COOKIEPOM (Guest Post)03/18/2006
I may have to make these for the men at church. There are some that are real "characters". Thanks for the great idea.

By Annie Rios Hill [12]03/17/2006
Good one, for those who always flash the belly!!!
Cute....LOL

By Katie [13]03/17/2006
HA! HA! HA! That is so cute!!! LOL!!! Thank you!!!
Post Feedback
Add your voice to the conversation. Click here to share feedback.