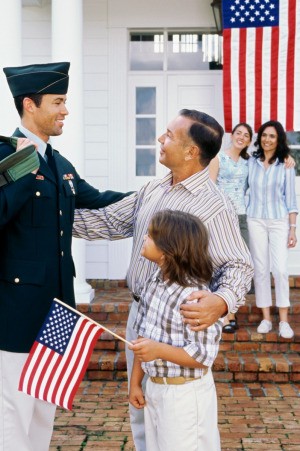 When your young person is heading off for military service, you want to show your appreciation with friends and family. This guide is about farewell party for child leaving for military.
Ad
---
Questions
Here are questions related to Farewell Party for Child Leaving for Military.
My son will be leaving for Basic Training in the Air Force in a couple of months. We are planning a send off party for him. I need ideas for the party from invitations to food. Any ideas will be greatly appreciated!
By Karen from Knoxville, TN
AnswerWas this interesting? Yes No
Ad
---
---
Most Recent Answer
By audi 2 29 09/17/20110 people found this helpful
Does he know he is getting a party? My hubby is retired army, the food at basic is not so good, they can't add spices and salts anymore also the good stuff like fried chicken and burgers and pizza are no more during basic. He suggests you ask him what food he wants and his favorites because he will miss them! a lot of pictures the decorations won't matter, he will be happy everyone is there to support him! We support him here and send our prayers!
---
Does anyone have any ideas on how to have a simple going away party (20 people) for my daughter who is leaving for the Army next month? She is 20 years old. I just want something simple with military decorations. One thought was to invite family and friends to a nice restaurant and decorate the table with Army/military decorations Do you have better suggestions?
By Onesummer
AnswerWas this interesting? Yes No
Ad
---
---
Most Recent Answer
By Caseye 34 205 09/12/20110 people found this helpful
I would forego the restaurant and have a pot-luck party at your home or the home of another family member or close friend. That way, it's more informal and everyone can stay as long as they'd like.

There are many military-type scrapbook papers and stickers out there with which you could make candy wrappers, napkin holders, banners (cut out letters that spell your daughter's name, then hang them with ribbon glued on the back), and even confetti for the tables; very cute and VERY inexpensive!

Also, you might like to buy a small photo album (maybe 4x6) with plastic pockets. Before the party, invite your guests to write advice, encouraging words, or fun memories with your daughter on sheets of paper a little smaller than the pockets in the album; once the sheets are collected, you could decorate them with stickers or stamps, or whatever, and give it to your daughter to read when she's lonely or just needs a pick-me-up.

Please give my thanks to your daughter for her service to our country; she's just awesome, and I pray God blesses her time in the military.
---
My son is leaving for Army Basic Training in mid-October; I am having a going away open house for him in the (finished) basement of our church. I need decorating and food ideas, please. His aunt is doing the cake.
My son is graduating from high school and 2 weeks later leaving for army basic training. This is happening in May. We are having one big party for both as that will be easier. The party will be at a boat club with both inside and outside seating. I need help with decorations, food, pretty much everything. The only thing my son has asked for is hog meat, which we are doing. There will be over 200 people at the party. Any advice is greatly appreciated.
By Christina K.
Solutions: Farewell Party for Child Leaving for Military
Do you have knowledge about this guide topic? Feel free to share a solution!