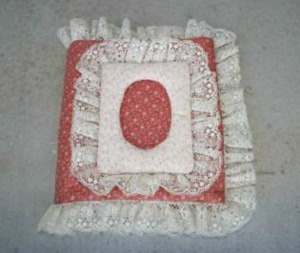 Dress up a plain photo album with a pretty quilted fabric cover. This is a guide about making a quilted photo album cover.
Ad
---
Solutions: Making a Quilted Photo Album Cover
Read and rate the best solutions below by giving them a "thumbs up".
In less than two hours you can make a really cute album cover.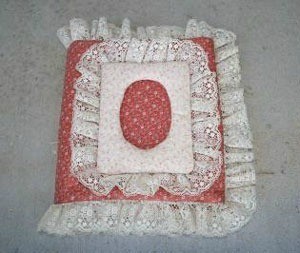 Approximate Time: 2 hours
Supplies:
paper to make a pattern
binder for pictures
quilted material
assorted "enhancements"
album pages
Instructions:
Make a pattern with any paper for the entire length and width of the finished cover for your album. Cut two.
Put one copy of the pattern aside. This is the inside of the cover. The second copy will be cut in three parts. (See pic 1) Cut to fit front and back of the outside of the album only. The two remaining (equal size) smaller pieces are used for the inside of the cover.
All "enhancement" is done before the three front pieces are sewn together. Add your lace silk flowers or any decorations for the theme of your album.
Sew the three pieces together. They should look like pic 1.
Lay the two rectangles of printed material together and sew. (See pic 2.) Hem the short sides for a finished look.
Turn inside out and you have a book cover (See pic 3.)
When you close the album, it should resemble the final photo below.
The picture frame on the cover is just a piece of stiff paper, a little stuffing, covered with contrasting material. (You will have to clip the overlapping material on the back of the stiff paper to get an unwrinkled front). Glue clipped material to the stiff paper. Glue lace to stiff paper and glue three sides to the cover. Slip picture in from the top unglued opening.

This cover is as versatile as your material choices. I hope you enjoy making these and giving them as gifts.
By Tedebear from San Jose, CA
Give a "thumbs up" to the solution that worked the best! Do you have a better solution? Click here to share it!
Questions
Here are questions related to Making a Quilted Photo Album Cover.
I just love this site. So many great people out there that are willing to help us dummies that don't know or forget how to do things. Anyway, I was wondering if their is anyone that can tell me how to cover a photo album. The kind that is padded with quilting and fabric and can be trimmed with lace. You then can put a picture of someone on the front. It's like something you would do for a special wedding album but this one is for everyday use. Hopefully someone will know what I'm talking about. For one thing, what kind of glue do you use? God Bless each and everyone of you.

Angelheart from Clyde, TX
AnswerWas this interesting? Yes No
Ad
---
---
Most Recent Answer
---
I need a pattern and directions for making a padded photo album. Thanks.
By LRS
AnswerWas this interesting? Yes No
Ad
---
---
Most Recent Answer
By Donna 6 71 03/05/20120 people found this helpful
Here's a great video showing the basics of making a covered photo album.
For a wedding album the ideas for fabric and trims are limitless - let your imagination and the bride's wedding colors, style, etc. be your guide!

I prefer skipping the lace around the outer edge and using decorations only on the front but it's up to you. This video demonstrates how to cover a "regular" photo album but if you can afford the type album, with screws, where you can removed the front and back covers to work separately they are the easiest. Acid free album sheets are the best and worth the price for a lifetime of memories.
http://www.youtube.com/watch?v=Hn3V5S1Ciqs