In less than two hours you can make a really cute album cover.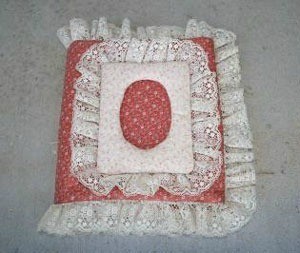 Approximate Time: 2 hours
Supplies:
paper to make a pattern
binder for pictures
quilted material
assorted "enhancements"
album pages
Instructions:
Make a pattern with any paper for the entire length and width of the finished cover for your album. Cut two.
Put one copy of the pattern aside. This is the inside of the cover. The second copy will be cut in three parts. (See pic 1) Cut to fit front and back of the outside of the album only. The two remaining (equal size) smaller pieces are used for the inside of the cover.
All "enhancement" is done before the three front pieces are sewn together. Add your lace silk flowers or any decorations for the theme of your album.
Sew the three pieces together. They should look like pic 1.
Lay the two rectangles of printed material together and sew. (See pic 2.) Hem the short sides for a finished look.
Turn inside out and you have a book cover (See pic 3.)
When you close the album, it should resemble the final photo below.
The picture frame on the cover is just a piece of stiff paper, a little stuffing, covered with contrasting material. (You will have to clip the overlapping material on the back of the stiff paper to get an unwrinkled front). Glue clipped material to the stiff paper. Glue lace to stiff paper and glue three sides to the cover. Slip picture in from the top unglued opening.

This cover is as versatile as your material choices. I hope you enjoy making these and giving them as gifts.
By Tedebear from San Jose, CA
July 1, 2008
0

found this helpful
You can also make these into great wedding/shower gifts too. Use a sateen type material and place the couples photo on the cover. With your imagination it can be awesome.
July 1, 2008
0

found this helpful
I have always wanted to know how to make these. thank you so much for posting this and the directions. I hope to find time one day to make a few. may be a Christmas gift ?hmmm.....
July 3, 2008
0

found this helpful
Thank you for reminding me of those. I used to make
those for gifts and had quite of few that I had to
make for people. I never made one for me. I think I will
do one for me this fall.
July 8, 2008
0

found this helpful
I had one of these given to us as a wedding gift. All our photos of our wedding and cards are in it. Scraps of wrapping paper from our gifts and sentimental notations. Just love it. After 20 years, it's still holding up well and is the easiest one to find amongst all our albums.
Never knew how to make one, but I will give it a try and use for another's special day. Thank you for sharing.
I need a pattern and directions for making a padded photo album. Thanks.
By LRS
March 5, 2012
0

found this helpful
Here's a great video showing the basics of making a covered photo album.
For a wedding album the ideas for fabric and trims are limitless - let your imagination and the bride's wedding colors, style, etc. be your guide!
I prefer skipping the lace around the outer edge and using decorations only on the front but it's up to you. This video demonstrates how to cover a "regular" photo album but if you can afford the type album, with screws, where you can removed the front and back covers to work separately they are the easiest. Acid free album sheets are the best and worth the price for a lifetime of memories.
http://www.youtube.com/watch?v=Hn3V5S1Ciqs
October 27, 2016
0

found this helpful
I would like to have a pattern for the padded wedding photo album with some written instructions
I just love this site. So many great people out there that are willing to help us dummies that don't know or forget how to do things. Anyway, I was wondering if their is anyone that can tell me how to cover a photo album. The kind that is padded with quilting and fabric and can be trimmed with lace. You then can put a picture of someone on the front. It's like something you would do for a special wedding album but this one is for everyday use. Hopefully someone will know what I'm talking about. For one thing, what kind of glue do you use? God Bless each and everyone of you.

Angelheart from Clyde, TX
March 9, 2007
0

found this helpful
I know what you are talking about. A friend gave me one years ago. If I am not mistaken, she glued the batting directly to the album cover, cut the fabric an inch larger on every side of the album when it is opened. She then started at the binding of the album and glued the fabric working her way to the back and front edges of the album. Once to the edges, she folded the fabric and glued it down, then took either another piece of fabric or a piece of paper and glued that to cover the insides of the front and back, so the edges of the first fabric did not show and then added decorative ribbon to cover where those two edges came together. Sometimes she would put ruffles around the cover, hiding the edges with the inside fabric. Also, she added a thin ribbon between the fabric edges for tying the album closed.
I hope you can understand my directions, if not, maybe someone else can help describe it better than I can.
Hope I helped a little bit,
Tina
March 12, 2007
0

found this helpful
I get the crib size rolled batting and hot glue it directly to the album. I also cut out poster board to cover the inside to hide the material "cut line". I cover the poster board with the same material as the oustide of the album. Cover the album with the fabric -- wrap it like a present. Then add the lace or beading to the inside edge and follow with the covered poster board.
Jen
March 15, 2007
0

found this helpful
the first lady had it right just make sure you put your lace/binding in before you glue your insides back into it this gives a nice finished look