Growing Morning Glories
Morning Glories can be planted in the garden from seed but you'll have much earlier blooms if you start them indoors 5 or 6 weeks ahead of planting.
The Morning Glory loves to face East as they bloom in the mornings and fade away come the hot afternoon sun. So don't plant morning glories facing the West. Although they fade away each day new ones will be there to open up in the morning.
Morning glories readily reseed themselves and keeping them all in one place is almost impossible.
The little black seeds fall all over the place once the little 'pods' on the vines dry up and open, so plant morning glories in an area by themselves so they have free reign to do what Mother Nature intended them to do. MULTIPLY!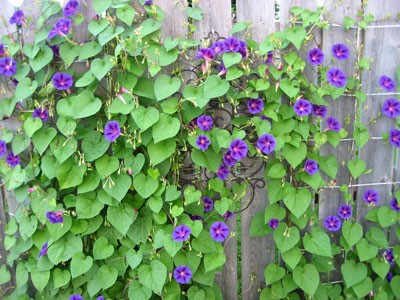 By Sandra Hemstock
---
RE: Growing Morning Glories
Hi, Your Morning Glories are simply beautiful. Their blue is my favorite shade of blue, and I wish I had a wall facing east so that I could make it look like yours. It is a feast for the soul, and you are a lucky lady. Thank you for sharing with us. Julia in Orlando, FL (06/09/2005)
By Julia
RE: Growing Morning Glories
Do the morning glories come back every year or do they have to be replanted? Thanks, Sandy (06/09/2005)
By sandy morris
RE: Growing Morning Glories
They will come back every year for the rest of your life! Very invasive. Gail Beynon Glenn Dale, Maryland http://www.coumadincookbook.com (06/11/2005)
By ThriftyFun
RE: Growing Morning Glories
Morning glories are an annual plant, but produce plenty of seeds that start from the beginning each spring quite easily. without any help from the human gardener. Beth (06/11/2005)
By ThriftyFun
RE: Growing Morning Glories
I'm going to be planting a large pot of them in my house. I want them to grow around my living room and I was wondering if they'll be able to sustain growth in my living room? (06/15/2005)
By Kyle
RE: Growing Morning Glories
I don't know Kyle if morning glories will grow indoors or not. I've never heard of anyone doing that before. You will need to put them in an east window or have some kind of growing lamp on them in the mornings to open up the blooms. And you'll have a lot of fallen blooms to pick up off the floor every day. :-) They will be beautiful if it works for you. Send in a picture so we can see the results. Sandra (b)(/b) (06/16/2005)
By Sandra Hemstock
RE: Growing Morning Glories
Yes, you can grow morning glories from the seed indoors. I have been doing this for 3-4 years now. And have been very successful at it. I've given many to friends and they are so delighted to plant them in their garden. They grow and grow wild. They take over. Matter a fact my friends put their order in the spring, with me every year. And I am more than glad to please them I have grown them in 8-12 ounce cups. Either hot or cold cups. Plant the seeds at least as deep as your pinky, into the potting soil. Water them twice a day. Once in the morning between 7-9 am. then between 3-6 pm. I have been very proud of my morning glory babies. Especially when I go by my friend's house in the summer and see my babies growing wild. Well knowing in my heart that I started them form a seed. Oh! yeah they need plenty of sun they love lots of sun and plenty of water. Enough to soak the soil but not drown them. (06/16/2005)
By CouselorCounsil
RE: Growing Morning Glories
My baby morning glories were eaten down to only a few inches above the soil. Will they grow new branches? (06/28/2005)
By Susan Titone
RE: Growing Morning Glories
Susan I don't know if they will grow back again or not. I've never had anything eat my morning glories down to within a few inches of the soil. I'd just leave them alone and see if they will start at ground level again. I'd be interested in knowing if they do rebound and grow back. Keep us posted. (06/28/2005)
By Sandra Hemstock
---
Growing Morning Glories
I purchased two Heavenly blue Morning Glories and was wondering what the temperature needed to be so I can plant them outside? I live in New Jersey and we haven't had consistent temperatures yet. Anita
---
---
Growing Morning Glories
I have a perennial Morning Glory that has rooted and adapted to Ohio, but is from California. The trouble is it never blooms, or rarely. It is in full sun. It has big blue flowers, and I was wondering if a chemical that is put on Hydrangeas to make them blue would help?
Hardiness Zone: 4b
By Barnie15614 from Columbus, OH
---
RE: Growing Morning Glories
You may just not be seeing it early enough in the mornings. Morning Glories only open up in the early morning, and they close up early again, too for the rest of the day. If that's not it, they might have adjusted to OH as far as growing, but not the blooming part yet. Try watching earlier in the mornings, and if that's not the problem, I'd check with a nursery and see what they say. (05/22/2009)
By Cricketnc
---
Growing Morning Glories
I live in southeastern Ohio. Is it too late to start morning glories outside? It is going to be in the 80s today. I'm not sure how the weather works up here (I'm from Florida), so I am slowing learning. I am having to dig out clay and replace it with compost. Should I start them in the shade or plant them in full sun, in the morning sun?
Thanks, have a great day.
By seedlady from Caldwell, OH