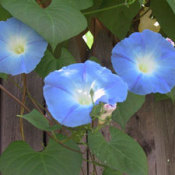 Question:
I planted morning glory by seeds and they have sprouts. They are now 5 inches long but growing slowly. They are in full sun. What is the problem? I expected them to be full and climbing by now.
Hardiness Zone: 6a
Sal from Philadelphia, PA
Answer:
Sal,
All of the information I ever read about morning glories states they are one of the fastest growing vines. Not only are they supposed to be fast climbers, but after reading about them, I'm always left with the impression that they will be scaling the nearest trellis only minutes after I plant them. Personally, I have never found this to be true of any of the morning glories I plant. That said, some varieties do seem to get off to a faster start than others. The best growth rate for morning glory seedlings occurs when temperatures stay between 70ºF and 75ºF. Once the pokey varieties finally blast off, I assure you they will live up to their speedy reputation.
Currently, I have two containers and one bed planted with morning glories. In all three cases the seedlings appear bright green and healthy, but they remain at a not-so-towering height of nearly 4 inches tall. Next time you plant morning glory seeds, soak the seeds overnight in a damp paper towel and knick the rounded end lightly with a nail file. This will encourage the seeds to germinate faster. The seedlings may still lag a bit in the early stages, but earlier germination will get them climbing that much faster.
Good luck!
Ellen