Getting Rid of Morning Glory
The morning glory is an annual, self seeding vine. Many gardeners love their beautiful trumpet shaped blooms. However, they can also become an invasive weed for the gardener on the other side of the fence. This is a page about getting rid of morning glory.
Solutions
Share on ThriftyFunThis page contains the following solutions. Have something to add? Please share your solution!

Morning Glories are gorgeous. But boy, are they pesky and weedy! 3 years ago, I planted two varieties along a fence and to cover a trellis. They were simply stunning that year. They grew fast and covered the fence and trellis and caused much comment. But in the final analysis, it wasn't worth it and it's not even a close call.
For the past two years, I have battled morning glories all over my yard. I didn't know that the seeds spread like crazy and they are persistent. The vines are tough and stringy and hard to pull. I have hoed morning glory seedlings all summer this year and still they are coming up. Everywhere. And driving me crazy. So unless you can deal with morning glories everywhere for years afterward, don't plant them! I wish someone had told me before I made all this work for myself.
Read More

Comments

Too many morning glories is a fairly easy fix. In the spring, put down old sheets, material, or newspaper and put leaves and straw on it and praises to be the few scattered outside. Those you can decide which to keep and which to pull. At the end of the year, you just dump the mulch and lay sheets, etc. back down and do again next spring.
I do my entire flower gardens this way for weed control, but sheets and newspaper usually only last one summer whereas the material (sewing kind) will last for 5 or 6 and sometimes even more.
By gbk from south GA
Read More

Comments

This is for morning glory (MG) vines that you can actually tell where they are coming from (ours come up from where the soil meets the foundation). I read about using white vinegar/Dawn dishwashing detergent to kill weeds, and decided to give it a try with this year's scourge of MG.
Read More...

DeBushe
Bronze Feedback Medal for All Time! 179 Feedbacks
As you can see, morning glories can be extremely invasive. There is a mobile home under the second mound of greenery.
We made the mistake of planting the "seedless" morning glory from some branches I got from a neighbor.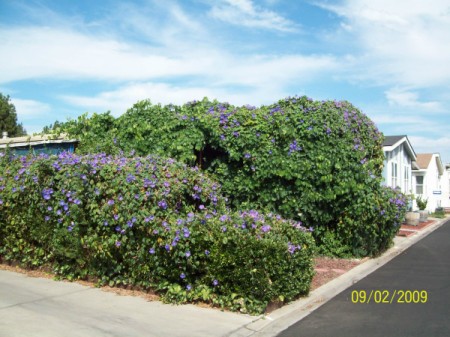 Read More...

Although I can't imagine anyone not loving these beauties, I will admit they can be prolific self-seeders. However you can use the same procedure to get rid of them as you would any other unwanted plant.
Read More...
11 Questions
Ask a QuestionHere are the questions asked by community members. Read on to see the answers provided by the ThriftyFun community or ask a new question.

Morning Glories are taking over all of my flowers! I've tried pulling them, but they come back fast, and they're choking my roses. Is there anything that will get rid of them without killing my flowers?
Thanks.
Aeromama in IN
Answers
By jennifer B. (Guest Post)
July 5, 2005
0

found this helpful
I have the same problem. I am just trying to be diligent about pulling out the morning glories as soon as I see a new one popping up. I also will go after the vines with the clippers if they start to climb onto other flowers and plants.
I think it will take some time to get rid of them altogether, but hopefully, we will be able to by the end of this growing season! Good luck.
By (Guest Post)
July 6, 2005
0

found this helpful
I hate to tell you but I've been trying for 30 years to get them out of my garden and lawn. I've pulled up, cut down, even tried burning. All to no avail. It's the roots that are the problem, unless you can figure out a way to get them all out. If you find a way PLEASE let us know.
By Claudia (Guest Post)
July 6, 2005
0

found this helpful
I used to love this stuff and think it was so pretty and charming. I now think it is the most ruthless and insidious of all garden flowers....it will take over and choke out all your other plants.
I pull it out every time I see it, which helps, but I would also appreciate a more permanent solution.
By Shari (Guest Post)
July 7, 2005
0

found this helpful
They will tear a fence down, if left alone!! My son dug them up, and so far, so good!!
By Lorraine M Kraus (Guest Post)
May 15, 2008
1

found this helpful
I'm heartsick! I live in a two-family house that the owner is still working on and the front yard is messy and depressing! Yesterday, I planted a few Morning Glory/Moonflower seeds at the foot of the two porch posts on either side of the steps to the porch. This morning, I found the two plastic-wrapped seed packets I'd used for markers along w/ a note telling me they'd "removed" the seeds because vines are not to be grown near a "home".
I'm not OK w/ this but they're the owners so I'll do what I have to do. In defense of growing these two charmers near a "home", I had both Morning Glorys and Moonflowers growing on porch posts in homes that I've owned and never a problem!

June 11, 2016
0

found this helpful
Morning Glories are taking over all of my flowers! I've tried pulling them, but they come back fast, and they're choking my roses. Is there anything that will get rid of them without killing my flowers?

August 20, 2016
0

found this helpful
Trust me they did you a huge favor. Terrible weeds. They will take over in just one season!
Read More

Answers

How do I rid my lawn of morning glory vine? I live in the Willamette Valley in Oregon.
Answers

Judy
Gold Post Medal for All Time! 677 Posts
August 10, 2018
1

found this helpful
I pull mine out by hand. You have to be very vigilant.

Pghgirl40
Bronze Feedback Medal for All Time! 196 Feedbacks
August 10, 2018
0

found this helpful
I am sorry you want to get rid of your morning glory. I get it that they can become invasive. Have you tried to train it up a pole/trellis and keep it controlled? They can be so lovely when they are controlled.
If you truly want it gone, it is a long process you have to get every vine going to the end and getting all the roots. It may take one or two seasons to make sure you have found them all...as their roots/feelers travel.
Chemicals can be used, but I avoid them at all costs because not only do they kills off other things you may want, but if you have dogs, stray cats or children in the neighborhood you could be setting up for a dangerous situation. Plus these chemicals leach into the watershed and can poison drinking water (yes, I am a bit of an old tree hugger--safety first!)
Good luck!

August 11, 2018
0

found this helpful
If you ask most people about using chemical means for killing weeds most will say no they do not wish to use chemicals because .......
I can tell you that it will take years for you to kill off the morning glories in your lawn if you do not use some sort of chemical weed killer and in fact most say it will never happen.
If the glories are isolated and you can smother them you may be successful over a period of time but if these are scattered in your lawn then smothering will not work unless you want large patches of cardboard/newspaper with mulch on top in spots all over your yard.
Some people do say they have had good luck with a strong vinegar solution (white vinegar with a few squirts of Dawn liquid soap). Cut glories about 1-2 inches from the ground (place all pieces in a throw away bag), spray with vinegar solution (hot sun is best) and wait a few days to see if it seems to be working (this will kill other weeds with deep roots) but it may leave a small brown spot in lawn for a few weeks.
Here is some information from a university web site:
Herbicide control for Morning Glory is much more effective. If you are looking to control it on your lawn, herbicides that have 2,4-D and dicama will kill Morning Glory and not your turf. To get the most effective control on your turf, apply one of these active ingredients several times over the summer months.
It has been suggested that with herbicides that have 2,4-D in it should be applied in small areas with 1 gallon of herbicide and 1 gallon of water. Make sure you follow the instructions on the package.
Glyphosate is another herbicide that can control mature Morning Glory plants without damaging desirable plants nearby. It has also been suggested to be applied with a 2% solution of glyphosate herbicide. It will take a few weeks for the weeds above-ground to die off, and it will take several applications for you to have completely eradicated the Morning Glory.
If you are worried about glyphosate ruining desirable plants in ornamental areas, carefully paint the leaves with the 2% glyphosate herbicide solution with a foam paintbrush to reduce the drift of the herbicide.
This is a popular question on ThriftyFun so you might want to read some of the previous answers/suggestion:
Read More

Answers
I have just started a new garden and in making new beds now find sprouting up all over what I believe is the above (morning glory) which I have never encountered before. Seems to come from deep down and breaks off when pulling. How to get rid of it?
Dee
By Dee H
Answers

May 23, 2014
0

found this helpful
Why get rid of it, when it blooms in the morning, the flowers are really pretty. Get a trellis for it to climb on. My late aunt had morning glories climbing a trellis in her yard and she never had trouble with it spreading.

August 20, 2016
1

found this helpful
Morning Glories have ruined my garden spot. Completely choked out my tomato and pepper plants. It's time to plant turnip greens but I know it will destroy them too. Hate, hate them. Most invasive pest I've ever seen!
Answer

this Question

How do I rid my flower beds of morning glory?
Answers

March 30, 2017
0

found this helpful
About the only way is to pull it all up by the roots.
Answer

this Question

I planted some and it has absolutely taken over my flower bed, even the underneath of my porch. In my flower bed it's like I don't even have any dirt. It's only roots. It did not overcome my iris, canna, or rose bush. Help me please.
By Amy C.
Answers

susan
Silver Feedback Medal for All Time! 472 Feedbacks
May 28, 2013
0

found this helpful
The morning glory is an annual, but will aggressively reseed itself the following season. It took me years to fully get rid of the vine, due to it reseeding itself. I still love morning glories, just in someone elses garden!
Answer

this Question
How do I get rid of convolvulus also known as graveyard ivy? There is quite a lot in the bushes at the back of my garden.
By Peter

Answer

this Question
Advertisement
Published by ThriftyFun.
© 1997-2021 by Cumuli, Inc. All Rights Reserved.
https://www.thriftyfun.com/tf/Gardening/Advice/Getting-Rid-of-Morning-Glory.html