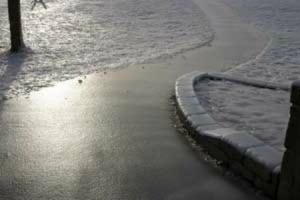 Winter weather can quickly make sidewalks and footpaths difficult and dangerous for pedestrians to navigate. Over the years, several effective and economical deicing products have been developed to give us a safer foothold. Once the ice melts, however, these products can end up damaging our lawns and polluting our waterways.
Comparing Five Common Chemicals
According to researchers at Iowa State University, the following five chemicals are most often found in de-icing products. By understanding their chemical properties (and therefore their limitations), you'll be able to better determine which product is right for you when you find yourself in a "slippery" situation.
Calcium Chloride (CaC12)
Pros: This chemical gives off heat so it works well at low temperatures ( -25º F). Because it doesn't contain as many chemical additives as regular rock salt does, it is usually considered less harmful to vegetation. It is available in flakes, pellets or liquid form.
Cons: CaC12 attracts moisture from the air so it can leave behind a slippery residue that can be harmful to carpet, tile, shoes and your pet's feet. It can also be corrosive to metal.
Cost: About three times more expensive than rock salt, but you only need to use 1/3 as much it.
Sodium Chloride (NaCl, a.k.a. Rock Salt)
Pros: This is an effective deicer for areas that receive vehicle traffic because of the additional heat friction created by moving tires and heat exhaust.
Cons: It draws heat from the environment rather than releasing it, so it is not very effective below 25º F. Salts can leach into soil, changing its chemical composition and eventually flowing into local waterways. Salt is also highly corrosive to paved surfaces, buildings and metal.
Cost: Rock salt is generally the least expensive deicing product.
Calcium Magnesium Acetate (CMA)
Pros: Made from dolomitic limestone and acetic acid, CMA is salt-free and biodegradable. It will not harm the environment if used sparingly and is less corrosive to concrete and less damaging to plants.
Cons: It only works to 25º F. It can sometimes dilute and refreeze, leaving a slick residue on walkways.
Cost: About twenty times more than regular rock salt.
Potassium Chloride (KCL)
Pros: -
Cons: Increased potential to burn foliage and inhibit rooting of plants due to its high salt content. Performs poorly below 20º F.
Cost: Costs three to five times as much as sodium chloride, but doesn't work as well at low temperatures, so you need up to ten times as much to be effective.
Urea (NH2CO NH2)
Pros: Primarily used as a fertilizer, Urea has a lower potential to damage vegetation compared to potassium chloride.
Cons: Performs poorly below 20º F. It still has the potential to burn your lawn, shrubs and other plants when the chemicals dissolve ice and collect in one area. Very little of most fertilizer-based deicers are actually beneficial to your lawn. Most of the nutrients end up running off frozen soil in the spring and flowing into storm drains, where they cause massive algae blooms in local waterways.
Cost: Varies, but generally inexpensive.
Other De-Icing Products
Potassium Acetate (KC2H3O2)
Pros: Works to -75º F. Potassium Acetate is considered safer than salt for steel and other metal structures. It is biodegradable and non-corrosive.
Cons: It attracts moisture from the air so it may keep pavement wet, leaving a slick residue. It also lowers oxygen levels in waterways if allowed to enter storm drains and is not always readily available to the public.
Cost: Eight times more than rock salt.
Magnesium Chloride
Pros: Effective to -13º F.
Cons: Is corrosive and attracts moisture from the air, which can keep pavement wet.
Cost: Two times more costly than rock salt, and you also need twice as much of the product for effective results.
Ethylene Glycol & Propylene Glycol
Pros: Propylene Glycol is considered a safer alternative for mammals than Ethylene Glycol. It is often found in "pet friendly" deicers.
Cons: Both products are considered by the EPA to be highly toxic to aquatic organisms.
Cost: Three to four times the cost of rock salt.
Sand
Pros: A salt and chemical-free alternative that poses no potential threats to plants.
Cons: Dry sand does not readily "stick" to ice or cause it to melt effectively. It may need to be dampened before application. If not cleaned up promptly in the spring, sand can clog storm drains and transport absorbed contaminants into local waterways.
Cost: Three to four times more costly than rock salt.
"Environmentally Friendly" Deicers
Although there are new eco-friendly sugar and corn by-product deicers being developed, many products that claim to be "eco-friendly" are often just a combination of the most common five chemicals used in deicers, but blended in such a way as to minimize environmental risks and keep costs low for consumers. Just because these products claim to be environmentally friendly, don't assume that they don't have serious impacts on the environment-especially waterways. The true environmentally friendly deicers are not always cost effective for homeowners treating small areas. The bottom line? The best way to protect the environment is to minimize your need for deicing products in the first place.
Keep Up With Shoveling
Physically removing as much snow as possible is the best, most effective way to keep your sidewalks and walkways safe. Deicers are not formulated to melt through thick layers of compacted snow, so remove as much of the snow as you can by shoveling before you apply a deicing product.
Use Deicing Products Based On Winter Conditions
Before applying a deicer to your sidewalk, think about the air temperature, potential for sun exposure, and how much product you'll need. Remember to follow label directions carefully and use products sparingly. It's easy to over apply deicers, but applying more than you need won't melt your ice any faster.
For Dry, Powdery Snow: Shovel or sweep snow immediately to avoid using deicer.
For Wet, Heavy Snow: Apply deicer product as soon as snow beings falling in order to prevent it from bonding.
For Sleet & Freezing Rain: Apply deicer product early on during these conditions to prevent ice from building up.
For Significant Snowfall: When more than 2 inches of snow falls, plow or shovel first and then use a deicing product to melt any underlying layers of ice that have built up due to packed down snow.
By EllenB
About The Author: Ellen Brown is an environmental writer and photographer and the owner of Sustainable Media, an environmental media company that specializes in helping businesses and organizations promote eco-friendly products and services. Contact her on the web at http://www.sustainable-media.com
Ad
---
By Annie (Guest Post) 10/24/2008 Flag
What regular products can you find in stores for deicing that won't harm plants?
By beaverlaker 1 14 02/15/2013 Flag
In 2008-2009, KY had its worst ice storm. We had just moved to our newly built house and certainly was not prepared for it, not even a generator. But we had heat and hot water due to our outside Taylor wood/water stove, but we had to go out and feed it (wood) we had cut.

That 50' walk was treacherous until we put birdseed down on the ice and the only bird seed we had were sunflower seeds. Boy, did they work great! And when the birds sat and shelled the seeds, the shells did the same thing - gave us traction on the ice-coated porch, sidewalk and driveway to our woodstove. For one week the birdseed worked until melting started.
By Louise B. 6 2,509 02/16/2013 Flag
I think you have given good advice here, but I feel compelled to point out that sodium chloride and potassium chloride do not have a "high salt content". They ARE salts. It is not something added to them; it is what they are. They combine with the snow and ice to make salt water, which has a lower freezing point than fresh water. Therefore, they cause ice to melt, (or salt water not to freeze, if you want to think of it that way) at the regular freezing point of -32F (0C). Also, one should not think of any of those substances as "having chemicals in them" as they are chemicals, just as water (H2O), baking soda, vinegar, ammonia, acetic acid, sugar, are ALL chemicals. The word "chemical" does not denote something harmful.
By Louise B. 6 2,509 02/16/2013 Flag
Calcium chloride is also a salt, just a different kind. Here is what wikipedia says about it - "Calcium chloride can act as an irritant by desiccating moist skin. Solid calcium chloride dissolves exothermically, and burns can result in the mouth and esophagus if it is ingested. Ingestion of concentrated solutions or solid products may cause gastrointestinal irritation or ulceration." This is why it would not be suitable to use if dogs or cats were to walk on this de-icer. It would also be harmful if your pets tried to lick off their paws if they had calcium chloride on them.

Ethylene glycol is terribly poisonous to pets (or people, for that matter, although we tend not to drink it!), has a sweet flavor, and so should never be used anywhere around animals. It is also the product you use as windshield washer antifreeze, so you should be careful of spills, so that there is never an opportunity for pets to lap it up.
I saw on Facebook a post for icy, slippery sidewalks and steps. I tried it and it works. Use 1 teaspoon of Dawn dish detergent and 1 tablespoon of alcohol added to a gallon of hot water. Pour it on the steps and sidewalk. They won't turn icy or slippery. They actually just get kind of slushy.