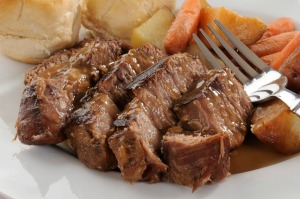 If you have leftover cooked beef, such as roast, stews, or curries you can freeze the leftovers for a future meal. This is a guide about freezing cooked beef.
Ad
---
Questions
Here are questions related to Freezing Cooked Beef.
Can you freeze cooked beef that has been refrigerated for 2 days?

Linda
AnswerWas this interesting? Yes No
Ad
---
---
Best Answers
By doodles 8 64 08/25/20080 people found this helpful
There is no problem doing that! I do it all the time - if I have enough and I don't want to do anything more w/ it right away. Just make sure you wrap it well, as air tight as possible to avoid freezer burn.
---
By Joanna Hughes 4 22 08/26/20080 people found this helpful
Absolutely! The quicker you freeze meat after it has cooked and cooled - the better. You should have no problem freezing it. Sniff and nibble if you are suspicious- wrap it so you keep out as much air as possible to keep from freezer burn and label clearly. Good job on saving money!
---
If I make a beef curry from frozen beef. Can I re-freeze this after it is cooked?

R Lewis from Norwich UK
AnswerWas this interesting? Yes No
Ad
---
---
Best Answers
By Debbie Dzurilla 28 1,124 02/01/20070 people found this helpful
Yes, you can. I am always making things from frozen meats and then freezing leftovers, such as soups, stews, and chili.
---
By Grace (Guest Post) 02/03/20070 people found this helpful
When you are making the beef curry, do not add vegetables eg. potatoes or tomatoes. Make the curry plain and do not add coconut milk. Use kas-kas instead.
Then you can freeze it for long periods. On the day of serving, take a pan, fry some onions, garlic, curry leaves, ginger, and add potato cubes and/ or tomatoes and a little salt, cook it well. Then add the beef curry and heat it up well until it boils. Then serve. It should taste good.
---
Can you freeze canned corned beef?
By Syl from Winnipeg, Manitoba, Canada
AnswerWas this interesting? Yes No
---
Most Recent Answer
By glenda eileen lockhart 61 16 11/10/20090 people found this helpful
My husband and I love corned beef hash but a whole can makes too much for us. I cut the corned beef in half and wrap half tightly in saran wrap and put it in a freezer container. It tastes as good after it has been frozen as when it was first opened, plus it gives us two meals for the price of one. I tried freezing the prepared hash but found the consistency of the potatoes wasn't as good.
---
Can you freeze Armour jarred dried beef? I did not use it all when I opened it.
By Ramey
How long can a cooked prime rib be frozen?
By Joanie
Solutions: Freezing Cooked Beef
Do you have knowledge about this guide topic? Feel free to share a solution!