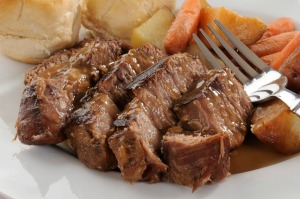 If you have leftover cooked beef, such as roast, stews, or curries you can freeze the leftovers for a future meal. This is a guide about freezing cooked beef.
Questions
Here are questions related to Freezing Cooked Beef.
How long can a cooked prime rib be frozen?
By Joanie
Can you freeze cooked beef that has been refrigerated for 2 days?

Linda
---
Best Answers

By Joanna Hughes [3]08/26/2008
Absolutely! The quicker you freeze meat after it has cooked and cooled - the better. You should have no problem freezing it. Sniff and nibble if you are suspicious- wrap it so you keep out as much air as possible to keep from freezer burn and label clearly. Good job on saving money!
---
Best Answers

By doodles [8]08/25/2008
There is no problem doing that! I do it all the time - if I have enough and I don't want to do anything more w/ it right away. Just make sure you wrap it well, as air tight as possible to avoid freezer burn.
If I make a beef curry from frozen beef. Can I re-freeze this after it is cooked?

R Lewis from Norwich UK
---
Best Answers

By Grace (Guest Post)02/03/2007
When you are making the beef curry, do not add vegetables eg. potatoes or tomatoes. Make the curry plain and do not add coconut milk. Use kas-kas instead.
Then you can freeze it for long periods. On the day of serving, take a pan, fry some onions, garlic, curry leaves, ginger, and add potato cubes and/ or tomatoes and a little salt, cook it well. Then add the beef curry and heat it up well until it boils. Then serve. It should taste good.
---
Best Answers

By Debbie Dzurilla [24]02/01/2007
Yes, you can. I am always making things from frozen meats and then freezing leftovers, such as soups, stews, and chili.
Solutions: Freezing Cooked Beef
Do you have knowledge about this guide topic? Feel free to share a solution!