I've been given an old upright piano that needs major restoration and am looking for ideas on what to do with it. I'm thinking about dismantling it and crafting some furniture with the wood. Any ideas?
By Lisa Adams
Ad
---
Recent Answers
Here are the recent answer to this question.

By Anthony Campbell03/18/2015
Piano to desk...cool!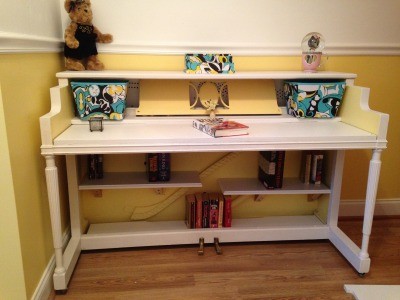 By Jenna S.04/22/2014
I have about 20 of the piano keys. Is there anything I can do with them or make them into something? I was planning on using them as a gift for my sis but not too sure how or what to do. Any ideas?

By Valerie Basile G.04/02/2013
I turned my mothers baby grand into a storage cabinet for my kitchen. Loving it!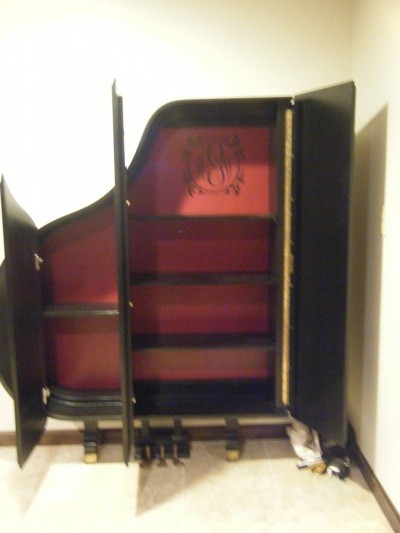 By Tom (Guest Post)01/24/2009
http://www.tinkertunes.com/upright-furniture-co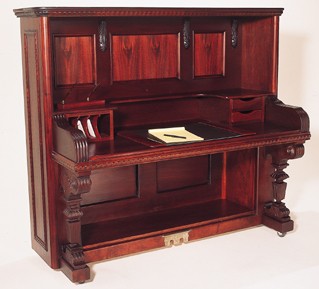 By A musician (Guest Post)09/13/2008
Blasphemy! If it works, fix it up! If it is a piece of crap OK, make furniture out of it, but seriously, there are a lot of fun things that can be done to revamp an old piano. Look in any better homes and gardens magazine. They offer good ideas for fixing up less than beautiful wood. For example, you could paint it, or refinish it or just get crafty with your design.

I am also fixing up an oldie but goodie, and the front of the piano is in pretty bad shape, the keys are all stained from the smoker who previously owned it so I have turned it keys toward the wall and back board facing the audience, which gave me a great idea to make a sort of collage with old pieces of music (which can be found at lots of rummage sales), on the lid of the piano then put some lacquer over it for a shiny sort of look. Any way, hope you aren't completely dismantling a good working piano. Good luck fixing it up!

By mythreefarmers (Guest Post)08/09/2008
Is there a website that has ideas for recycling an old upright piano into usable furniture? I have a friend that redid theirs into an island for the kitchen. It is beautiful!

By Donna. (Guest Post)12/28/2007
I have a Baldwin that hasn't been used in years and has sat in a basement and then a garage for a very long period of time. My son moved it when he was a teenager and because of the brain damaged personality of most teenagers and his belief that he could handle the job alone the piano was somewhat damaged. But the guts are still intact and it still plays though it is badly in need of tuning.
I don't play anymore. My left hand was badly injured in a logging accident years ago and arthritis makes playing painful and difficult. I hate to see the piano go to waste
but no one wants the ugly old girl with the off key voice. Is there anyone out there who recycles piano guts ??

By Daria DeCooman [4]11/11/2007
Speaking of pianos-as-sideboards, several years ago, I rented a basement apartment that came with a piano sans keys or innards (the wires). The piano became a sort of bar/buffet/breakfast table/sideboard. It was next to my kitchen, and guests loved sitting at it to eat or serving themselves from dishes lined up on it. Though I never put anything inside the keyless piano, I got plenty of use from the bare keyboard. What a conversation piece!

By susan [8]09/09/2007
I bought the carved panel from an old piano at a yard sale. I took it home cleaned it up, added 4 old hooks to the bottom, and hung it. I hang my straw hats on it along with dried flowers, etc. It's unusual and a wonderful salvaged piece. I'm so glad to own it and have saved it from the dump.

By Janice C. [18]09/08/2007
I agree with kimhis. The idea of destroying a piano makes me a little dizzy. Surely a church or school or organization would want to use it? And remember the Antiques Roadshow mantra - get an appraisal from a knowledgeable antiques dealer before you do anything to an old piece. And I thought it was illegal to buy or sell ivory in the US. I don't know about Canada's laws.

By Kim Churchman [3]09/07/2007
I can hear the piano yelling 'No!' Please consider putting it up on Craigslist or eBay or running an ad to sell it. You can get nice furniture without destroying a real piano. I never got to have piano lessons as a kid, it's on my 'when I retire' list, so please don't smash the piano! You'll be smacking your forehead soon, saying "what was I thinking!"

By Ann (Guest Post)09/07/2007
Before you demolish your piano, you should get someone that knows about antiques to look at it and give you an appraisal. Your piano could be worth a tidy sum of money!

By Elaine (Guest Post)09/07/2007
My sister was given one for their church and when the guys hauling it turned a corner it rolled off, sort of smashing it but my sister saved the part that holds the music since it was an intricately carved design and used it for a headboard in her guest bedroom. It is one of the most unique headboards I have ever seen with a carved wheat design.

By Carol [1]09/05/2007
My friend has one of these, and he layed a shelf about 10" down from the top, put plastic sheeting in it and used the top part as a planter. He took the insides out of the bottom part and put his (mini) stereo there, so now it looks good and still plays music.

By pam munro [523]09/05/2007
I know it's silly, but I hate to think of instruments being destroyed! If the soundboard isn't cracked - maybe you could get someone to fix it! And if the soundboard IS cracked & the thing is useless - you could make a computer desk out of it? (and remember the piano keys - if they are ivory - they have some value nowadays...)

By joyce craig (Guest Post)09/05/2007
Lisa,
How much fun! Black and white are big now, how about taking the keys and making a wall mural. Use the top and and side for some sort of bench. I once took apart a 60's sofa and used the back for a wall divider, the sides for the top back of a chest and the pillows for re-do in other rooms. Boy that $5.00 sofa was a great find! Have fun using all of this freebie to your imagination and creative style. Smiles, Joyce

By Lisa Austin [21]09/04/2007
I'm not sure this would work, but could you take out all the 'guts' of the piano and use it as a kind of sideboard for storage?
Answer This Question
Add your voice to the conversation. Click here to answer this question.