Uses for Old Linens
Solutions
Share on ThriftyFunThis guide contains the following solutions. Have something to add? Please share your solution!
I recently cleaned out my old linens and got rid of the things I don't use or need. I had several old pillowcases that I saved and used them to store my quilts. I used some as garbage bags and they were very sturdy and I saved plastic bags from going to the landfill. I will continue doing this in the future. In the movies when you see someone running away and packing in a pillowcase, I just chuckle and go on. Hobos were frugal before being frugal was "cool!"
By Happy in Harned from Harned, KY
This is such a great and simple way to shade those garden plants from harsh summer sun. In Florida and many southern states summer sun gets a little too intense on plants. Create a simple frame or some way to support fishing line or some type of string then use old sheer drapery panels (cheap at garage sales) and place panels over top and secure to the string or line with clothespins. Rain filters through and sunlight but plants are protected too!
Source: A friend gave me the information
By janet from Orlando, FL
Use bed sheets or pillow cases for crafty new table runners, bookbags or beach bags, doll clothes, clothing tops or dresses, sky's the limit! Use 4 inch squares of material of 2 different colors to make a cool table runner, pillow or whatever strikes your fancy.
Quick and easy. Cut 4 inch squares of the 2 colors. Take our ruler and draw a line on the reverse side with a #2 lead pencil, and make triangles. Join triangles of 2 different colors, on small sides.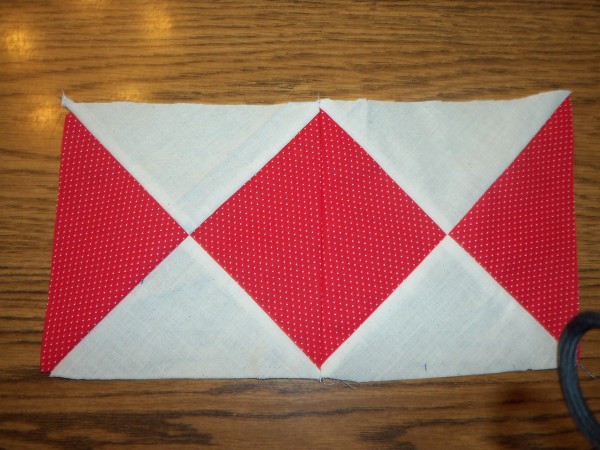 When you have 2 sets joined, place the right sides together and sew to make a square. Look at my pattern and you will see how I did it. Keep adding to it to make the size of material you need if you make a table runner. When you have the correct size, hem the ends. Back view is sewn, at 1/8 of an inch.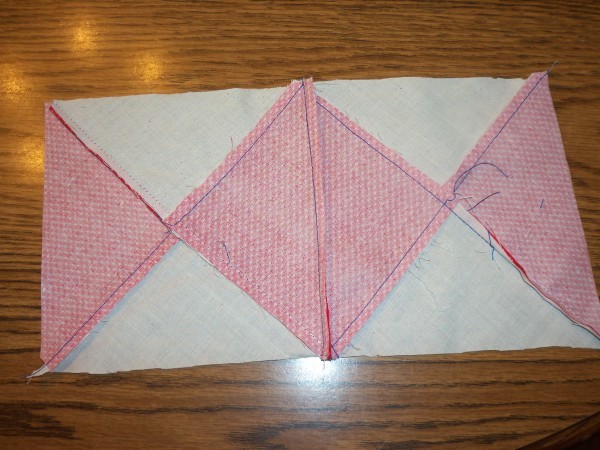 That's it. Enjoy.
By bali from Summerhill, PA
December 28, 2004
1

found this helpful
A few years ago a close relative of mine passed away and I inherited her lovely collection of hankies (all brand new). Many are crocheted or have lace on them as well as embroidery. You don't see young people using cloth hankies much. What I decided to do with them is when I visit some one who is elderly and they are either in the hospital, nursing home or ill at home, I put a hankie in a card and present them with this. They really appreciate it.

By joesgirl
After my parents died, when going through the house (that I now live in) I'm finding old towels, sheets that are no longer good for sheets, stained tablecloths etc. I've donated what's appropriate to animal shelters, rescues, But I've always wondered what else the tablecloths could be used for. This morning, I figured it out!
Storage of delicate or fragile items! I've just pulled out a bunch of platters, etc. for a party and have tons of ripped paper. Since the paper is all torn up, I was thinking I need some new packing paper. But I figured I'd cut up the tablecloths and the sheets that I haven't already sewn into pillowcases and use them to wrap the glass pieces. I'll still use bubble wrap and newspaper as padding on the storage bin. but I can use the cloth pieces to store the other things - no more trash every time I try to pull something out!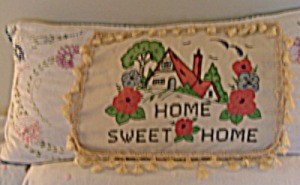 A wonderful way to use scraps of beautiful linens, handed down or found while treasure hunting!
Approximate Time: 30 minutes
Supplies:
decorative linens
pillow stuffing
trims
scissors
sewing machine
Instructions:
I love, love, love vintage handiwork. I find some beauties at thrift shops and can't possibly display them all! Many have tears or stains but have other portions that are still in great shape. For my sofa pillow:
Lay out an embroidered runner, then center a salvaged printed linen piece and pin.

Sew the center square with matching thread on my machine.

Take a vintage pillowcase and cut to fit for the back and set it aside.

Sew trim around the center square.

Pin trim to the border of the piece on the right side of fabric, then laid back piece (pillow case) over front and pinned.

Sew (right sides together being careful not to catch trim in your machine).

Leave about 6 inches open for turning, stuff and hand stitch closed.
This is now one of my most treasured pieces.
By Carol from Landisville, PA
April 1, 2005
0

found this helpful
I cleaned out my linen closet and came up with a few ideas on what to do with stuff I don't need anymore.
Read More...
Related Content