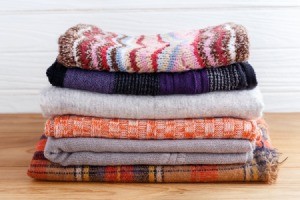 I have several old sweaters that my family and I love and would like to recycle or re-use. I want to put large squares from the sweaters together to make a king-sized quilt.
Can I stitch the blocks of sweaters before cutting them apart, to keep them from unraveling, then cut them out, and attach them to each other by stitching them along the prior stitch line?
I do not knit at all and have very little experience sewing. I only know how to make some hand stitches, and I don't have a sewing machine.
If my idea is ridiculous, please advise me how I can do the "quilt" or submit these sweaters to someone else to do it for me.
By 'Miss' Bonnie from Denver, CO region
Answers
March 2, 2011
1

found this helpful
Best Answer
Your idea isn't ridiculous in fact it sounds like a fun project. You are right in thinking of stitching your squares first, but not having a machine is going to be a problem unless you fuse the sweaters to a webbing first. Even then I think you are going to miss some of the threads, it would be almost impossible to catch them all by hand. Perhaps you could borrow a machine and make a Christmas stocking from the scraps for the owner for using it. If you search the internet you will find directions for making quilts from t-shirts that will give you the basics for making one from your sweaters. Your quilt is going to be very heavy when finished. If you watch garage sales you should be able to get a sewing machine for around $20. Good luck let me know how it comes out, I have been a quilter for 30 years or more, used to have a quilt shop and still love it.
March 3, 2011
0

found this helpful
Best Answer
Are the sweaters all made of the same material? ie wool, cotton etc. If not, would not put them all together as they would wash differently and possible warp the blanket. Sort by what the sweater is made of and put same fabric together.
I'm with latrtatr look for a sewing machine second hand at thrift stores or garage sales it will be soo much easier. Also try your local freecycle website where folks offer unwanted items for free.
October 22, 2011
0

found this helpful
If you go to buy a used sewing machine please take a sewing person with you as you could end up with nothing and have spent your money. I rebuild old machines and can find a lot that have a little wrong with them for 20 dollars but you have to know how to use one to buy used.
Go to a Sewing place that fixes machines and 50.00 with a 30 day guarantee is a good price and you are covered and they will instruct you or you can order a book if one doesn't come with it by googling the name of the machine. You seem to be wanting to tackle an awful big job so be careful, get some help.
Read More Answers