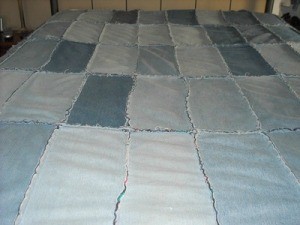 Old jeans recycled to make a quilt with a flannel backing.
Approximate Time: 12 hours
Supplies:
old jeans
flat flannel sheet
any color thread
large shears
small scissors
cardboard
Instructions:
The jeans and flannel are pre-washed, before cutting. After the desired shape of the quilt block is determined, cut your cardboard to the shape. I usually do a simple shape and start cutting the jean pieces.
After the jean pieces are all cut I find it easier to pin each on the flannel sheet and cut. I then sew a basting stitch around the 2 pieces and start making my stacks. I like my quilts BIG, so I usually try to use the biggest flannel sheet I can find. You don't usually have much waste of the sheet.
When I start piecing them together, I put a whole row together and lay it across a bed to get a idea of how many rows I will need, then I snip all the edges and continue to sew the rows together.
After I have all the rows sewn together I wash the quilt. It will be frayed on every edge, but because the edges are all snipped it makes it easier to pull all the threads. I put it in the dryer and dry it only about 90% dry. Jean material is very giving and can be pulled to shape. I then lay it on a clothes line in the basement and start pulling threads, this takes awhile, but it sure turns out nice.
By Sue from Whitinsville, MA
Read More

Comments
I had 5 pairs of my children's old jeans and were beyond repair. So I cut them into 8 x 8 squares and some were 8 x 4 rectangles. I arranged them as I desired. Using 1/2-inch seam allowance and with right sides together.
Sew the squares to each other forming one row. Then sew rows to each other.
With right sides together, I used an dark blue flat sheet as the back of the quilt.
Sew the front to the back (like a pillow case). Leave an opening for turning the right way. Then I sewed the last edge together.
And I have a quilt that will last a life time to pass on to my children's children. From jeans that my kids once wore.
By Tracey
Read More

Comments