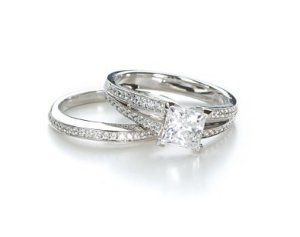 Homemade jewelry cleaners are a great way to keep your jewelry looking like new, without using expensive professional cleaning solutions. This is a guide about making homemade jewelery cleaners.
Ad
---
Solutions: Homemade Jewelry Cleaner
Read and rate the best solutions below by giving them a "thumbs up".
I was shopping for jewelry cleaner one day and a lady saw me and said "don't waste your money on that cleaner". She told me to use ammonia straight out of the bottle. (This costs $1.00 at the Dollar Store and lasts for years). I was amazed when I tried it.
I put ammonia and jewelry in a coffee cup for very short time, rinse, and rub with towel or soft cloth. I also use a toothbrush to get in the crevices. The shine is unbelievable. I haven't bought jewelry cleaner in years.
By Pmcbee from Jesup, GA
<ul><li>3 cups ammonia
<li>1 cup water
<li>3 drops any dish soap
</ul>
<P>Soak jewelry for a few minutes then rinse well with water.

<P>Warning: Do Not Use with Pearls or costume jewelry.

<P>By imaqt1962 from Illinois

Editor's Note: If you want a smaller batch, cut the recipe down to 1 cup ammonia, 1/3 cup water, 1 drop dish soap.
Give a "thumbs up" to the solution that worked the best! Do you have a better solution? Click here to share it!
Questions
Here are questions related to Homemade Jewelry Cleaner.
I am looking for a safe, homemade cleaner for cleaning diamond jewelry.
By Darlene from Castaic, CA
AnswerWas this interesting? Yes No
Ad
---
---
Most Recent Answer
By Judith Ardis 10/26/20090 people found this helpful
My mother-in-law taught me to soak my diamond rings in ammonia, clean with a soft brush (an old, soft toothbrush would do), then rinse in alcohol to bring up the shine.
---
I have a silver necklace that I got from my husband the morning after our wedding. As a result of the use of perfume, body lotions, etc. the necklace now looks dirty. I'd love to let it shine again, but I want to avoid chemicals, as I always try to do when I am cleaning anything .
Can anyone share tips on a home made remedy for jewelery cleaning? Very much appreciated.
By Maviga from Co. Wicklow, Ireland
AnswerWas this interesting? Yes No
Ad
---
---
Most Recent Answer
By Jennifer [33] 07/26/20100 people found this helpful
Use white toothpaste to clean your silver jewelry. Use Catsup to clean copper.
---
Is there a way to make homemade jewelry cleaner?
By Bambi from Landisville, PA
AnswerWas this interesting? Yes No
---
Most Recent Answer
By Betty [104] 09/07/20110 people found this helpful
I've never bought jewelry cleaner. I don't own a lot of costume jewelry, just a few pieces of 14 carrot gold and sterling silver earrings and necklaces. I clean them with toothpaste and a toothbrush or mild liquid detergent.
---
Archives
Thrifty Fun has been around so long that many of our pages have been reset several times. Archives are older versions of the page and the comments that were provided then.
After noticing my store bought jewelry cleaner smelled mostly like ammonia, I refilled the empty jar with half sudsy ammonia and half water and used that to clean my jewelry instead. Works as well as (if not better than) the store bought stuff.
By Tori
---
RE: Cheap Jewelry Cleaner
Worked in a jewelry store years back. At that time, we used sudsy ammonia, water and just a drop of dishwashing liquid to get jewels sparking clean. Watch out for opals, though. (04/14/2005)
By trouble's mother
Cleaning Jewelry
Use equal amounts of cold distilled water and ammonia in a container and soak your jewelry for 1/2 hour to clean it. By Geri Taylor (05/26/2005)
By ThriftyFun
RE: Cheap Jewelry Cleaner
Pearls also must be treated a certain way, ask before you clean them as I don't know how. (05/27/2005)
By kidsNclutter
RE: Cheap Jewelry Cleaner
Pearls must be cleaned very gently, otherwise you can remove the coating that makes them look good. The best way is simply wiping them with a soft clean cloth and a little water.
Opals can lose their color if they come in contact with hot water. Make sure to remove opal rings when you are bathing or doing dishes.
Treat both of these with great care. (05/28/2005)
RE: Inexpensive Jewelry Cleaner
The reason your "pearls" lose their coating is they either are not pearls--pearls are solid nacre--or they are color treated to look like a more costly version. Real pearls feel grainy when you rub them on your teeth. Others feel slick.
Pearls, coral, amber and jet are organic gemstones, made by living things. Opal thinks it's organic, so be gentle to all these groups. Baby shampoo diluted is fine, but you do want to wash off make-up and sweat that can weaken stringing threads and have them glow. DO NOT PAY for washing your pearls when you have them restrung. Do it yourself. A soft facial brush will do. Photograph your pearls on a table before you go, and write a number beside each one to confirm the count. It's nickels and dimes that made eBay what it is today.
Otherwise, I find the best jewelry cleaner are the effervescent denture tablets, especially the "5-minute" kind. They are individually wrapped and work in any glass or small plastic cup or bowl. For traveling or getting dressed at the last minute, they can't be beat. Plop, plop. Fizz, fizz. Oooops, that's for heartburn. hahaha (08/28/2005)
By the Oracle
RE: Cheap Jewelry Cleaner
Use equal amounts of hydrogen peroxide and ammonia. The dirt and grime just bubbles out of the jewelry in mere seconds! (10/17/2005)
RE: Cheap Jewelry Cleaner
One thing you can use to clean all your jewelry is toothpaste. It may be hard to believe but it's true, I read it from a newspaper article. I didn't believe it but I thought there's nothing bad out of trying, so I did. Toothpaste was strong enough to clean off the dirt and grime, but gentle enough not to damage anything. Toothpaste also helps with burns! (12/17/2007)
By Laurie.
How do I make jewelry cleaner?
By Dreeanna from NY
---
RE: Homemade Jewelry Cleaner
I've always used plain old sudsy ammonia, or regular ammonia with a drop or 2 of dish soap added. Just soak your jewelry for half an hour or brush with an old toothbrush. But someone told me that the easiest way to keep your diamond ring always looking like brand new is to brush your teeth, then with the toothpaste that's still on the brush, use this to brush your diamond with. It sounds gross, but it works!
* Never use ammonia, or anything harsh on opals! (11/01/2009)
By Cyinda
RE: Homemade Jewelry Cleaner
Mix the ammonia with an equal part of hydrogen peroxide. When you put the jewelry in the solution, you can see the dirt bubbling out. DO NOT use this for opals or pearls! (11/02/2009)
RE: Homemade Jewelry Cleaner
I make my own cleaner, using the recipe here
ehow.com
(11/02/2009)
By libragramma
RE: Homemade Jewelry Cleaner
Soak in alcohol. It works, good luck. (11/02/2009)
By kffrmw88
RE: Homemade Jewelry Cleaner
This works especially well for silver jewelry. 1 cup white vinegar to 1-2 TBSP baking soda. Let soak for an hour or so and rub with soft cloth, I couldn't believe how nice it came out. (11/03/2009)
By Tamika Anny
RE: Homemade Jewelry Cleaner
My uncle is a jeweler and he always told me to use Pine Sol or any pine cleaner. Put your jewelery in a Dixie cup and fill with cleaner. Let sit for about 1/2 hour and use an old toothbrush to clean. This works terrific. I don't know if it works on silver jewelery though. (11/06/2009)
By MrsJim