Question:
My Amaryllis bulb (Red Lion) sprouted a tip of a leaf or stalk two weeks ago and stopped growing. Any ideas how to make it grow? The growth is green, just not getting bigger.
Alina from Hoffman Estates, IL
Answer:
Alina,
As long as you're satisfying all of its requirements for growth, I wouldn't worry too much, just make sure it's getting enough sun, keep the compost moist (not wet) and make sure the temperature of the room it's growing in falls in the mid-60's to mid-70's ranges. They are tropical bulbs, so they like moist soil, warm temps and plenty of light. At this stage in the plant's growth, you should also give it a _ strength liquid plant fertilizer every 2 to 4 weeks. The key to growing Amaryllis is really about temperature and light. Plants kept in warmer rooms grow faster and once you see new growth appear, they need a lot of sunlight (direct is okay) or they tend to get tall and floppy. As soon as the flowers start to open, move the plant out of direct sunlight and place it in a cooler part of the room. This will help the flowers last longer. As the blooms start to fade, snip off the flowers to keep the plant from expending energy for seed.
Ellen
We are giving away $200 in Amazon gift cards for people who answer questions on ThriftyFun in February! Click here to find out more...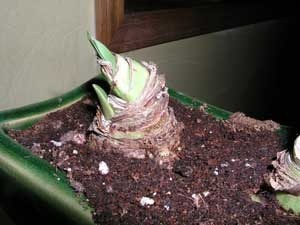 About The Author: Ellen Brown is an environmental writer and photographer and the owner of Sustainable Media, an environmental media company that specializes in helping businesses and organizations promote eco-friendly products and services.
Add your voice! Click below to answer. ThriftyFun is powered by your wisdom!
Add your voice! Click below to answer. ThriftyFun is powered by your wisdom!