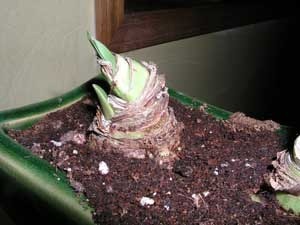 Question:
My Amaryllis bulb (Red Lion) sprouted a tip of a leaf or stalk two weeks ago and stopped growing. Any ideas how to make it grow? The growth is green, just not getting bigger.
Alina from Hoffman Estates, IL
Answer:
Alina,
As long as you're satisfying all of its requirements for growth, I wouldn't worry too much, just make sure it's getting enough sun, keep the compost moist (not wet) and make sure the temperature of the room it's growing in falls in the mid-60's to mid-70's ranges. They are tropical bulbs, so they like moist soil, warm temps and plenty of light. At this stage in the plant's growth, you should also give it a _ strength liquid plant fertilizer every 2 to 4 weeks. The key to growing Amaryllis is really about temperature and light. Plants kept in warmer rooms grow faster and once you see new growth appear, they need a lot of sunlight (direct is okay) or they tend to get tall and floppy. As soon as the flowers start to open, move the plant out of direct sunlight and place it in a cooler part of the room. This will help the flowers last longer. As the blooms start to fade, snip off the flowers to keep the plant from expending energy for seed.
Ellen
By Kayray (Guest Post)
January 14, 2007
0

found this helpful
Best Answer
Is this the first season you have grown it?
I would move it to a sunnier location, and if there is a lot of dead (onion skin like) material around the bulb, pull some of that off. Also give it a little more water.