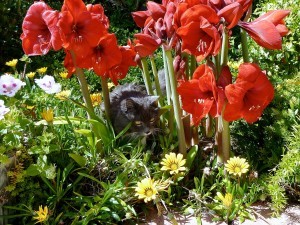 Question:
Has anyone planted Amaryllis outdoors? When and how should I plant mine? I've heard of them being put outside but don't know how deep to plant them and if they can be left outside permanently.
Hardiness Zone: 8a
Vicky from Jacksonville, NC
Answer:
Amaryllis is hardy to zone 7b and can be left outdoors year-round as long as it is given adequate mulch in the fall and winter months.
Plant new bulbs in the ground in late September or early October and you'll see flowers in the spring. Bulbs should be planted about 1 ft. apart and just deep enough so that the tips ("noses") stick above the ground.
The soil should be nutrient-rich and well drained. The site should receive plenty of sun with some afternoon shade.
Use a low nitrogen fertilizer and make the first fertilizer application as new growth begins, then repeat the application when the flower stalk is 6 to 8 inches tall. Apply a third application immediately after flowering when the spent flower heads and old flower stems have been removed.
You can plant amaryllis left over from the holidays in the spring. Plant bulbs directly in the ground, pots and all, after first acclimatizing them to the bright outdoor light. Make sure the pots are well drained.
Ellen