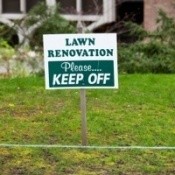 It's no secret that a thick, healthy lawn reduces the need for using water and fertilizer. Today's grass varieties have been developed to have a greater resistance to insects, drought, and disease. They're also designed to stand up to heavier foot traffic. If your lawn is starting to look thin and tired, and the weeds are starting to creep in, it may be time to give it a boost by overseeding it.
Mow it. The real key to getting grass seed to germinate is getting the seed in contact with the soil. To help facilitate this, mow your grass on the lowest setting possible without scalping the lawn. If your mower has a bagger attachment, pick up the clippings and toss them on the compost pile.
Rake it. After your mow, the entire yard needs to be gone over with a metal rake. This step is labor intensive, but don't skip it. Raking will rough up any exposed soil (creating more surface area for seed contact) while removing thatch, grass clippings, and any remaining debris.
Choose the right seed. Find out what type of mix is optimal for your yard. Look for mixes that are 100% weed free (even though it's unlikely they really will be). If you're presented with a choice between hulled or unhulled seed, you will get more hulled seeds for the money because you're not paying for the weight of the hulls. Both types germinate equally well.
Spread the seed. This can be done with a hand-held broadcaster or a walk behind drop spreader. Hand-held models work great for smaller lawns and are available at most hardware stores and big box garden centers for $20-$40. Use the broadcast rate recommended for new lawns. This will help make up for seed that is washed away, fails to germinate, or is eaten by birds. Using approximately 1/2 the seed, make the first pass in strips across the lawn. Then using the remaining seed, take a second pass across the lawn at a slight angle. This will help ensure you get full and consistent coverage.
Rake in loosely. After you spread the seed, go over the yard lightly with a metal rake to knock any seeds stuck in the grass down to the soil.
Top off with 1/4 inch of compost. Covering the grass seed with a little bit of topsoil does three things: it adds organic nutrients to the old soil, it helps keep the seed moist after watering, and it hides the seed from hungry birds.
Water in well and keep moist. Once moistened from the first watering, the seed should never be allowed to dry out until it fully germinates. This can take up to two weeks and may mean watering twice a day. Germination rates can drop by as much as 30% if you miss even one day so stay on top of it. Once the old grass reaches 3 inches tall you can mow again (medium height). This will give any late germinating seeds more light. After 4-6 weeks, the new grass should be well established.
November 6, 2009
0

found this helpful
I don't think you can put too much seed on it. The birds end up eating some and some gets blown around despite using peat moss on top. And, grass seed is pretty inexpensive compared with sod.
Our Lawn After Fertilizing And Reseeding
This spring I used starter fertilizer and planted Scott's Thermal Blue grass seed and just look at our lawn! It had so many large bare spots after the drought last summer! This seed is great and grows fast!
By JoAnn from Knoxville, TN
By guest (Guest Post)
June 3, 2008
0

found this helpful
Very pretty! Looks so soft and healthy.
Read More Comments
I have never heard such cool ideas as I've heard from this site. Now, I consider myself a pretty resourceful guy. My wife and I bought our first house about 16 months ago so I'm always looking for a way to stretch the budget. Can anyone suggest a tip for lawn fertilizer? I'm open to everything.

Thanks,
Jim in FL

June 7, 2005
0

found this helpful
Letting the lawn clippings fall back on the grass adds nitrogen to the lawn and eliminates the need to bag the clippings and send them to the landfill.
By guest (Guest Post)
June 7, 2005
0

found this helpful
Direct from Jerry Baker's "TERRIFIC 345 Do-It-yourself, Fix "Em Formulas for GARDEN &Maintaining a Lush Lawn & Gorgeous Garden TONICS" pAGE 6: "Your lawn will let you know when it's hungry. As the soil warms up in the spring, plant roots stretch out further into the soil, seeking food. When they can't find enough their growth is stunted and the plants start to show signs of starvation. If your green lawn becomes spotty orlighter in color, pay attention-it's beggin for food! Give it a hearty meal of my All-Purpose Yard Fertilizer, and watch it grow. INGREDIENTS: 1 can beer, 1 can of regular cola (not diet); 1 cup of apple juice; 1 cup lemon-scented dishwashing liquid; 1cup amonia and 1 cup of all-purpose plant food.
DIRECTIONS: Mix these ingredients in a large bucket, then pour 1 quart of the mix into a 20 gallon hose-end sprayer. Apply to everything in your yard to the point of run-off every three weeks during the growing season, and you'll see fantastic growing results!" "Always apply lawn fertilizer (either liquid or dry early in the morning before noon. This allows your grass to digest the food right away, before the hot afternoon sun can burn it and give it an upset tummy. Jerry's famous grandma Putt taught him so much growing up, and he shares this tip of hers: "Want to grow the toe-ticklin'est turf on the block? Then do what Grandma Putt did, and aerate your lawn after you water it or after a heavy rain--the soil will be much easier to penetrate when it's moist." You can go to JerryBaker.com to purchase his books. I promise you you will save a great deal of money and not put anything chemical into your lawn, gardens or whatever.
June 7, 2005
0

found this helpful
I just saw this on the news.
Home Made Lawn Tonic:
One can of pop
(not diet)
One can of beer
(no light beer)
1/2 cup of household ammonia
1/2 cup of liquid dishwashing soap
(do not use antibacterial soap because it will kill important microbes)
1/2 cup of mouthwash
Mix all these together, in the proper amounts, poured it into a 10-gallon hose-end sprayer, and apply it to a lawn while you water.
The pop and beer act as food for the lawn. The ammonia promotes growth and helps make the grass green. The liquid dishwashing soap is a wetting agent and helps the water reach the roots. And the mouthwash actually kills bugs and grubs in the lawn.
Be very careful with the ingredients. The ammonia could kill the grass if too much is used. The tonic should only be used once every three to four weeks in high heat, and even less frequently when the temperatures are not hot. It is also important to only use diswashing soap, dishwasing detergent could be harmful. If you have pets at home, they should also be kept off the lawn for 24 to 36 hours after treatment.
June 7, 2005
0

found this helpful
Cut grass quite high. Don't catch the clippings as it will mulch down and feed the soil. Also the ground holds better moisture with more "hair" on top.
Get your lawn cored from time to time and rake sand into it if the soil is compacted.
If you really feel you need to add something to it, try poo tea! A huge bucket (lided) of water with a shovel full of chicken/cow or horse poo. Let it festure for a week, stiring ocasionally and dilute to "tea" strength and apply in a watering can or whatever you have.
By guest (Guest Post)
June 10, 2005
0

found this helpful
Nothing beats Jerry Baker. He uses all natural ingredients that you usually have at home. Go to his web site or better yet, order his book. jerrybaker.com
July 26, 2009
0

found this helpful
Epsom salts. Use it in the spring to green up the grass & help prevent weeds. Pretty cheap too. Directions are on the package.