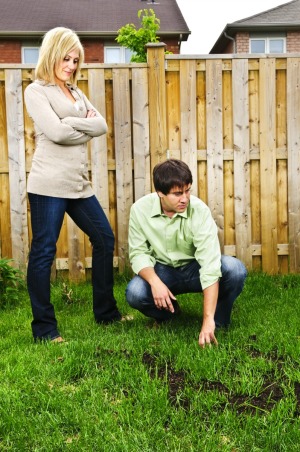 Got bare spots in your lawn? Get out and weed your garden. Save all the grass and transplant it in the lawn. Just scratch up the soil in the spot, put the grass in and water it. It fills in quickly and costs nothing.
By Jennifer from Butternuts, NY
Read More

Comments

EllenB
Gold Post Medal for All Time! 858 Posts
Whether it's caused by insects, disease, over-use, or just a bout of bad weather, if your lawn is suffering from thin spots and bare patches, spot seeding is a great way to repair and re-establish grass in small areas.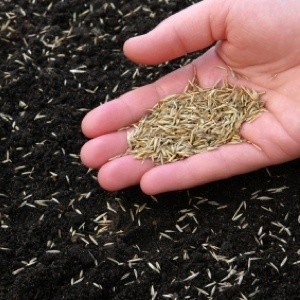 Read More...

Grass seed is too expensive, but I have bald spots in my lawn. What can I do that won't cost me any money?

Hardiness Zone: 8b


Dawn from Dunwoody, GA

Answers

March 20, 2009
0

found this helpful
How about cutting turf patches from the edge of your garden? Then replace the bald turf patches to the edge, or leave it open and plant flowers and plants taken from some wild area (woods, plains, what ever you have locally)
A good time to start a vegetable plot?

March 21, 2009
0

found this helpful
I suggest you dig up some of your lawn in the back yard, plant it in the bald spot, and keep damp. It should grow, good luck.

March 22, 2009
0

found this helpful
I don't know if this really works, but I am going to try it this spring. Lay some grass seed in the bare spot and lay used coffee grounds on top of it. the idea is the worms in the soil will come for the grass seed, leave their droppings is great fertilizer and when they go through the ground they aerate it.

March 24, 2009
0

found this helpful
Nursery centers do sell small amounts of grass seed. You might bring a swatch of your existing grass so that a knowlegeable person could make sure the seed might match it.

March 24, 2009
0

found this helpful
Dig into the soil and find out what might be the balding problem first. If there are no white fat grub worms eating the roots, watch for cinch bugs. Ordinary earthworms are a good sign. Pillbugs/ rolley pollies often get in grass, as do ants and termites. Tiny firey red ants are harmless, slow, and help the soil aeration.
If no sign of bugs of any kind, look at the blades of grass and the roots of the growing grass around it. It could be nematodes. Smell of the soil in the bare spot. If you smell mold, you may have to replace the soil there. If you smell gasoline or oil, you might have spilled it each time you refilled the mower over a time.
If the spots are perfectly round, you may have "fairy ring" mildew, and need to spray for that. If none of these things are your problem, simply plug each spot with a spade full of grass of the same size from a healthy spot, after hard raking the bald spot soil so the roots can attach themselves. Cover the edges of the plug with some soil, a piece of newspaper for three days, after wetting well, and weight each corner with heavier rocks to prevent paper blowing away until the transplant takes off. This shades the new transplants while they are getting adjusted to their new location and not as likely to go into any sort of shock. Do the spring transplanting in late afternoon rather than morning or noon. This gives them all night to adjust to the new spot. Do not fertilize.
You will have less luck with seeds, in my opinion, because spring is here and birds are hungry for seeds! Plus the seeds need to be watered daily, whereas the transplants need only every other day or so. Good luck and god bless. ": )
Answer

this Question

Paula Jo C.
Bronze Feedback Medal for All Time! 119 Feedbacks
I believe I read in one of your many news letters/columns that used coffee grounds contain nitrogen which in turn is good to put on our yards with 'bald spots' in them. I remember reading that the used coffee grounds would make the grass grow again in the bald spots. Is there any truth to that or not?
Answers

Hello
Bronze Post Medal for All Time! 107 Posts
February 28, 2017
0

found this helpful
THis is a good thing. I always add coffee grounds to compost and I didn't know why, but apparently it IS the nitrogen: "Coffee grounds can help keep your lawn green and healthy. Coffee grounds work well in a compost or alone to add nutrients to your soil and help your grass grow. It's high in nitrogen and slightly acidic, but it can bring your lawn to a deep-green color and help fill in dead patches."
homeguides.sfgate.com/grow-grass-coffee-grounds-36205.html

Judy
Gold Post Medal for All Time! 677 Posts
February 28, 2017
0

found this helpful
Coffee grounds are a good addition to the garden.
Answer

this Question

As spring is approaching, I was just just wondering if anyone out there has any good home remedies for lawn patch? We have two dogs that aren't so nice to the lawn all winter long, and then takes forever to get it looking decent again. Thanks in advance to all that reply.
By Sherri from Alberta, Canada
Answers

Allison
Bronze Feedback Medal for All Time! 231 Feedbacks
March 12, 2010
0

found this helpful
We've used those bags of grass and recycled newspaper that are great for filling in, but they can get pricey. This won't help you this year, but is there a way to build a dog run so that they have a place to go without ruining the grass?
Answer

this Question

I need help getting my sunny Florida grass green. The shaded area of my lawn is doing well and sunny area around the pool just does not grow well. Thanks for the help.
Hardiness Zone: 10a
Dennis from Seminole, FL
Answers

March 18, 2009
0

found this helpful
You need to search for the kind of grass you have online. You'll get lot of info, good luck.
Answer

this Question
Years ago, before I bought my house, many trees were removed from my lawn. Now, the roots have decayed and left some rather large holes all over the front and backyard. I need to know the most economical way to fill these in.
By GG
Answer

this Question