EllenB
Gold Post Medal for All Time! 858 Posts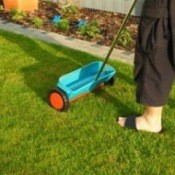 Even though your lawn goes into dormancy during the winter, frigid temperatures, drying winds, and a lack of snow cover can leave it looking tired and ragged once the snow melts. Here are a few simple steps you can take in the spring to get your lawn off to a good start for the growing season.
Test for pH
Grass grows best in neutral to slightly acidic soil conditions. Acidic soil conditions discourage the growth of grass by encouraging the buildup of thatch, and the growth of moss and certain weeds. Spring is a good time to get the pH of your soil tested, because it allows you the opportunity to correct any problems early in the season.
If you're not familiar with soil testing, contact your country extension agency for more information. The process is really simple and usually costs somewhere in the neighborhood of $15-$25.
After samples are collected and sent to a lab for analysis, you'll be mailed the results along with recommendations to correct any imbalances. For example, if test results show your soil has a low pH, you'll be advised exactly how much lime per square foot you will need to add to bring it back up to the appropriate levels.
Soil testing is not something that needs to be done annually - results are usually good for 3 to 4 years.
Rake Thoroughly
As soon as the ground thaws and soil becomes somewhat dry and workable, go over your lawn with a rake.
During the course of the winter, most lawns accumulate a variety of small branches, sticks, and leaves. Raking will remove accumulated debris and "massage" dead grass blades out of the soil to help prevent the build-up of thatch. It will also offer you the opportunity to inspect your lawn carefully for problems areas which may have been loosened by the winter's frost heaves.
Repair Damaged Areas
Repair any places where the grass has worn away, either by laying down sod or by over-seeding.
To install sod:
Use a spade to create clean edges and remove enough soil so that the sod will be level with the surrounding turf.
Use a rake to loosen and level the soil, lay in your sod, tamp it down with your foot and water it well.
Water the new sod at least every other day or so for the next two weeks, or until you are certain the new grass has taken hold.
To seed the area:
Rake the area vigorously to loosen the soil, scatter seed on it, cover the seed with dusting of soil, then water with a gentle spray, taking care not to dislodge any seed.
Keep the soil moist by watering occasionally until the new grass has sprouted and reached a height of at least two inches.
Aerate
Aerating your lawn creates holes in the soil to allow air and water to penetrate to the root zone.
This can be especially beneficial on heavy clay or compacted soils, or on areas damaged by extensive periods of wet or dry weather conditions.
There are several ways to aerate your lawn. The more simple methods are wearing spiked "aerating sandals", which poke holes in the ground as you walk, or using a garden fork to poke holes in the ground by hand over a small area.
For larger areas (or lawns in desperate need) "plug" aerators are available, which are designed to be pushed or pulled by hand or attached to the back of a garden tractor. These hollow-tined aerators remove small plugs from the soil as they pass over your lawn, which allows for the greatest penetration of nutrients.
Feed Organically - But Only If Necessary
Feeding your lawn will rarely be necessary, especially if you take care not to mow too short and you feed your lawn the grass clippings during the growing season.
Every now and then, however, your lawn may benefit from a boost of nitrogen. Once the weather warms up, your grass should turn green and start to grow on its own. If it doesn't, rake a thin layer of compost over the entire lawn or apply a complete organic lawn feed.
If after several weeks of warm weather growth continues to be slow, repeat the process again in the summer and consider adding a topdressing to your lawn in the autumn to improve its overall soil structure.
Remember, overfeeding your lawn only encourages excess growth, which results in more work for you (more mowing), so don't do it unless absolutely necessary.