No matter how much you pay for a compost bin, breaking down organic waste requires four things: water, air, a few naturally occurring microbes and a fair amount of patience. Many manufactured compost systems come complete with various bells and whistles: special gear systems for easy mixing, ergonomic ventilation slots, and enhanced faux finishes to match your landscaping décor. Add to that a wide range of accessories-compost accelerators, pile turners, scrap carriers and soil sifters-and you're looking at spending upwards of a couple hundred dollars. Here are two cheap and easy bins you can make yourself that will result in the same nutrient-rich compost.
The Snow-Fence Bin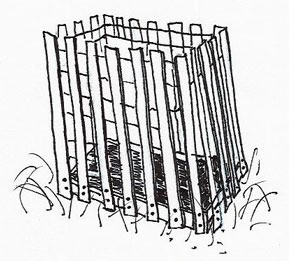 Materials needed:
12 1/2 feet of snow fencing (galvanized wire fencing works, too). Wooden snow fence can usually be purchased by the foot or bundle inexpensively. Don't use treated wood.
4 three foot 2 x 4's
nails and wire pieces (optional)
Construction Directions:
Remove the grass and sod from the area where you will construct your compost pile. Construct a 3 foot square frame from the 2 x 4's. Wrap the snow fence around the frame to form a box. Fasten ends together with nails or wire and place in desired area.
Getting Started Composting:
Place 3-4 inches of chopped brush or course waste on top of the bare soil surface at the bottom of the bin to enable air circulation around the base of the heap. Place 6-8 inches of leaves, grass clippings, garden waste and other organic materials on top of the coarse layer. Mix water into the pile until damp (not soggy). Add a 1 inch layer of soil over this to get composting started. If more nitrogen is needed, add 1-2 inches of manure or a handful of commercial fertilizer to the pile.
Turn the pile with a shovel or pitchfork every few weeks as you continue to mix in more waste. An alternative method is to pick up the bin, move it next to the pile and shovel the compost back into the bin at the new location. Add water when the pile is dry.
The Barrel Bin (excellent for small yards).
Materials Needed:
A clean, 55-gallon barrel or drum with a secure lid (hint: paint barrels have a handy protective coating inside).
metal hinge (galvanized)
drill or hammer and nail (for making holes)
cement blocks, bricks, or boards (to place barrel on for air circulation)
Construction Directions:
Drill or punch 1/2 inch-sized holes in several rows over the length of the barrel and on the bottom of the barrel. These will provide air circulation and drainage. Secure the barrel's lid with the hinge (attach an optional handle to make opening more convenient). Stand the barrel upright on blocks to allow air circulation around the base.
Barrel Bin Variation: construct the barrel and place it on blocks as above but remove the top and bottom of the barrel. Fill barrel with yard waste and insert a plastic tube (perforated with holes) into the center of the compost heap. The tube will help transfer air and collect rain for the pile. Remove the tube when mixing is needed.
Getting Started Composting:
Fill the barrel 3/4 full of leaves, grass clippings and other organic waste. Add 1/3 cup of nitrogen fertilizer and add water until pile is damp (not soggy). Continue to add waste to the barrel as it becomes available. To mix the compost, simply roll the barrel around on the ground. Remove the lid following mixing to allow the pile exposure to rain and air.
About The Author: Ellen Brown is our Green Living and Gardening Expert. Click here to ask Ellen a question! Ellen Brown is an environmental writer and photographer and the owner of Sustainable Media, an environmental media company that specializes in helping businesses and organizations promote eco-friendly products and services. Contact her on the web at http://www.sustainable-media.com
Add your voice! Click below to comment on this post or add your answer to this question. ThriftyFun is powered by your wisdom.