June 9, 2009
0

found this helpful
You can go to google and type in "making a compost bin" There are several sites showing different types of inexpensive bins to make. Actually the bin keeps out animals so you could just start one on the ground without a bin if you choose to.

June 12, 2009
0

found this helpful
I just wrap some chicken wire or old screen material around 3 or 4, 4 ft tall (long) 2 x 2 lumber and pounded the lumber into the ground w a lg hammer. Nail/staple or screw the screen/wire to the wood and turn compost often.

June 12, 2009
0

found this helpful
I made mine out of 4 wooden pallets that I stood up on their sides and wired together. One of the pallets is the "door" where I attached a latch on either side for easy removal. Works for me.
You can find them just about anywhere. Just ask someone at the garden homecenters if they'll sell you a few, or look it up in the yellow pages.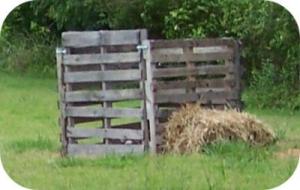 June 12, 2009
0

found this helpful
I have a couple of thoughts after reading the post about using a dishwasher. Is this idea safe? Do metals or plastics leach to the ground? If using compost for a vegetable garden, does anything seep into the compost? Also, be sure the dishwasher door doesn't lock anymore or isn't hinged. As with any discarded applicance, a child could get locked inside.

June 12, 2009
0

found this helpful
I use a large plastic storage box. I punched holes all around the sides and bottom. I put my "stuff" in and then turn the box over on one visit and then to the side on the next, and the other side the next visit.
I water slightly every once in a while. It just sits in the back yard out of the way and works very good!

June 13, 2009
0

found this helpful
I made mine portable because I didn't have enough room in my small yard. It's good if you rent also so you don't have to remove a permanent one if you move. I used a large rigid plastic storage bin with a lid. You can also use a large round plastic garbage can with a lid. Drill small holes all around bottom and sides for air and drainage. Put in your compost material and a layer of soil, put lid on and put a couple of bricks down for it to sit on. (It drains better this way.)
All you do from here on is secure the lid and turn the entire box over and on it's sides. You can just roll the garbage can on it's sides to mix. Water to keep moist. When you're digging in the garden and come upon earth worms, put some in the compost bin. They like it in there and they and help with decompress process. I've done this for several years now and have really nice results.
P.S. When drilling holes in the rigid plastic start with a small drill bit. The larger bits can crack the plastic. You can make larger holes by changing bits or use a larger screw driver and bore the hole a little larger. Don't make the hole real large or "stuff" will come out the holes.