Cleaning stains on glass vases can be challenging, especially if they are inside the vase. This is a guide about cleaning stains from glass vases.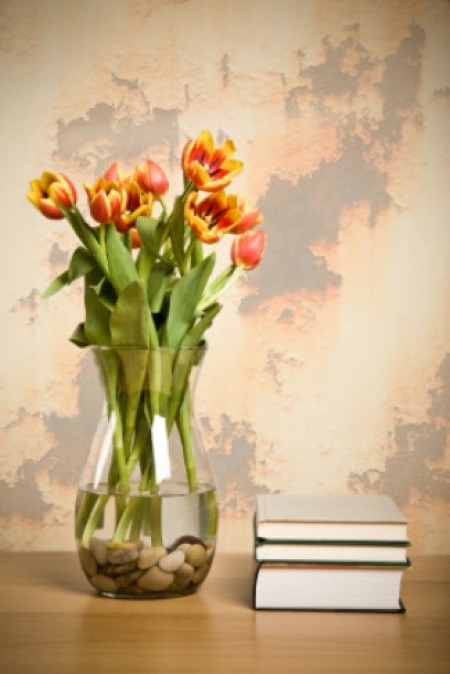 My crystal vases and crystal glasses that were left with water for more than a couple of days have mineral deposit rings where the water level was. I tried vinegar but that did not work. Does anybody know how to clean these rings, possibly without using harsh chemicals?
---
Most Recent Answer
By guest (Guest Post) Flag
November 13, 2008
When I used to be a waitress we would clean the coffeepots by putting ice, lemon juice, and salt inside and then swishing them around. It would remove stubborn stains, and might work on mineral deposits too.
---
What is the best way to clean a cloudy glass bud vase?
By Judy
---
Most Recent Answer
September 17, 2011
I put my vases in the dishwasher all the time.
---
By Irishwitch 390 18
If a bottle brush can't fit into the opening of a narrow-necked vase, try this hint my mother used: Put several broken eggshells into the vase and then add a bit of water. Place your hand over the opening and shake the vase until you can see that the dust and film has come off. Rinse well.
By JodiT from Aurora, CO
I have a very plain clear glass serving bowl, very sturdy. It needs to be cleaned, as it has that 'older foggy' look. What is the best solution to soak this in?
By Marian from Seattle, WA
---
Most Recent Answer
---
By jayded 1
How can you remove mineral and oxidization stains from precious art glass pieces that have been used as flower vases at some time in their life?
By jayded from Australia
---
Most Recent Answer
February 8, 2010
Try denture cleaning tabs if it looks like it is safe to hold water.
---
How do you get water stains out of glass vases?
By Doris
---
Most Recent Answer
By Marlene 20 53 Flag
April 8, 2013
Gently scour with an S.O.S. pad and rinse. This works on burnt on food, also on glass baking dishes.
Unsightly stains in glass vases respond to soaking in a strong solution of hot vinegar. Finish by washing in hot soapy water.

By Chell
By Larry G. 1
How do you clean yellow discoloration in a cut glass bowl?

By Larry G.