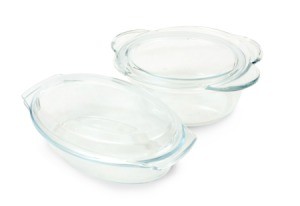 Does anybody know how to easily remove baked on stains from my clear Pyrex bake ware? I soak and scrub to no avail. We have well water, so I prefer solutions that work with that. Thanks - all replies appreciated!
Cathy from Delaware
Answers

March 30, 2008
1

found this helpful
Best Answer
Most burnt food will come off with some effort,
But once in awhile you get a really bad scoured in burn
that nothing works for it! NOTHING!
Threw a few out over the years until one I threw out, Or so I thought I did, A month later I came across it, it had totally dried out and the burn lifted, Just easily scraped away, Pan was like new, Wetting it only made it worse, So now when I have a pan that I just give up on, I Stuff it away somewhere and forget about it for a few weeks to a month, It has never failed me yet. Burned is always lifted, if you monitor it you'll notice once it's completely dried, it will slowly start lifting, to be easily scraped away

March 31, 2008
0

found this helpful
Best Answer
I am always recommending BarKeepers Friend but honestly, it really works for just about anything. Just wet it, sprinkle it on and wait a few minutes.
I use a sponge with that nylon backing and it works wonders.
By marih820 (Guest Post)
March 31, 2008
0

found this helpful
Best Answer
If you will put a fabric softener sheet in your dish with some water and let it soak, every bit of the burned residue will wash out with very little rubbing. I have used this method on dishes and pots and pans and every time they have come clean. If it is really badly burned, let it soak over night.

March 31, 2008
0

found this helpful
Best Answer
If you have a self-cleaning oven, it will get the brownest dish totally white with a little ash to blow away.
By Chayil (Guest Post)
January 4, 2009
0

found this helpful
Best Answer
Soak the gunk in vinegar, scrub a little, and dump out (but don't rinse). Then soak in a baking soda paste, scrub a little, and dump out (but don't rinse). Keep doing that until the gunk is gone.
This works because both products will occasionally work on their own. But also, when switching back and forth without rinsing between the two, they interact in a chemical reaction that produces salt, water, and heat. This is almost always enough to get rid of any gunk.
If the gunk is cooked-on grease or oil, try Dawn Power Degreaser, but only if the above doesn't work. It's a good product in terms of effectiveness, but I'm sure we'd all prefer a less expensive and less chemically harsh solution.
Answer

this Question

How-to clean burnt on fat from glass cookware?

Answers

Iceskater
Silver Answer Medal for All Time! 320 Answers
April 20, 2022
0

found this helpful
This has worked for me on a pyrex baking dish: put a dryer sheet in it, fill with boiling water, cover with foil, and leave it to soak over night. Good luck!

Judy
Gold Post Medal for All Time! 677 Posts
April 20, 2022
1

found this helpful
I use a Magic Eraser. A knockoff works fine.

Ana
Bronze Post Medal for All Time! 140 Posts
April 21, 2022
0

found this helpful
Here is a get recipe for your issue, with most of the products you have around your home. This is simple and affective - www.wikihow.com/clean-baked-on-grease-off-glass-dishes...

CDC
Bronze Tip Medal for All Time! 59 Tips
April 21, 2022
0

found this helpful
I think the fastest and easiest way to clean a dish that has burned on grease is to use oven cleaner. Another method is to mix 1 tablespoon cornstarch and 1 tablespoon vinegar together in a mixing bowl. Use a soft sponge to apply the mixture to your dish and this will soften and clean the baked on grease. Another way to clean a dish is by using baking soda and dish soap.
Let the dish soak in hot water for 15 minutes, then use a sponge and continue to sprinkle more baking soda over the stubborn areas as you scrub the dish. The abrasion from the baking soda really helps clean the grease. I've also used 'Bar Keepers Friend' and it works well too. Using toothpaste is yet another option.

April 21, 2022
0

found this helpful
Probably any of the methods mentioned will eventually get the job done but which is the best? and the easiest?
I thought these two sites were interesting as each site rated the method used. I have also used several methods and I like using baking soda and dish soap.
www.goodhousekeeping.com/.../
www.thekitchn.com/cleaning-showdown-glass-baking-dishes...

April 22, 2022
0

found this helpful
Moisten the sponge or soft cloth with water.
Pour a couple teaspoons of baking soda onto the cloth or directly into the glass cookware. Scrub the burnt areas with the baking soda and soft cloth until they are removed. Use a nylon scrubbing pad, it won't scratch the glass, but offer more cleaning power than a soft cloth.
If the stains remain, rinse with water. Then spray the surface with ammonia.
Scrub again with a soft cloth.
Rinse and repeat if necessary.
Once clean, wash the item as usual to remove any residue cleaning.
If you have a denture cleaner then simply fill the dish with water, then drop in a denture tablet and allow it to fizz as long as needed.

April 27, 2022
0

found this helpful
Try the most effective ways of cleaning glass bakeware:
1. Soak your glass dish in warm water, then add some soap and baking soda to it and let it sit for about 2-hours. Then rub with a sponge for 2-3 minutes. Baking soda softens, and soap dissolves oil and stains from food. Never use metal sponges and steel wool, they may scratch the glass dishes.
2. Soak the glass dish in hot water for about 15 minutes, then use a Magic Eraser to remove the stains. Drain the water and clean the burnt-on food away with a moist Magic Eraser.
3. Put a dryer sheet in your dish, fill it with warm water and wait until the water is cold. Rub with a sponge the stains, they will be easy to remove.
4. Mix 1 tablespoon cornstarch + 1 tablespoon vinegar and apply the solution to a rubber sponge. Rub continually and with pressure your glass dish. Vinegar and cornstarch will soften the stain over time.
5. If you have expired toothpaste, then brush your dish with a good quantity of toothpaste. You will see the effects soon enough.
6. Apply the Bar Keepers Friend to the stains, then scrub them with a moist sponge. You can also try forming a paste with Bar Keepers Friend and water, let it stay on the stains for a few minutes, then rub the stains.

September 21, 2022
0

found this helpful
Baking soda and let it site and eventually it will breakdown and u can scrub it off.
Answer

this Question