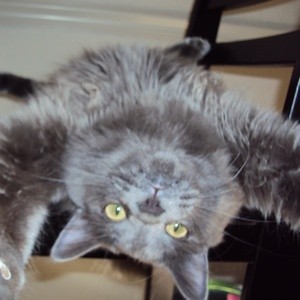 By Clint from Tulsa, OK
Feedback Forum
Feedback about this article is posted here. Want to contribute? Click above to post feedback.

By Beth [25]03/09/2010
This one goes in the Smile File!

By Julia [136]03/03/2010
Hi Clint, I think you may have a clown there. He looks soadorable, and I'm sure he keeps you well entertained with his antics... Maine Coon kitties are known to steal hearts, you know.

Thank you for sharing him with us. Would love to see "his buddie" when you have time.
Julia in Boca Raton, FL

By Anonymous [848]03/03/2010
What a cutie! Love the photo ;-)
Post Feedback
Add your voice to the conversation. Click here to share feedback.