February 23, 2007
0

found this helpful
Try CVS on-line, they always have good deals and deliver!
February 23, 2007
0

found this helpful
http://www.vermontcountrystore.com they sell a lot of things that people just can't find anymore. corn silk is one item i am sure i have seen.
February 23, 2007
0

found this helpful
Hi, do u have a Walgreen's drug store in NJ? They sell Corn Silk loose powder for just a little over $5.00. Walmart used to have it, but not sure if they still carry it. I always used Corn Silk, especially in the summer,
February 24, 2007
0

found this helpful
Hello, i typed in 'Corn Silk Loose Powder' into my search engine and saw a few links to buying it if you are in the US. [I am in England].
It seems that Amazon.com sells it, here's the link
http://www.amaz NT/dp/B0009R35R4
Good luck.
Monique x
Somerset, U.K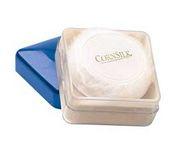 February 25, 2007
0

found this helpful
I thought I was the only one having trouble finding it. When I do find it in the store - CVS, Walmart - the color selection is quite reduced from what was offered before. I used the pale color and can't find it. I ordered a similar color from Avon and just received it. Have not tried it but am keeping my fingers crossed that I do. It was on sale for about $6.00.
By guest (Guest Post)
May 18, 2007
0

found this helpful
Oh the cornsilk powder is so great and seems impossible to find!! This is the response I got from Sally Hansen about getting it:
Thank you for your recent communications with Del Laboratories Canada Inc. regarding our Cornsilk Powders. unfortunately this line ahs been discontinued in Canada. You can still try and order it through Pharma Plus or any other independent Drug store that carries out products. If that doesn't work out you can call the US and see if they have any to sell you as the line is not discontinued in the US. The number to call is 1-516-349-2501 and the contact you will be speaking with is Nakeia. If you order through the US you will need to provide a money order in US funds. If the product is available Nakeia will instruct you further on how to order through the US.
By guest (Guest Post)
August 19, 2008
0

found this helpful
I have not yet started to search beyond my usual Fred Meyer (a local Kroger subsidiary) shopping routine, but I will be truly dismayed if the translucent no-color loose version of CornSilk is no longer made. I have been using it since I was in my teens back in the sixties!