I am looking for a "view finder" - the small hand-held item that contains a battery to view slides. I have looked at most photo stores, Wal-Mart, Target, etc. No one carries them any more. I would like to put the children's slides in a sequence and have CD's made for them so they can view them on their TV's and show their children scenes from their growing-up years. Has anyone seen these at any stores recently or suggest where I may get one. Do not want to use E-Bay.

Thank you for any information you can give me.

Rosalie from San Diego
Ad
---
Recent Answers
Here are the recent answer to this question.

By rochelle08/27/2008
I have one you can buy from me it is used, I paid $20.00 for it at an antique store, it works great....

Pay $20.00 plus shipping $15.00 from Canada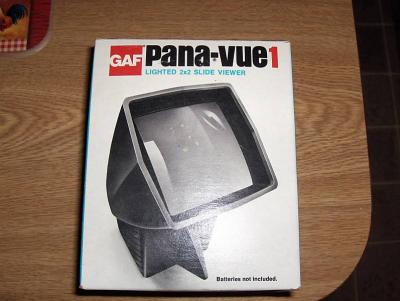 By Lisa (Guest Post)01/26/2007
If you are talking about the viewmaster for children, Wal-Mart, Toys -R-Us , and Target all still carry them in my area (Georgia). I assume you are talking about the viewer that is hand held and you insert a round disc with slides. Try Wal-mart.com . Lisa

By Susan Sanders-Kinzel [9]01/13/2007
Sent by Email:
I would like to thank Caramel, Dianne, and Kim for their postings on my
request for a small hand-held view finder. I checked them all; Kim's
suggestion of The Vermont Country Store showed that they have one. I
requested a catalog. Thank all the above who answered my request.
Rosalie - San Diego

By p. (Guest Post)01/12/2007
Here are a couple on Amazon.com:
http://www.amazon.com/s/ref=nb_ss_g ... Daps&field-keywords=slide+viewer


By Caramel (Guest Post)01/11/2007
Maybe you can try www.craigslist.com

By Dianne (Guest Post)01/11/2007
www.shopgoodwill.com

By Kim (Guest Post)01/10/2007
Do you mean like this one:

http://www.vermontcountrystore.com/ ... emType=PRODUCT&searchid=inceptor

If you dont want to order online they also have mail order catalogs.

More if you put Small Slide Viewer search terms in at
http://froogle.google.com/
Answer This Question
Add your voice to the conversation. Click here to answer this question.