I stopped buying panty liners long ago. Since being laid off my job, I have been looking for extra ways to make money go farther. Instead of throwing old socks away, I have always kept them to use for other purposes like cleaning rags; I now keep them for yet another use. I lay the sock flat and cut up one side and toe, opening it up to one piece of cloth. I kept one panty liner for a pattern. I cut several layers from the pattern from the sock and discard the scraps. I had some old quilted place mats I never used and an old mattress pad that was never used. From these, I cut several layers from the pattern. I purchased flannel baby blankets for the top and bottom layers of the pads. I then pinned and sewed the layers of sock material and misc. quilted place mat fabric and mattress pad fabric together with a zig-zag stitch on the sewing machine. Make sure the fabrics are sandwiched between the top and bottom flannel layers. I just top-stitched and left the edges raw. Flannel doesn't slip. This has been a real money saver for me, since these paper purchases do add up over the years. Just launder with other clothing.
By duckie-do from Cortez, CO
July 27, 2010
0

found this helpful
The one word that comes to mind is ewww. Not so much because it is a cloth product, but it's made from an old used sock that is no longer fit to even be on a foot!
July 27, 2010
0

found this helpful
This is not something I would do but I have a few comments on this one to Beckster944. The heel of a sock can get worn much earlier than the top or rest of a sock so there could still be plenty of good material to use. Second to Katie A., my mom used to tell me that when she was growing up with her 7 sisters during the depression they had a rag box which was for the girls to use "at that time of the month" so I guess it really isn't that weird especially when you mentioned cloth diapers, but lastly, unless these last through a LOT of washings (I would presume hot water and bleach) it sounds like a lot of work. Socks, place mats, mattress cover, and blankets if you didn't have this laying around to use it could get expensive to make I would think. I think I will stick with the store brand when I need to save money.
July 27, 2010
0

found this helpful
Good idea and nice of you to share it with us!
July 27, 2010
0

found this helpful
I love it when people think outside the box and not only does this save money but this also ends up helping our environment including trees and our landfills! I feel badly for those of you who are spoiled and think this is an icky idea :-( You probably wouldn't have faired well before disposable was invented by nurses during WWI. Oh, and fabric is fabric whatever it's source and it's washable. By the way, women used old bed linens, etc before WWI ;-) Here's a photo of a homemade flannel covered pad like Ducky-Do is talking about.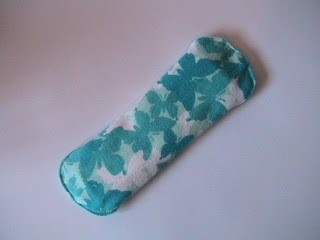 July 27, 2010
0

found this helpful
Although I've never made or used these, I heard of a large growing movement of women who are making reusable ones of all shapes and sizes. It seems to me that some are so caught-up in the idea of making them with "used" clothing, that the idea has gone right past them. From what I've read, you can make them with any absorbable fabric. Using nylon fabric in the last layer will make them leak-proof. There are lots of patterns on the internet. I had spent so much money in my lifetime on peronal products, that if I still used them, I'd consider making a bunch. I used cloth diapers on my kids too, so I have no 'Ick' factor. I think we all need to reconsider ways to save money where ever possible, and we need to quit feeling ashamed about doing it.
July 28, 2010
0

found this helpful
Yes, this is what women used to do before disposables were invented. My suggestion to those who would be interested in this if it were not so time-consuming is to simply use the rags without sewing them up. And as for the sock-on-the-foot thing, one bleaching before use will put an end to that problem.
I'm all for ideas that make sense and save money and the environment. Thanks for having the guts to share this tip with everyone.
July 29, 2010
0

found this helpful
This is a great idea! If the task of making your own seems a bit daunting, there is a company that makes them for purchase called GladRags.
August 1, 2010
0

found this helpful
Can I use blue jean material or pantyhose? I seem to have a lot of that in the house.It is pretty expensive for me to keep buying and I use them also for bladder control leakage. I am 33 and weak bladders run in my family. I would like to know how to make them also.
June 10, 2013
0

found this helpful
I've done this for years and none that I've sewn has ever worn out yet. It's actually a necessity for me - I am allergic to adhesives. Just try to find a commercial product without adhesives. I've never used socks, but I will try them next (well bleached). I use old flannel shirts or nightgowns (one gown will make multiple liners) and the remnants of several fleece projects. I use 3 or 4 layers of flannel and one outside layer of fleece. The good quality fleece allows air circulation but liquid won't usually go through. If you don't have fleece, you could repurpose the remains of a broken umbrella or an old raincoat, though I would enclose any slick material under a layer of flannel (mark it so you know which side goes away from the body). Making a pattern with flaps, you can also repurpose the shirt buttons to keep the liner in place. I generally use snaps.
November 2, 2013
0

found this helpful
Hello, at first, I thought that finding the recommended materials would end up costing me more $ than the $1-7 a mo for disposable. The nylon exterior to prevent leaks peaked my interest. I just have 1 question: How to make it stick? I am full figured & name name brand liners (w wings) still shift & end up bunched up out the backside of panties? Any suggestion?
Read More Comments